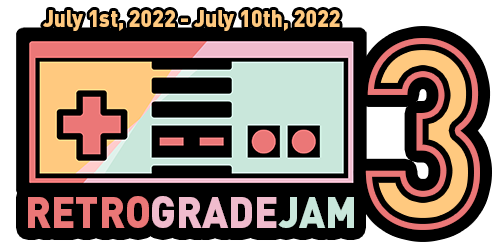 This is a 10 day game jam hosted by Programancer with emphasis on simulating the 8-bit/16-bit era! Low resolution, small palettes, chiptunes, and everything that made gaming in the early 90s great! This jam runs for 10 days- from July 1st, 2022 to the end of July 10th, 2022!
Here's what we're looking for:
Most specifically, we want games that feel like they were meant to be on store shelves in 1991-1995, but got lost in time somehow and were recently discovered.
Period Specific Visuals (palettes/on-screen colors)- NES, Gameboy, Gameboy Color, etc
Limited buttons- D-pad, start, select, A, and B. Exceed that at your own discretion.
Low resolutions similar to those found on consoles and handhelds around 1991-1995. Feel free to modify it for 16:9 however. You can scale your window however you'd like to be playable at higher resolutions, but the in-game resolution must be low.
Your game MUST be made specifically for this jam in the time allotted.
Who can enter? - Anyone! Of any skill level. Work solo or in teams- anything you'd like!
Can I collaborate with other creators? - 100% yes! If you have a team in mind, go for it~
What's the theme? - The retro aesthetic is the theme~ Otherwise, no specific theme outside of making something that looks and feels like it came out of that "boomer" era of games! Make what comes into your mind, but try to be mindful of era-specific limitations.
What tools can I use to make the game? - You can make your games in any software you'd like, as long as you consider accessibility of play. Please try to make your games playable in Windows without needing to install another program to run it. If you can't build to Windows, consider building for in-browser (webGL) play.
Am I allowed to use asset packs? - Certainly! If you have them and they fit your theme, go for it!
Can I make a game inspired by another real game? - As long as you create the content for your game (no ripped/stolen assets) and it's not a fan-game (made to be an unofficial entry in another series), create until your heart's content! Sometimes taking what we like from our inspirations and making it into something new can make something amazing.
What are the details on voting? - Voting is public, and will last from the end of the jam until August 1st! Entries will be voted on the following criteria: Controls, Graphical Presentation, Audio Design, 8-bit/16-bit "Feel", Fun, Overall Rating, and Host's Rating.
What type of game should I make? Is there a specific genre? - Make anything you want! Outside of making the game seem like it's from the late 80's early 90's, there is no restriction on genre!
How strict are the rules? - This jam is meant to be a laid back experience. The most important part of the rules is that you make a game that accomplishes having the feel of an era specific game. For example, if you feel like bending the rules a bit and making a Playstation style game, feel free! Just try to make it feel like it came from that system, and have fun!
What isn't allowed? - Make sure your game was made for THIS jam, and during the timeframe of this jam. To keep with the spirit of jamming out a game and to be fair to all other participants, do not submit anything made for another jam, or something released outside of the jam's timeframe, or it'll be immediately disqualified and delisted from submissions. A reminder of this is also included on the submission page.
The most important thing is that you have fun while challenging yourself. Study some games you enjoy from the late 80's and early 90's, think about what you want to do, and have fun! There have been some really good games come out of RetrogradeJam that have gone on to become full projects, and at the end of the day that's the goal!
If you have any questions, feel free to send me a tweet!