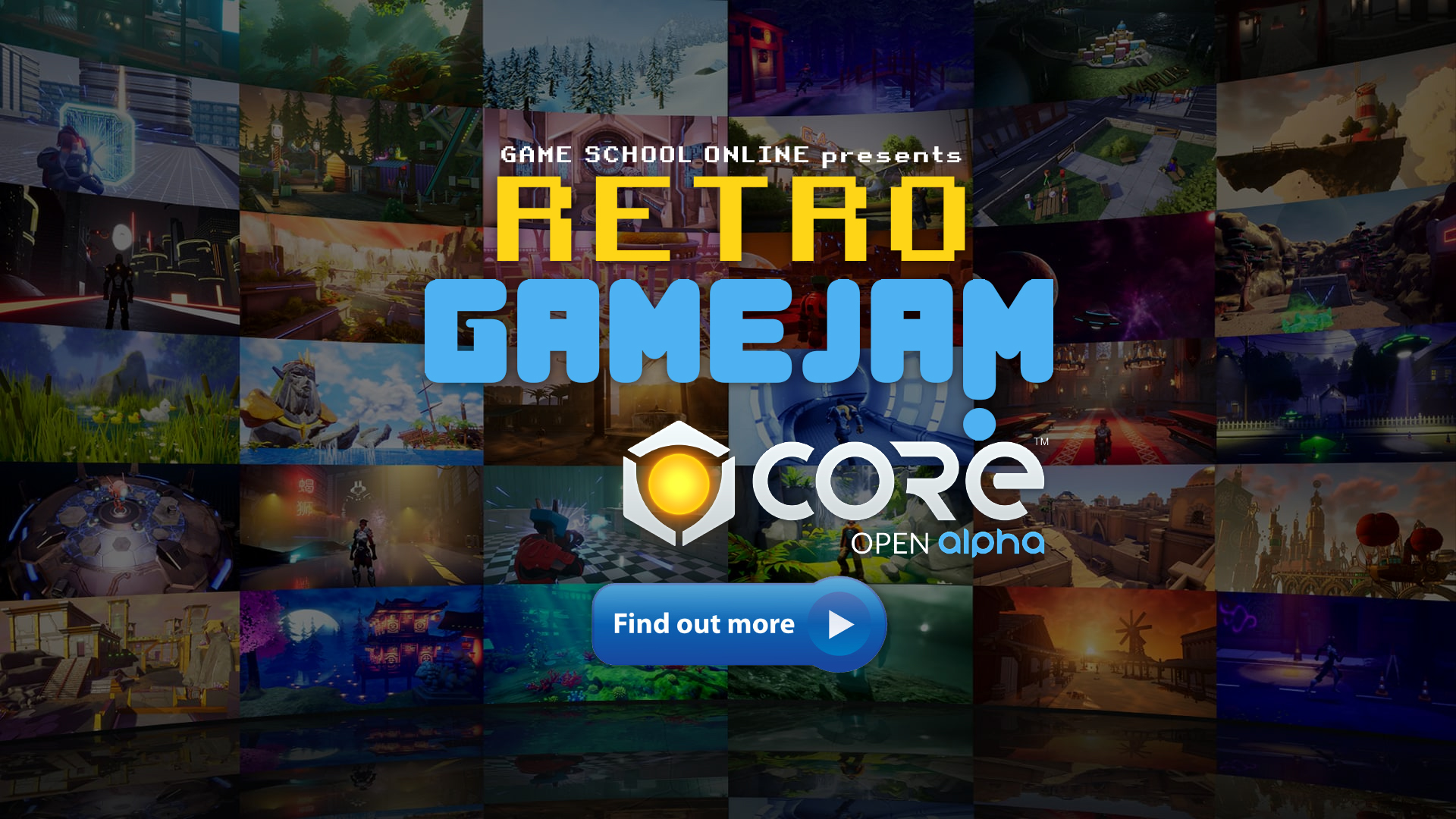 Game School Online presents Retro Game Jam with Core!
This is a month-long game jam, running from May 4th, 2020 to May 31st, 2020. The event is about making a game inspired by a 1980s or 1990s retro game using Core. The theme for this jam is distancing. The games are rated by other participants and a panel of judges and at the end a few teams will be announced as winners. The jam is a great way to play with Core and produce high quality, fun content.
Be sure to read the rules and ask any questions you have in the #jamming channel on our Discord server.
Rules
If you don't stick to the rules, your entry will be disqualified:
Work in teams of 2
Your game must be made with Core
Your game must be inspired by an 80s or 90s retro game and follow the theme of distancing
The jam runs from May 4th to May 31st. Entries are due on May 31st by 11:59 PT
Submit entries on Itch
No NSFW games - we want the games to be playable by everyone and be appropriate to show to others
How to join
Clear out your schedule, you're gonna need as much time as you can get. Making a game in a month can go by pretty quickly!
Find a partner for a team of two. Join our Discord server and post in the #jamming channel to find a partner. Make sure to add your teammate as a contributor on your game so they can also rate games.
Now press the big Join Jam button!
This is a special game jam, as a course will be helping guide you through it. You may enroll into the free course HERE.
Now the most fun part, make a game! If you are at this step we wish you good luck! :D
Use #GSOGameJam on Twitter and join the #jamming channel on Discord to connect with the community and share your progress!
Submission
Your submission must include a link to your published game on Core. For better ratings it's probably a good idea to include screenshots and a nice description of the game, too!
Judging
All entries will be rated by you and other participants in these categories:
Game design
Fun
Innovation
Theme
Graphics
Audio
After the jam is over, there will be a 2 week community rating period. Judges will then select the winning games. A game needs at least 20 ratings to be considered for winning. So make sure to rate other's games as well, the more you rate the more chances you have to appear on the submissions page.
Prizes
1st Prize Winners: 2x RTX 2070 cards (one for each team member)
2nd Prize Winners: 2x $75 Amazon Gift Cards
3rd Prize Winners: 2x $25 Amazon Gift Cards
The best overall game, and the best games in each of the categories will be showcased at the top of this page, and will get a special role on our Discord server.
Game School Online will also play and showcase some of their favorites in a video.
And of course, you will have a finished game at the end of this! You can continue working on the game after the jam and make something even better and more finished!
FAQ
What is Core?
Core is a radically accessible game construction kit, content exchange, and game-playing platform, all in one. With Core, you can create multiplayer games, using the power of Unreal Engine, with no coding or art skills required. When you're ready to share your creations, publish them to the Core platform where they'll be instantly available to play.
Can I participate in the jam solo?
No. You must work in a team of two.
Can I import my own assets (3D art, sound effects, music, etc.) to Core?
No. Core does not support 3rd party assets at this time. But, the platform has a large database of community assets you can use to build your game!
How do I add my team member to my jam entry as a contributor?
To add a contributor:
Create a project on the Itch dashboard if you don't already have one. Don't worry about filling in all of the information right now, you'll be able to change it later.
After you've created the project, click "Edit game" to navigate to the project dashboard.
Click "More > Admins" and add your teammate on that page.
Can't find the answer here? Feel free to ask any questions you have in the #jamming channel on our Discord server.