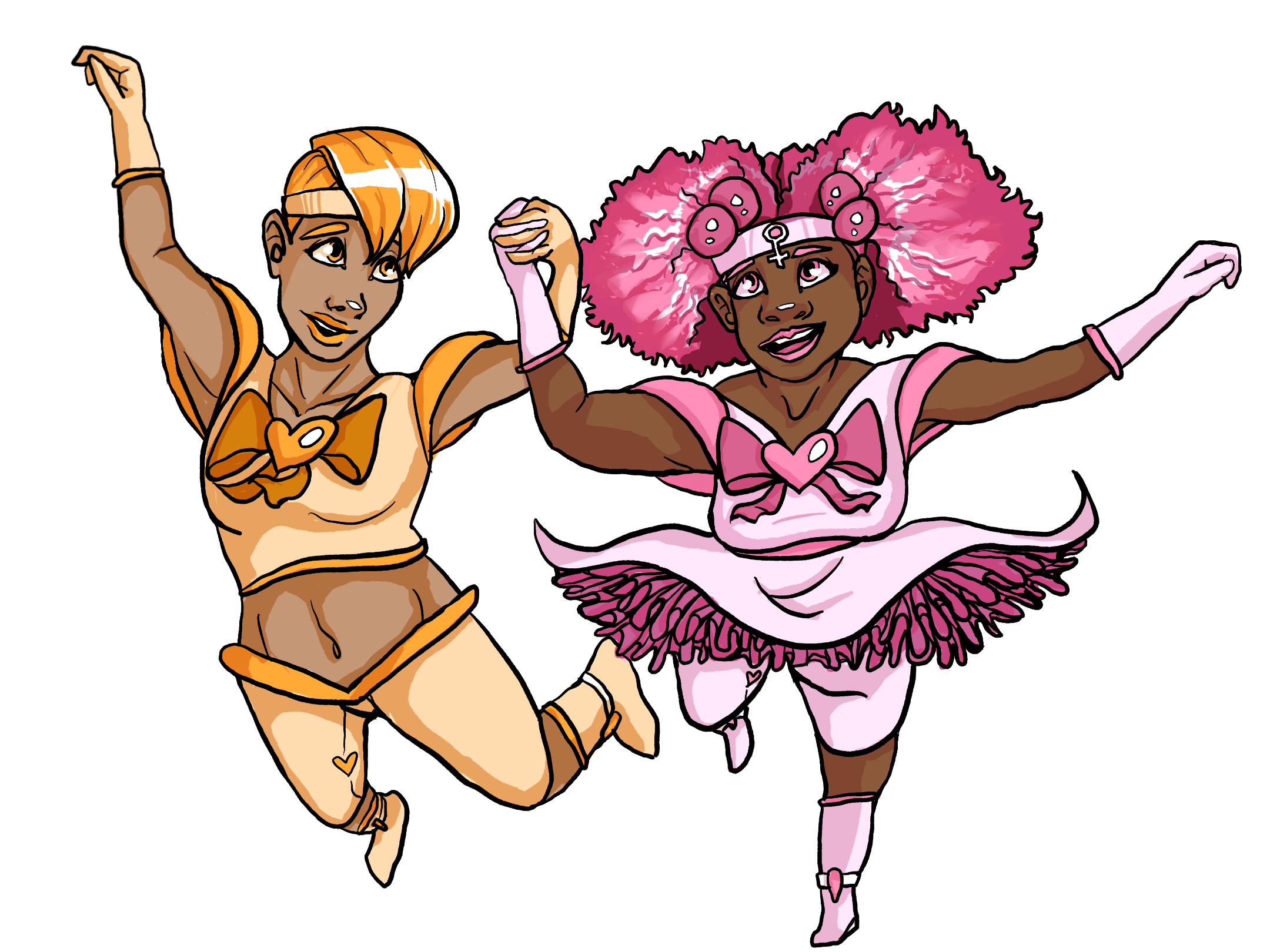 This jam is about the "Magical Girl" genre, specifically about making queer magical girl genre games! The jam itself is open to anyone, no matter their gender identity, and characters in the games can be of any gender as long as there's some reference to the tropes of the magical girl genre. Games can be digital or analog!
About
This is a month-long game jam geared around the subgenre of Japanese fantasy media known as Magical Girl (mahō shōjo) or Little Witch (majokko). It is generally centered around young girls who possess magical abilities and the ability to transform into an alter ego, in which they typically use their abilities to fight against forces of evil, a synthesis of elements from tokusatsu hero shows. The core concepts and themes are broadly speaking about femininity and youth, transforming into the ideal versions of themselves with the goals of romance and/or friendship for the main characters.
For a more indepth look into the genre see the following sources;
SAITO, KUMIKO. "Magic, 'Shōjo', and Metamorphosis: Magical Girl Anime and the Challenges of Changing Gender Identities in Japanese Society." The Journal of Asian Studies, vol. 73, no. 1, 2014, pp. 143–164. JSTOR, www.jstor.org/stable/43553398. Accessed 19 May 2021.
Dennison, K. (2018, October 18). Three 90s Magical Girl Shows That Wanted to Be the Next Sailor Moon. VRV Blog. https://web.archive.org/web/20190615091029/https://blog.vrv.co/kdennison/3910/th....
Shimada, Akiko S. "Representations of Girls in Japanese Magical Girl TV Animation Programmes from 1966 to 2003 and Japanese Female Audiences' Understanding of Them." University of Warwick, 2011.
Martinez, D. P. "The Worlds of Japanese Popular Culture : Gender, Shifting Boundaries and Global Cultures : Free Download, Borrow, and Streaming : Internet Archive." Internet Archive, Cambridge, UK ; New York, NY, USA : Cambridge University Press, 1998, https://archive.org/details/worldsofjapanese0000unse.
Yoshida, Kaori. "Evolution of Female Heroes: Carnival Mode of Gender Representation in Anime." ASPAC: Asian Studies on the Pacific Coast, 3 Sept. 2009, https://web.archive.org/web/20090903170819/http://journals2.iranscience.net:800/...
The Olivia Hill/No Fascists Policy
If you're a fascist, homophobe, sexist, racist, misogynistic, or in any way shape, or form a bigot, you're not welcome. It's against the rules, and we are the hosts of this jam and we do what we want. If you're reading this and thinking, "You just call everyone you disagree with names!" go away. Just go away. Leave. Don't come back. We don't care and we don't want to hear it. Because you are incapable of drawing inferences from context and acknowledging a dangerous political climate that causes the oppressed to be hyperbolic. Heal yourself. Grow. Learn. Watch some Mr. Rogers' Neighborhood or something, we don't care, just remove us from your life and when you become a less awful human being still stay the fuck away from us because we don't deal with people who went to bigotry as a "phase".
Credit to Olivia Hill for this rule, which has been reworded to fit the jam.
Rules
No games that promote bigotry. This includes racism, homophobia, biphobia, aphobia, ableism, sexism, etc.
No gatekeeping queerness. Seriously.
Your game must include enough magical girl tropes to recognize it as part of the genre.
Your game doesn't have to be "about" queerness, but must include queer themes and/or queer characters.
If you aren't queer yourself, collaborate with queer people or consult with them/work with sensitivity readers.
You may work on a game you started previously.
You may submit multiple games if you have time!
Teams of any size are permissible, as is working alone.
Games can include explicit or potentially triggering content, but please use the game listing page to warn potential players.

No games promoting non consensual or abusive relationships.
Absolutely no sexualization of children or inclusion of sexual or romantic relationships between minors and adults. No games with explicit sex between teen characters, even if they're all teens.
Tag your submissions appropriately! If there is violence, substance abuse, mature themes or other such things, please list the types of content within it in your store front page

No blatant copyright infringement, like art theft. Making fandom-based games is fine, as is making games using free to use content or systems.

Please cite your sources and your assets properly per their terms of use on your games page. Even if the creator doesn't require attribution people always like when someone uses their work to make cool things.

Nothing else illegal.
You can charge money for your games, as this isn't a judged jam.
No jam spam! If your game doesn't follow the rules or is unrelated to the jam, don't submit it! It will be deleted!
Unfinished work is acceptable for submission. You don't have to submit a perfectly-polished final project and are welcome to show off whatever you create as a prototype or proof-of-concept, whether it's an unfinished demo or a collection of assets you were able to create during the jam.
Things You Can Do
Brainstorm, outline, and work on concept art before the jam begins, but please keep final asset and game creation to the jam period! If you want to work on finishing an old project, hold off on working on it until the jam begins.
Work solo or in a team! Use the hashtag #ReleaseTheMagicJam on Twitter or the jam's community here on itch.io to look for collaborators if you'd like to form a team.
Resources & Help
If you want to collaborate or talk to other jammers, there's a community forum here, as well as a channel on the Queer Game Dev Discord server (you can join even if you aren't queer, as long as you are respectful and follow the rules): https://discord.gg/AxVTMrH Or you could join the Queer Indie TTRPG Scene server, but keep in mind that this server is for queer-identified people only: https://discord.gg/fcFnQkK. As a third option there also the small but generic jam server for game jams hosted by Margaret Catter Development which can be found here https://discord.gg/WsXysut (Margaret Catters Jam Band)
New to game development? Not a programmer? Here's some free resources for you that are easy to medium difficulty to learn, though some are only free trials or only free for non-commercial use or releasing to certain platforms:
Other resources for beginners:
Here's some resources for if you want to create an analog (tabletop or live action) game:
If you have any questions or want to have some input on the jam, please tweet either of us at @MCatterDev or @paradoxrevealed, or by leaving a comment in the community section.
Your hosts,
Olivia Montoya (Metaparadox, @paradoxrevealed)
Imani (@MCatterDev)
PS, Feel free to tweet your development progress at #ReleaseTheMagicJam