Deadline extended
(again, by 1 hr!)
(and again by 15 minutes!)
A jam where the theme is...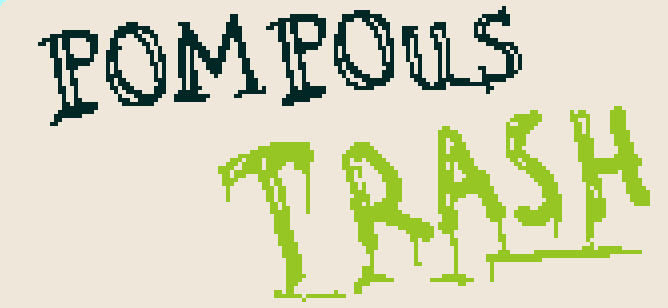 Make a game over 10-days that is about pompous trash or is literally pompous trash. That's it! Become the garbage!
" What makes these games special is the way they embrace the brokenness, distortion, journey from place to place that is lost to us during play… the way they work with how dysfunctional, pointless, or ridiculous games can be…"
-Nathalie Lawhead
Join us on Discord! (Team Building, mentor pairing, kickoff event, and wrap-up event)
Optional Surprise Modifiers:
(pick one... or more!)
| | |
| --- | --- |
| Lost and Found | Use "found" assets (otherwise discarded code, imagery, or sound) in your game. |
| Snap crackle pop | Make a game where garbled sound plays a significant role in the game. |
| Scrubs only | Use a trash/weird control scheme (EG: microphone, press 20 times to jump once, or inverted camera ;D). |
Rules:
1- Be nice
2- Use the theme, literally or figuratively
3- Optionally, use surprise modifiers (announced @ jam's start)
4- Credit / disclose asset packs used
5- Play and rank other games
Ranking Criteria:
1- "Objet d'art"
2- "Ohohoho "
3- "Stink"
4- "Stank"
Due to a technical oopsie Trash, Pompous, and Enjoyment are now criteria.
5- "???"
Hosted by Society of Play (based in Dallas TX 🤠)