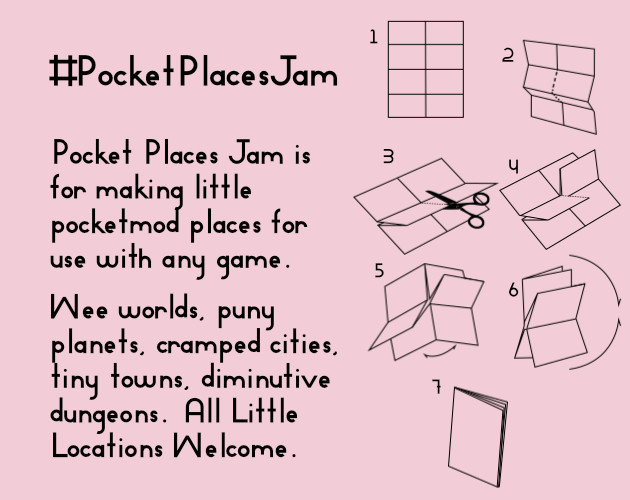 Systemless, rules-free locations that fit on a single sheet and can be folded down into a little 8 page zine! You've got two weeks to make one and submit it to the jam!
The idea is to think about game "content" in a different way, outside of the constraints of rules and dice and probability and mechanics. Try to create something that manages to still be useful at the table, even without any of those things!
Obviously, submit as many as you want!
Resources:
The One Page Zine template by Starwest is the one I use! Get it here!

Alternatively, there's the Pocketfold version which doesn't require cuts and does some interesting things with folds! Get that template here!
Rules:

Keep the submissions totally free of bigotry and hate. No racism, no sexism, no homophobia, no transphobia. If you're a nazi, fuck off.
Discussion:
Discuss your entries on twitter using the hashtag #pocketplaces or join us over on The Pink Square Discord to talk about the jam and minimalism in RPGs in general!