Computer games inspire not only young people, but also their parents and grandparents. It is especially fun to play together. At the 24-hour Game Jam, games are developed that are particularly suitable for this purpose.
As part of the PlayBern Festival for Games and Creativity, games are being tinkered with at the Reitschule cultural center in the capital of Switzerland. The 2020 festival theme is "Games without Borders". The games we design should be as accessible and barrier-free as possible: fun to play despite physical or psychological backgrounds.
Watch our 2 minute introductory video for a glimpse of game jams in action! You can also play the festival invitation game BUBBLE RUN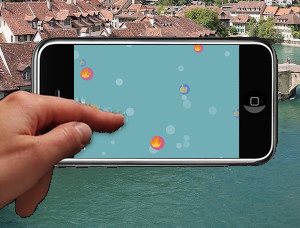 Jam participants will begin work and beginners be invited to an introductory workshop livestreamed on Friday October 16 at 10:00 (UTC+1), form a team or work individually, and develop their own games using their own or openly licensed content. They are supported by experts. 24 hours after the start of the Game Jam, the results will be presented on site and on the Internet on Saturday October 17 at 12:00 (UTC+1).
Anyone can take part in the Game Jam, both on location and online submissions are accepted on itch.io/jam/playbern and showcased equally. Participants under 18 must be accompanied by adults. Register here only IF you would ALSO like to join us on location in Bern, Switzerland. Connect to us virtually over Discord at https://discord.gg/y9GSpsw

Programming skills are not required - creative ideas will be implemented in teams, supported by experienced game designers, and game makers are allowed.
Participation is free of charge, thanks to our sponsors. For more information visit PlayBern.ch