UPDATE: PICOWARE 2020?
Maybe. I'm not saying yes… or am I?
———
UPDATE: PICOWARE IS OUT!
Play online NOW! is.gd/picoware

———
UPDATE: JAM IS OVER! THANKS EVERYONE
Wow, 65 entries… More information about the final cart will be posted soon! For updates, check the the community page, the final game page or on Twitter!
———
UPDATE: JAM STARTED!
Here's the template cart to use for the jam (save it as picoware.p8.png):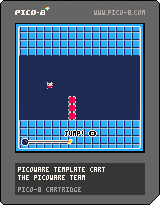 Any questions? Ask on the community page, on Discord or on Twitter! Have fun!

———

Do you ever think to yourself "I WANT TO MAKE A GAME" but then you think "BUT I DON'T HAVE TIME FOR THAT" and then you think "WAIT I CAN MAKE A MINIGAME" and you also have a tendency to think in capital letters?
THEN PICOWARE IS JUST THE JAM FOR YOU!



Source: lexaloffle.com


PICOWARE is a collaborative PICO-8 jam in which everyone is invited to make, polish and submit as many minigames as they want within 24 hours. The resulting minigames will be then, shortly right after the jam, combined into a single PICO-8 game, called PICOWARE!
The jam runs from July 27th, 17:00 UTC time to July 28th, 17:00 UTC time — so 24 hours.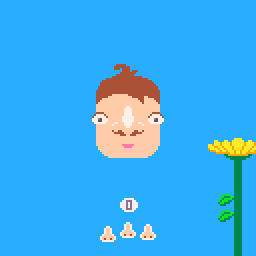 Source: Twitter @Jusiv_


Below are some Frequently Asked Questions That We Made Up On The Spot:
Okay, this is epic! But what is PICO-8? And what is WarioWare? And what are video games?
PICO-8 is an amazing fantasy console which you really should know, because it's the thing. All the cool kids have it. WarioWare is best described as series of very short minigames in a sequence. And video games… who knows, honestly.

Okay, this is epic-er! Can I join? What are the requirements?
The only thing you need is PICO-8 and some time off during the weekend! Optionally come with a smile on your face and bring some snacks for the jamming.

But how do you plan to do this! This sounds like black magic!
Before the jam starts, this page will be updated with a template cart which will allow you to make a game that's compatible and simple to combine with the master cart. It will also have some additional code included, so that each game can also run on it's own — so you can keep it on your itch.io page or wherever you want! The template itself will require minimum work from participants, around 4 variables to set, but except for that, it will be no different than a normal PICO-8 cart. Crazy, right?

All the cool jams have a theme. Does PICOWARE have a theme?
Although there isn't a strict theme, you can imagine PICOWARE as a game about the many (mis)adventures of Jelpi — the most iconic PICO-8 character. The template cart will come with some Jelpi sprites, so definitely feel free to use Jelpi as the main character of your minigame!

Can I use licensed/copyrighted/allthat assets?
Short answer: absolutely no. Long answer: aaaaaabbbbbss—
As all submitted minigames will be combined into a single cart, you don't want to complicate things for us, and we don't want them to be complicated. Don't use any outside assets unless you're the sole owner of all rights for them and you undisputedly allow us to use them. Also, creating with PICO-8 is easy and fast, so you should most definitely do things during the jam, yourself! (or with a friend or a cat maybe)
Can I make and submit multiple minigames?
Please do! If somehow we run out of space in the master cart, we will either, best case, try to cram the minicarts into the master cart harder, or in the worst case we'll ask you which one of your kids is your favourite. The most important rule is, everyone gets at least one slot in the final cart.

Is there a prize? Do I get to say "thank you for everything" to my family at the end of all this?
Yes to the second part. This is a collaborative jam: if you submit a minigame, it will most likely be included in the final cart. If it gets included, you will be properly attributed and introduced in any way you'd like. In the end, we want to make a very cool game together, and if you're interested in prizes, this is probably not the right jam for you — try other flavours.



Source: Twitter @arashi256


Okay, so that's the epic-est! Any additional rules I should know about because I'm a law abiding citizen?
There are a few more, introduced only so we can jam as many high-quality minigames into the final cart as possible. Remember — this is a rather experimental jam, so many of the rules are subject to change.
Make a simple, easy to understand game. It should have a clear objective, intuitive controls and should not lead to any confusion. If the player doesn't understand how to play your game after the first try, it's most probably your fault. If your playtester is a dog, that's probably also your fault.
Each minigame should play out in ~4 seconds. As with WarioWare games, a timer will be displayed at the bottom, and it may be scaled with difficulty. Your game should take absolutely no more than 4 seconds.
Use as few sounds and sprites as possible. The minigames will have music playing over them, so they shouldn't make too much noise those kids. Also, your sprites and sound effects will share space with other minigames, so no elbows. Cart space is of value in this game jam.
Don't use the map. Just the thought of combining different maps between all minigames, and making it work correctly, scares us. Of course no problem in faking the map with sprites! If you'll need help with that, feel invited to ask.
Keep your code simple. Try to optimize your token count, don't try to do any weird stuff such as modifying memory, throw too much garbage into the memory, avoid POKEs, don't use 100% CPU, keep all your code in one tab, etc.
Use only the default keyboard controls. As in, devkit not allowed. Don't force anyone to use a mouse. Some people have trackpoints, have you ever used one? Also, try to keep your controls simple, preferably, use either only X/O keys or arrow keys.
60 FPS! It's 2019, 30 FPS is soooo lame. Human eyes like high frequency refresh rates. Beep.
Randomize! Make your game a bit different each time it is run, e.g. move the goal, make the obstacle wider, remove one enemy… This will make your game a lot more replayable!
We also have the final say in all matters not specified in this page. That's probably legally binding.
Yeah, talking about legally binding — do I have to give you permission to edit my minigame?
We absolutely need your permission. You will have to check a checkbox when submitting the game, to accept that we may make changes to your cart. If you don't give us this permission, your submission will not be included in the final game. Don't worry — we don't plan to make your background pink, we need this to be able to make all carts fit in the final cart. You probably won't notice any difference.

Is there like a secret chat, where participants will be able to discuss secret stuff?
Of course there is! Almost all creators of this game jam like to hang out on the official PICO-8 Discord, so come and hang out with us! If you have any questions, ask them on the community page, or you can directly contact our contacts-stuff-person through Twitter. That's me. I'm the official contacts-stuff-person.
And is there a hashtag that I can has all over my htag?
#picoware #picoware #picoware
I don't know PICO-8. I need help. I can't do x with y and z doesn't work.
Join the PICO-8 Discord! There's always someone there eager to help.

Can I start my game before the jam?
NO. :angry_eyes:



Source: Twitter @FSouchu


So set some time off for THE BEST GAME JAM OF 2019! (according to us.) See you there!