Theme: VIRTUAL BEASTS
What is "AI?" The term "artificial intelligence" might be a huge buzzword right now, but it's definition is nebulous at best. We may use the term AI today to describe tools like ChatGPT or MidJourney, but we may also use AI to refer to video game NPCs, self-driving cars, virtual assistants, virtual reality, and even to describe famous characters such as the Terminator, GLaDOS, and HAL. In the past, spell check was described as a kind of "AI." And yet AI is always viewed as a revolutionizing type of technology in every era. People joke about "our new AI overlords," theorize about the so-called "AI singularity," and worry about AI stealing their jobs from underneath them. Welcome to the newest stage of industrialization, a place where virtual beasts have long since escaped the lab, their hungry growls echoing from our own future...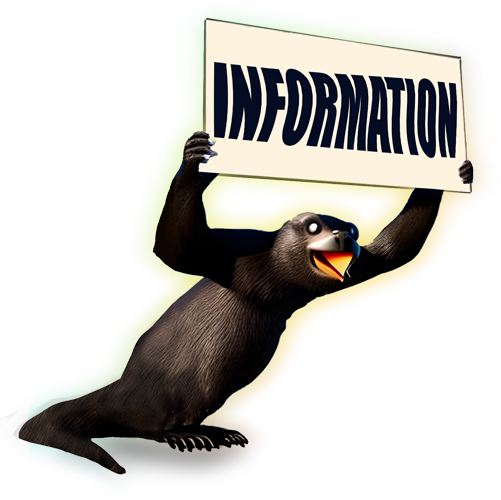 I have retrieved many AI monstrosities to help guide you through this jam, such as these humanoid and cyborg otter monsters. These creatures will be just as good as the actual CSUMB otter mascot Monte, maybe even better. If you are not familiar with Otter Jam, this is California University of Monterey Bay's PREMIER (and only) GAME JAM EVENT! While hosted by Computing Design, this Jam is open to not only all CSUMB students but to EVERYONE! It is a great event for beginners, but is frequented by Alumni from CSUMB and both teams and individuals of all skill levels are welcome at Otter Jam.

Through further processing, my beasts gain new life: some though further digital processing, others through my paintbrush on the physical canvas. My monsters shall not remain forever confined to screens! What kinds of virtual beasts can you find lurking around cyberspace? How will you complete them? Where will they go, and what will they find?

Your submissions for this Jam must either/or:
Utilize "AI generation" tools as a primary technology used to create the game.

ChaptGPT, MidJourney, Deep Dream Emulator, etc- many of these services are still offering free trails, and some services such as Crayon.ai are always free but produce low quality content by default. AI can generate scripts, stories, game designs, images, and even audio!

Confront the concept of "artificial intelligence" through your game design and it's mechanics, story, characters, themes, etc.


AI is the "monster" in question during this jam!
You will have a full week to create whatever kind of game you want.

What kinds of game can I submit?

Video games that run on windows, mac, and in the browser are all acceptable. All game engines are acceptable. Please indicate recommendations such as controllers or hardware specifications on the submission page. List the names of all contributors to the project on the submission page. Analog games (such as board games or tabletop games) will require rule-sheets and some documentation of play (photos, video, notes) to be considered.

When can I start?

You may start researching your game now, including learning AI gen tools, gathering references, creating art & audio, writing and testing pseudo-code . However, you may not open your game engine and start putting the game together until the Jam week begins. This change is to ensure everyone has enough time to finish their game. If you only have a weekend to dedicate to this jam, that's fine too!

Jam Registration is required if you want to be considered for prizes!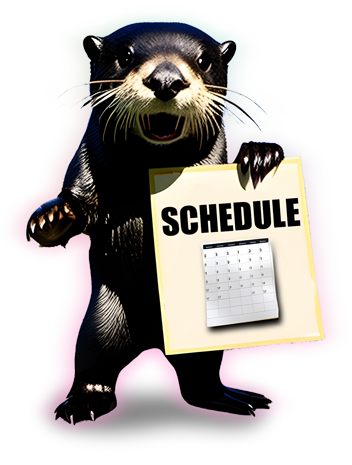 Time & Place:
DISCORD CHANNEL
This time, Otter Jam is going all virtual. CSUMB students may use the BIT 105 lab at it's usual hours during the entire Jam week and weekend, but overnight access is not permitted.
GAME JAM TIME: September 25 - October 1st 2023

GAMES DUE: October 1st at 11:59pm (right before midnight)

GAME JAM GUEST SPEAKERS TIME:

Max Kreminski: "Designing AI Play"
Wednesday, September 20 6 - 6:45 PDT (already over!)

Discord Video Call
Sam Ogden: "Using AI tools"
Monday, September 25 5- 5:45 PDT
Graeme Devine: "Game Industry Legends"
Monday, September 25 6- 6:45 PDT

WINNERS ANNOUNCED/GAME STREAM: Monday October 9th (exact time TBA)

Judges:
Katie Green
Sam Ogden

Graeme Devine

Jam Registration is required if you want to be considered for prizes!

Prizes
Otter Jam still has t-shirts and stickers to offer. The paintings you see in the BIT... could be yours if you win. :)