Welcome once again to the 8th annual installment of the world's only game jam for the CHIP-8 virtual console. If this is your first time, check out last year's entries!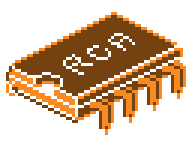 This October, join us by building a game for CHIP-8 or one of its extensions- SCHIP and XO-CHIP.
The Octo IDE allows you to write CHIP-8 games in a beginner-friendly low-level language, and even export standalone HTML builds of your game to share here on Itch. You can write interesting games and programs in only a few lines (and bytes) of code:
Using other tools or homespun CHIP-8 emulators is also fair game. If you're interested in making games that will run on historical hardware, like the COSMAC VIP or the HP-48 calculator, reach out on this jam's forum for tips! You can also find inspiration- or code to borrow- over at the CHIP-8 Archive. Everything in the archive is provided under the Creative Commons Zero "No Rights Reserved" license.