Welcome to New Horizons Game Jam

Join MyAppFree and EventHorizon Discord servers to be up-to-date on everything about this jam!
You can also use the server to ask for more info and find crew members to join the jam as a team.
Join hundreds of indie developers in a fast-growing community!
This jam is so amazing that we even have Special Guests participating in the Judges' Panel!

GameZebo is one of the finest online magazines for game reviews, walkthroughs and tips.
With something in the order of 1 MILLION VISITORS MONTHLY, being featured in one of their articles would be a real hit for any game developer.
Well, now it's your chance!
The amazing folks @ GameZebo decided to join us in this game dev party as part of a special judging theme!
after submissions close, GameZebo team will choose up to 10 GAMES from the submissions list
GameZebo will write a dedicated article with mini-reviews of those games to celebrate together the New Horizons Game Jam
StickerMule is definitely the best place online to print your stickers and merch.
Their quality and customer service are unmatched, and you choose from a vast catalog of products: stickers, labels, pins, coasters, keychains and more!
Thinking about printing a sticker for your upcoming game? This is the right occasion.
Stickermule has partnered with us to offer a special promo of 10 STICKERS FOR $1 (shipping included) for everyone who will submit an eligible game for this jam!

Pretty neat, isn't it? But that's not all.

The TOP 3 GAMES in Public Ranking will also receive a special Stickermule credit of $50.

So, you need more excuses to join New Horizons? 🤓

MyAppFree and EventHorizon School of Digital Art have partnered up to bring you this amazing new game jam: New Horizons.
We are near the end of the year, and we hope to meet a bright and encouraging 2022 for everyone.
This jam is about Good Resolutions and positivity.
What do you see in your 2022?🔮
An adventure in the mountains, space discoveries, or a new business idea maybe.
We would love to enjoy your positivity and energy for the upcoming year, translated into a game.
Sounds like a pretty broad theme🤔
Yep, and it is!
This jam is more about what we DON'T WANT to see:
Horror, bloody games
Depressing and sad atmospheres
Bad endings and negativity
Low amount of wholesomeness
These past two years have been hard for everyone. Let's try to start a new one with a smile😊

Nothing strange, just the usual stuff
Join MyAppFree and EventHorizon Discord servers
Follow MyAppFree's Twitter and EventHorizon Facebook pages
No NSFW content allowed
Stick to the Jam's theme
ONLY games developed for this jam. YOU CAN'T enter with already developed games.
More than 1 submit per user is permitted, but we suggest focusing on one game
YOU CAN enter as a team!
YOU CAN join from everywhere in the world
Game submissions only for promotional purposes, with no adherence whatsoever with the Jam's theme are not allowed and will be removed

There two categories of prizes.
1) Public Ranking Prizes
These prizes will be assigned "automatically" based on the results of public votes.
You can use these credits to run campaigns on MyAppFree Platform to bring premium users to iOs/Android games and apps through MyAppFree's reliable publisher network.
2) Judges' Picks Prizes
These prizes will be assigned to 3 participants chosen manually by Jam's judges.
You can use these credits to enter some of Event Horizon's amazing courses about Game Dev, Cinema 3D VFX, Digital Art and Communication.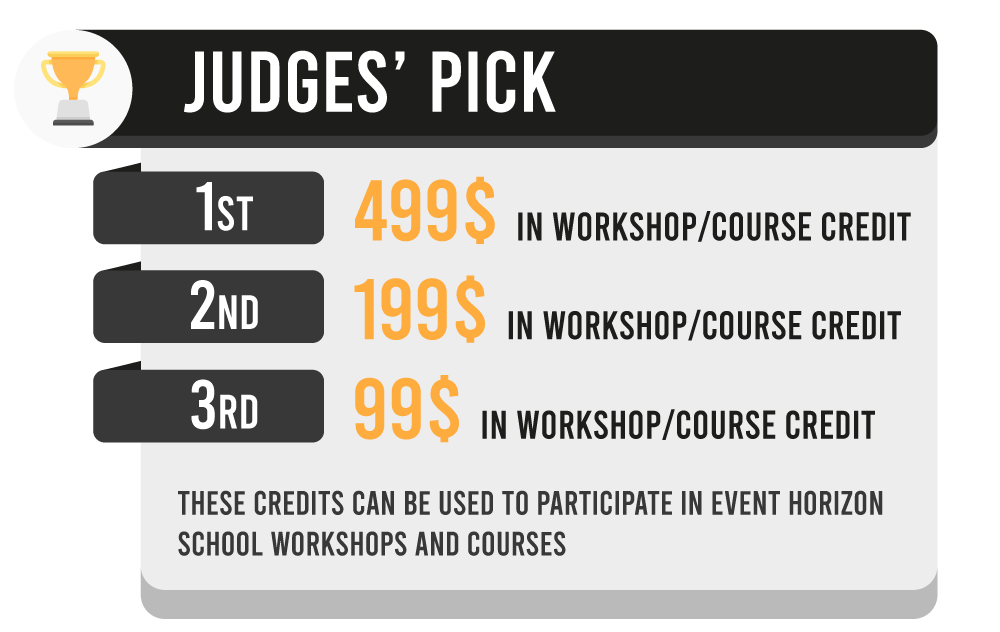 3) Stickermule's Prizes
As Special Guest, Stickermule is offering some amazing prizes as well.
A reserved promo of 10 Custom Stickers for 1$ (shipping included) for EVERYONE who will submit and eligible game
50$ of store credit for the first three ranked games in Public Ranking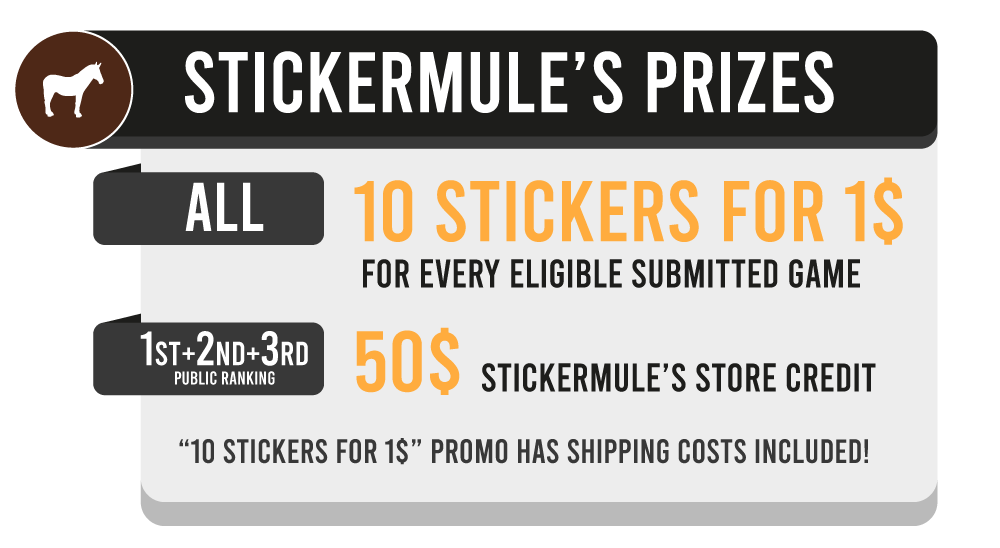 And yes, your game can be a winner in ALL categories!🚀

MyAppFree is the Discovery Platform for apps and games.
The team scouts every day for amazing titles and hidden gems to showcase amazing features and collections daily. MyAppFree is growing its community of Indie Developers and aims to become a landmark for the game dev talents worldwide.
With thousands of daily active users, MyAppFree's Discovery Platform is a great place to show your games to the world and reach a vibrant community of players!

Event Horizon School is the biggest Italian school teaching game development and VFX for cinema, with more than 800 enrolled students and sites in 7 Italian cities (Turin, Milan, Padua, Florence, Rome, Jesi, and Pescara). In 2022 a new site will open in Bologna.
Event Horizon School was born in 2013 and its learning offer with teachers coming directly from the industry aims to create professionals who can work in it since the end of their school journey