LNJ, or Lucky Newt Jams, are jams hosted by yours truly. Games that match the theme well enough will be added into a bundle, with profits split equally between all creators. Please be sure to read through the Rules section before you enter a submission.
Theme
This is a jam to celebrate all of the amazing mythology, fables, and folklore that riddle so many cultures all around the world through TTRPGs. Whether it's Little Red Riding Hood, The Fox and the Grapes, Susano and Yamata no Orochi, The Legend of the Giant's Causeway, The Theft of Thor's Hammer (Þrymskviða), The Sun and Kookaburra, or even a game that has a fable-feel to its writing, there is a whole variety to work off of.
Just please remember, a lot of these stories are intrinsically tied to different cultures and religious beliefs. We're counting on you to be respectful of that fact when drawing inspiration from them for your games.
For the games that follow the rules, we'll be creating a bundle to sell during the month of October (profits split as equally as possible between creators), so feel free to lean heavy on the more spooky themes.
We look forward to seeing your creations!
Rules
All entries to this jam must:
Be a TTRPG, or for a TTRPG. I'm not going to break out the old debate on what makes a TTRPG a true Tabletop Roleplaying Game. Use your best judgement. Supplements such as settings and adventures definitely work, as long as they include some form of influence or inspiration from myths, fables, or folklore. Please leave your video games at the door.
Fit the theme in some way. There is going to be the opportunity for a lot of variety here, and a ton of inspiration to draw upon. Since the bundle will be released throughout October, please feel free to lean into the spooky side. When it doubt, just ask in the Community Tab or in our Discord.
Be your own creation. Please be mindful of copyright laws, and understand plagiarism will not be tolerated. To put it simply, Swiper no swiping!
Not promote hatred, violence, bigotry, etc towards any irl group or people. Please be especially careful with this one, and show respect when drawing on stories from different cultures.
Be accessible for free during the jam. This ensures that all games can be checked to make sure they follow the rules. You can use Community Copies, send me a download key, or set it as a (limited time) PWYW, whatever works best for you and your creation.
You can:
Submit multiple games. The more, the merrier!
Work individually, in pairs, or in teams. Just make sure credit goes where it's due.
Submit old and/or new games. Often times it's the stories that persist through the sands of time that have a reason for persisting, but newer stories can be just as enjoyable!
Have your game set as paid or PWYW. I recommend paid because you're putting work and time into this, but that's up to you.
Make your game any length. Whether it fits on a business card or takes several pages, it's welcomed... though I might have to skim through the novels.
Feel free to join our Discord Server for more help and ideas.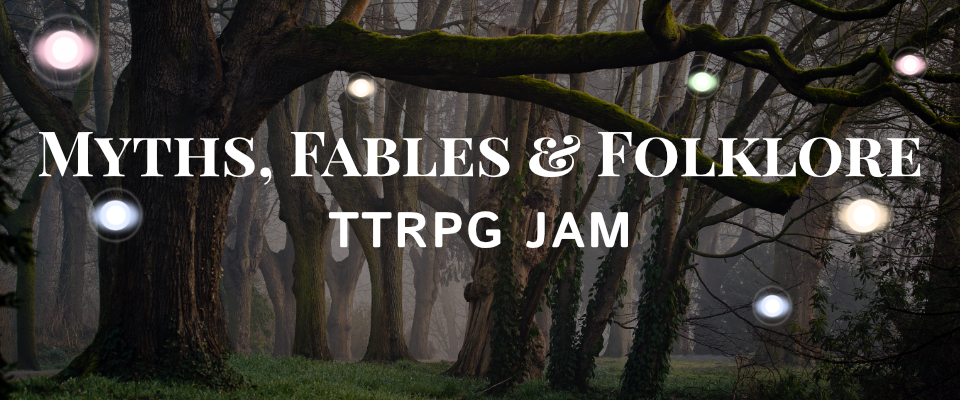 Background by Evgeni Tcherkasski on Pixabay. Fairy lights by Lloyd Lynnea.