ok look: so many game jams have limitations that i personally don't like. so im making my own game jam

limitation: _______
theme: ______
its blank. theres nothing. do whatever you want. a twine game thats an endless loop. make a powerpoint on bill nye's influence on modern culture. make art. make music. if you can find a way to submit it you can. fkjfksdjdkjfksj;a;;;;;;;;;;;;
since the jams starting i should mention u can totally join even if we're halfway through. u can make a game in 2 minutes right before the deadline and i will not care.
rules:
as long as i can read/watch/play/see it, its acceptable
two: just because i dont care doesnt mean youre allowed to post anything racist, homobhobic, transphobic, or disrespectful in general.
if it's nsfw or has flashing lights, gore, or potentially triggering subjects, put a warning in the first line of ur project description
don't re-use shit. this jam is to c r e a t e somthing, not re-use somehtingk.
u dont have to ask permission to do anything unless it has to do with rule two™. if it does have to do with rule two u can contact me.
if u win you get a shitty mspaint drawing like the one below. I will do it at 2 am in exactly 1 minute. this is non negotioaoable.
(psst: everyone wins.)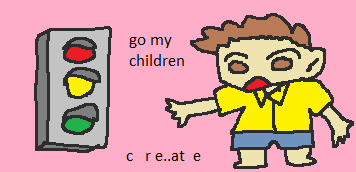 make something.