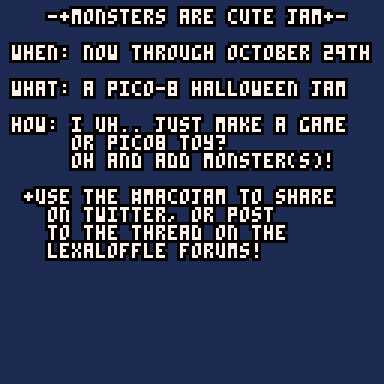 It's that time of year -- Halloween!

And that means... it's time for a spooky jam, pico-8 style! No color limitations this time -- just monsters!
Monsters Are Cute Jam
What: a pico-8 Halloween jam for 2020
When: NOW through October 29th
How: I uh.. just make a game or pico8 toy? Ohhh and add monster(s)! Cute or.. not so cute -- just gotta have a monster somewhere, somehow, some...when!
Please use the #macojam tag on twitter to share progress gifs, ideas, requests for collaboration, etc Or you can post in this thread here on itch.io or on the lexaloffle forums!