Welcome!
Welcome to the Lv. 99 Game Jam, organized by Project 99, where you will push your creative limits and take your game development skills to the next level! Our community challenge has doubled the cash prize pool to USD$100,000 for the Top 3 teams, plus a trip to Singapore this June for a live pitch session during the inaugural Olympic Esports Week 2023. You'll have between April 14 and April 23 to build a game based on the chosen theme.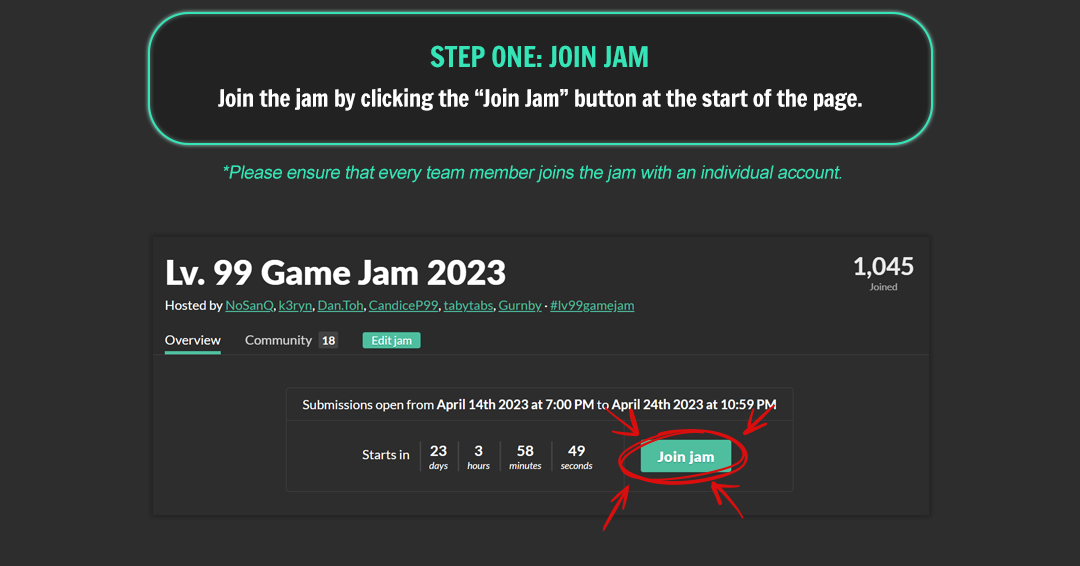 Theme Reveal
The theme of the year will be revealed on April 14 on Discord and the Lv. 99 Game Jam website at 12:00 pm, GMT+8. You can convert the time to your local time zone here.
Participants
Participants interested in signing up for the Lv. 99 Game Jam can join via our itch.io page starting February 22.
Registration will close on April 13.
Official communications to all participants will take place through email as well as in the Lv. 99 Game Jam Discord server. Participants must join the Discord server here.
Participants can choose to join the jam remotely (online) or book a spot at one of the global host locations. Check regularly for new site locations.
A number of local university hosts around the globe will provide facilities for participants who would like to participate physically. As each host may have differences in terms of space capacity as well as specific rules of conduct or security policies on campus, participants are encouraged to register for a seat in advance with each host.
Team-formation
Participants can work individually or in a team of up to 5 members.
Participants can create their teams before the jam kicks off on April 14. Details will be announced on our Discord server.
Through our Discord server, participants can choose to form teams online, as well as to connect with each other.
Each team member needs to register for the jam on our itch.io page. This allows us to ensure we send everyone important updates and adequately prepare for the event.
Site Hosts
If any individuals or organizations would like to register as independent hosts (not limited to universities), please register through the host registration page. [NOW CLOSED]
The full list of host locations can be found on our website here.
Organizer reserves rights to evaluate and accept host applications and selected hosts will be notified via email.
Masterclass by Industry Experts (April 8-9)
During the weekend of April 8-9, a series of talks and keynotes will take place, where industry experts will share development best practices and experiences on game development as well as the games industry. All speaker sessions will be viewable online through our website.
Game Jam Period (April 14-23)
For all participants, the full jam duration is 10 days, from April 14 - 23.
For participants jamming at physical venues, the jam duration is 48 hours from April 14-16 or April 21-23 depending on the host location. When prompted closer to date, please indicate your country of location and if you are interested in participating at a physical venue. We will follow up via email and Discord to inform you about available sites closer to the date. Slots will be assigned on a first-come-first-serve basis.
Participants will be free to continue working on their submissions throughout the entire jam period, until the submission deadline. 48 hour durations are meant to allow offline site hosts to better manage on-site activities and not be overwhelmed.
All remote participants are encouraged to use collaboration tools such as Zoom or Discord as their main form of communication, especially in the case of multi-location teams.
Submission and Qualification
Each team's leader will have to submit a working prototype of their game before April 24, 23:59:59 in your local time zone.
IMPORTANT: Teams should take note to include the Itch handles of all teammates in the game description during submission, as this will be used to verify who qualifies for the prize split in the event your game makes it to the Top 3.
No more entries will be accepted after the submission window closes. We recommend uploading something well before the submission deadline!
After the submission period ends, entries may not be edited.
Each team will be required to provide a playable demo for upload on our itch.io page with their team's name, game title, and a short description of their concept to qualify for public voting.
You are free to use any game engine or library as long as the build can be submitted on Itch.io and is playable.
It is highly advised to create new content for the jam, but you may use any pre-existing code, art, or audio assets you can legally use.
Public Voting
2 days following the submission deadline, the organizers will verify all entries to ensure they meet functionality requirements in order to qualify and remain on itch.io for public voting.
All qualified submissions will become available on the Lv. 99 portal for the public to play and cast their votes from April 28 - May 27.
The Rating Queue system will be used for Lv. 99 Game Jam 2023 to ensure a good distribution of votes across all entries.
Each voter will be randomly assigned 5 games to test.
Games will be ranked on a set of criteria to be announced at a later date.
Finalists
The top 3 finalist teams with the highest scores will be announced at the end of the voting period.
Representatives of the top 3 teams will be flown to Singapore to showcase their game concepts through a pitching session to a panel of judges and to attend the final awards ceremony during the Olympic Esports Week 2023 in Singapore. The winners will be determined by the Lv. 99 Game Jam 2023 panel of judges at their sole discretion.

Representatives of the top 3 teams selected to attend the award ceremony will need to ensure they are able to obtain eligible visas (or visa-exempt status) for travel to Singapore. Flights and accommodations will be forfeited if members are unable to make it to Singapore (although this does not affect prize disbursal).
Prizes
The prize pool will be disbursed to winning teams after the Awards Ceremony in June and completed by August 31, or when completed bank details are received.
The total prize money per winning team will be distributed equally among the total number of registered team members with completed bank details.

To receive prize money, all winners should ensure they can provide valid bank account details that are able to receive international monetary transfers from Singapore. The Organizer's remittance charges will be borne by Lv. 99 Game Jam 2023. Recipients agree to bear their own bank charges arising from any intermediary and receiving bank charges (if any) for the receipt of the prize money.

Flights & Accommodation - Lv. 99 Game Jam will be providing the flight and accommodation for selected representatives to attend the Awards Ceremony in Singapore in person, apart from the cash prizes. It will be deemed as a forfeiture of flights and accommodations by individual participants who are unable to make it to Singapore.
IP & Rights
Developers/contestants retain full rights to the IP of the game they developed in the Lv. 99 Game Jam ("Developed Game") and rights to self-publish it as a developer.
Within 12 months from the conclusion of the Lv. 99 Game Jam 2023 ("1st Year"), Project 99 shall always have the first right of refusal to make an offer to publish the Developed Games.
Should a publishing offer be made by Project 99 to the developers during this period, the developers may (i) choose to accept Project 99's offer; or (ii) choose to self-publish the Developed Game.
Should the developers decide to work with any 3rd party game publisher within the 1st Year, they shall notify Project 99 in writing and provide relevant details of the publishing offer received. Within 30 days from the receipt of the written notice, Project 99 may (i) elect to match and offer a publishing contract on the same terms; or (ii) elect not to match the terms and waive its first right to publish the Developed Game.
---