luxe jam #1
An official luxe engine game jam!
---

The January 2022 jam is for existing closed beta testers only.
---
Future jams will be open to everyone, once we reach open beta.
If you don't have access to the luxe beta already, you'll have to join the next one instead.

You can look forward to playing and seeing stuff made with luxe from the ~100 closed beta participants till then!

Choose a slot
There are two slots of 10 days, pick the best one for you:
January 14th - 23rd
January 21st - 30th
Theme/s
All themes are optional, pick one or more, and mix and match as you want. When submitting, list the themes you chose (and if you want, why).

main theme
--- plants x technology ---
modifiers

- automate
- indirection
- side effects
- you don't want to mix that
- one button, two functions

common constraints
- fixed color palette (use pico8 palette)
- one screen / button / life / room

other ideas
If you're stuck and want a nudge, try a random game name + combine with the above https://letsmakeagame.net/game-title-generator/
Rating
The jam is unrated, but we'll showcase developers participating if they're interested (see below re streams/blogs).
We'll go over all entries that don't opt out of being shown (but won't be putting anyone on the spot who doesn't want to be).

Following along
During
Join the official luxe discord for realtime updates from the jam, in the main server.
Follow on twitter, we'll be sharing work from the jam there, and the participants will tweet using the #createwithluxe or #luxeengine tags.

(Participants are already in a closed beta specific section of the server and will have a space to chat during).
After

Blog post: The newsletter (sign up here) will also send out news about the jam afterward as well as some spotlights, participant profiles etc!
Streams: We'll play through games, chat to testers and more during a live stream, with the luxe engine developers, sometime after the jam.

Requirements
Use luxe of course, but besides that have fun and make anything you want!
Use it as an opportunity to do the tutorial, to learn the engine, to try something new, to make a game, whatever fits.
Submissions will be a little flexible timing wise, please don't crunch/be unhealthy.

Merch Rewards
All submissions from closed beta testers (regardless of scope etc) are eligible for some luxe merch!
That will include some stickers, and a unique limited edition luxe mug.

The actual design for the mug + stickers will be revealed later, but here's an example with a simpler non-special edition design.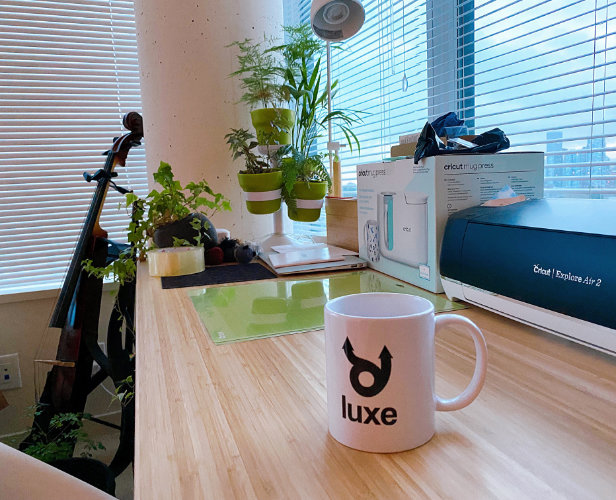 Why?
The luxe closed beta has been a good opportunity to get some testing in, and with just over 100 testers it'll be a good excuse/opportunity for existing users to dig in and make something, before the closed beta period ends. The jam is also a way to say thanks for testing and feedback, by giving out some unique merch that only they'll have.
The results will also be useful to new users during the open beta period, for those willing to share their projects sources, they'll become available for people and serve as examples of jam games made in a short time (with the caveats that come with that!).