THEME: HACK THE PLANET
(Theme suggestion by Xorpy!)

NOTE: THERE WILL BE A 1 HOUR GRACE PERIOD TO FINISH UP AND SUBMIT THE GAME


Lux Jam II is a 72 hour game jam where participants challenge themselves to create a game on a theme.
Lux Jam I was a lot of fun and we wanted to do another!

Prizes will be raffled off to participants during the opening ceremony.

We will collaborating with content creators to play the games after the jam is over.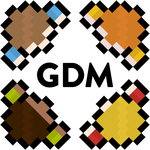 GameDev Market will be contributing $500 of credit which will be raffled as prizes to participants during the opening ceremonies!
Check out their great assets GameDevMarket.net
We will be raffling names from the list of participants. Please have contact info on your Itch page (twitter, email, etc.). If we can't contact you by the end of the jam, we will re-raffle during closing ceremonies.



$100 of TurboSquid credit will be awarded to the game with the best use of assets as judged by TurboSquid(these do not need to be TurboSquid assets).
Please include which assets are stock if you would like to enter this as well as a way to contact you if you win (Twitter, email, etc.)
If you would like to be excluded from this please mention in your description.
CONTENT CREATORS:
Friends of our community are joining in to play some of the submissions that are uploaded. They will be playing games that stand out to them so make sure your thumbnail catches attention and upload a browser playable version if possible.

Bad Bunny:
Bad Bunny is an educational streamer focussing on political topics. She holds discussions about important topics and learns together with her community in a fun and engaging way. She sometimes takes breaks to relax play games on steam. Check out Bad Bunny's channel
Michael Aranda:
Michael wears many hats: game developer, Youtuber (at the YouTube channels WhatImDoingRightNow and SciShow), musician, sound designer, streamer, and burger aficionado. (Seriously, this guy knows his burgers!) Check out Michael's channel
David Byttow:
David posts stories, tips, and lessons from his experiences as a software engineer over the past 20 years, where he worked at companies like Google, Amazon Game Studios, Snapchat, Square, Postmates, and Bridgewater. Check out David's channel
Mah-Dry-Bread:
Mah-Dry-Bread is a full-time gameplay YouTuber who has been creating daily videos for 9 years. These include Let's Plays, Reviews, Streams, guides, tutorials, and more on a wide variety of games. His current most popular series are the Pokemon Challenge videos where he beats a Pokemon game under a challenging set of rules each week. Check out Mah-Dry-Bread's channel
Lana Lux:
Lana is an independent game developer and streamer. She published Don't Notice Me on Steam in 2018 and is currently working on a RPG survival game. She is the organizer of the event and will be looking forward to playing the submitted games at the end of the jam! Check out Lana's channel
THEME:

- How will the theme be decided?
- Theme suggestions have been submitted and are now up for voting in the Discord server in the #announcements channel.
- Anyone is welcome to vote and you may vote on as many themes are you like.
- At the start of the jam, one theme will be selected randomly from the top 10 voted theme.
OPENING/CLOSING CEREMONIES:
- Opening ceremonies will begin on stream before the jam begins live streamed on Twitch: https://www.twitch.tv/lana_lux.
- They will include lots of fun surprises and announcements.
- If you have a trailer or announcement that you would like to share during the ceremonies, please submit it via this google form (submissions end 1 week before the jam on Nov 27th, midnight EST).

LUX JAM 1 SUBMISSIONS:
- Check out some of the great games made last time.
MID-JAM INTERVIEWS:
- We'll be doing call outs on stream for participants to hop on Discord and let us know how their progress is going.
STREAM DROP INS:
- If you choose to stream the process on Twitch, use #LuxJam and we'll try to stop by!
FAQ:
How long is the jam?
- 72 hours: 6pm EST on Friday until 6PM EST on Monday
How many people can be on a team? Can soloists participate?
- You may work in any sized team.
Can we use an engine?
- You may use any engine (publicly available or privately made) to create your game as long as you're able to submit the game to Itch.
Can we use pre-made assets?
- You may use any asset that is free and publicly available.
Where do we upload the games we make
- Upload your game to Itch and selected Lux Jam on the info page. The game must be free to play.
Where will the games be available?
- On the itch game jam event page
Are the games free to play?
- Yes! We welcome non-participants to join in, play the games and leave some comments to the devs.
What is the maturity rating for the games?
- Please keep the games within TOS of Twitch and Youtube.
What platforms should the game be available on?
- Please make the game available on a browser if possible (Lana and content creators will only be playing browser games). You're welcome to make it available for additional platforms. Please avoid installers if possible.
How do I submit a game?
- Upload your game to Itch.io. On the jam page click Submit Your Project and add the game you uploaded.

Thank you to PROJECTaroid for helping organize the jam!

By entering a game in this jam you confirm that you consent to this game being played on YouTube and Twitch.
NOTE: If you would like Lana or other content creators to play your game, please provide a browser version.