WELCOME!
LoJam returns for its 4th year on Saturday October 22nd 2022! This amazing week-long game jam aims to help grow the game development scene in London, Ontario and welcomes all who wish to take part, be they beginners, hobbyists, students, or professionals!
We also believe in the power of video games to help promote and inspire positive causes, and this year we've partnered with the Leukemia & Lymphoma Society of Canada's Light The Night fundraising event, and encourage all our attendees to join our team page and seek sponsorship from friends and family for participating. We also encourage attendees to consider ways in which their games might further this cause as well.
But ultimately no matter what you build, or how you build it, we hope you'll have an amazing time!
If you haven't already registered to attend, please do so now on our Eventbrite page!
VENUE
TechAlliance - 333 Dufferin Avenue, Unit A, London, ON. N6B 1Z3 [Google Maps]
Please note: no parking available on site. There is metered parking on Dufferin Ave (and surrounding streets), and an underground Impark lot (City Hall - Lot #32) a two minute walk away.
SCHEDULE
For 2022 we're trying something new by switching to a week-long format, where we meet over two consecutive Saturdays (as opposed to past years where we've done everything over a single weekend). We've done this partly to better fit in with everyones busy lives, but also because we want to encourage a less crunch-like approach to game dev, as the wider industry is moving to support better work-life balance! So here's how we've broken it down for this year:
Saturday October 22nd:
Day One will primarily be for coming together, forming teams, hearing about the theme and developing an initial concept (we also hope to offer some drop-in sessions from industry mentors). After which you'll have a full week to work on your games, at whatever times and locations best suit you! Note: for those who still want the challenge of building something in under 48 hours, we've kept a separate prize category just for you! Detailed breakdown:
10:00 AM - Doors open! Arrive and setup your stations, meet and greet other jammers, form teams if you haven't already! Coffee and pastries provided!
11:00 AM - Keynote address, message from our sponsors, and theme reveal.
12:00 PM - Catered lunch – pizzas and sodas, plus fresh fruit and vegetables!
1:00 PM - Drop-in Session 1: "State of Unity" with Jim Leedham
2:00 PM - Drop-in Session 2: "Intro to Godot" with Murilo Trigo
3:00 PM - Drop-in Session 3: "Intro to Shaders" with Cole Sweet
4:00 PM - Portrait Studio – Get a professional résumé / LinkedIn profile photo taken for free!
6:00 PM - End of Day One
Saturday October 29th:
Day Two will be more for showing off your games! Everyone will get a demo station and we'll do our typical Showcase event during which teams can present their games. After that, everyone will have plenty of time to wander around and play-test one another's games and give feedback. After which we'll present prizes! Detailed breakdown:
10:00 AM - Doors open! Catered breakfast – coffee and pastries. Come and setup your demo area.
11:00 AM - Showcase in the main room. Each team will present their game trailer and talk about what they made, why they made it, and the challenges/lessons learned along the way.
12:30 PM - Catered lunch
1:00 PM - Play-test session begins, meet and chat with other teams/developers, play their games and provide feedback!
3:00 PM - Prize giving and closing ceremonies
4:00 PM - End of LoJam 2022 - Wrap party at Crabby Joes Bar & Grill - 276 Dundas St, London, ON N6B 1T6 [Google Maps

]
THEME
"Back Together"
RULES
You're welcome to use any tools / technologies / game engines you wish, but all assets (code, art and sound) should be created during the game jam (or else should be credited and disclosed on your submission page and during the showcase and play-test session)! Also, be respectful of your fellow jammers - no harassment or divisive behaviour!
SUBMISSION GUIDELINES
One person from each team should create a submission page for their game through this itch.io portal (and each non-submitting team member should register themselves as a co-contributor on their team's page)
You should give your team (and your game!) a name, a description, and please upload at least a screenshot, but ideally a short screen recording of it in action! Consider this your 'gameplay trailer'. We recommend using a free tool such as OBS Studio or FRAPS to perform the screen recording - our volunteers can guide you through this if necessary - but please no longer than 3 minutes! This video will play during the showcase event. Remember, all the other jammers will get a chance to play your game, but this is your chance to 'hook them' and encourage them to come check it out during the play-test session! So be sure to include every aspect of your game that you want to show off!
If you also wish to upload a playable (or downloadable) version of your game that is great! But not required. Any questions about this process please ask one of our volunteers.
PRIZES
We have some amazing prizes to give out this year, including:
Tickets to XP Summit 2023 in Toronto!
A $100 gift certificate to the Mana Lounge
Steam gift cards
An awesome selection of Xbox games and merch!

Some amazing Unity goodies!
And we have multiple prize categories:
People's Choice - Voted for by every jammer during the final showcase, this is the game that receives the highest overall score for all areas combined! With separate prizes for each of these sub-categories:

Made in under a Week
Made in under 48 Hours


Judge's Choice (Games Industry) - Decided by a panel of games industry veterans
Judge's Choice (the Fight against Blood Cancers) - Decided by partner from Leukemia & Lymphoma Society of Canada (LLSC)
Top Fundraiser - For the jammer who raised the most sponsorship for LLSC
GENERAL ADVICE
Pre-install any large tools / technologies / game engines onto your machine before the event
Get plenty of rest the night before!
Take plenty of breaks - your schedule is entirely your own!
Most importantly, have fun!
FUNDRAISING
This year we're partnering with the Leukemia & Lymphoma Society of Canada (LLSC), which works to direct crucial funding to those supporting, and researching cures for blood cancers, and encourage everyone to join our team page and seek sponsorship from friends and family for participating (after all, it takes a similar level of determination to compete in a game jam as it does to run 10K!)
SPONSORS
We wouldn't be able to run LoJam without the amazing support of our sponsors!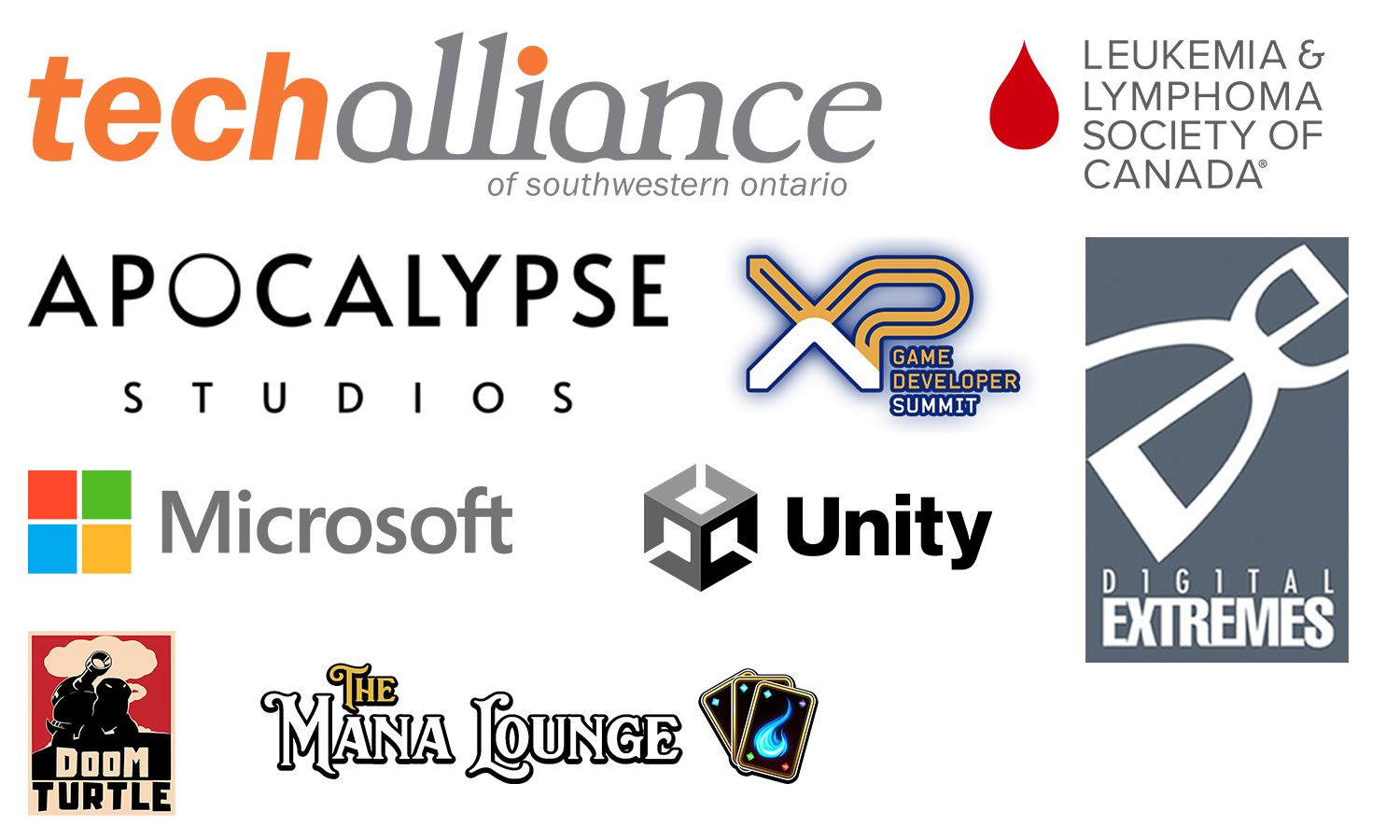 TechAlliance / Apocalypse Studios / XP Game Developer Summit / Digital Extremes / Microsoft / Unity / Doom Turtle / The Mana Lounge / Leukemia & Lymphoma Society of Canada