https://bogfolk.itch.io/lichoma

Enter the Wen. Embrace your inner meatpunk. And join us as we celebrate Lichoma's public launch with this game jam!

What should you make? Whatever you want!
Adventures
NPCs
Cards
Optional rules
Artwork
Fiction & poetry
Hacks
Minigames
Anything else you can dream/nightmare of
Submissions can be free or "Pay What You Want" and must be content for Lichoma. Including stats for other systems alongside Lichoma is allowed. Please include the 3rd party Lichoma license text on a version of your submission.
What size should it be? Whatever you want! The Meatbox uses the following sizes:
Business card
Postcard
A6 (poster)
Tarot
A3 (booklet)
8.5" x 5.5" tri-fold pamphlet
REMEMBER: Please follow the Lichoma third-party license (where you'll find some sweet compatibility logos). You can also check out the official Lichoma style sheet for details about game terms, fonts, colors, and other useful gibs. Please give credit where it is due and be mindful of copyright. Please also provide content warnings where needed.
Join the official Bogfolk discord to talk about the jam and for more information!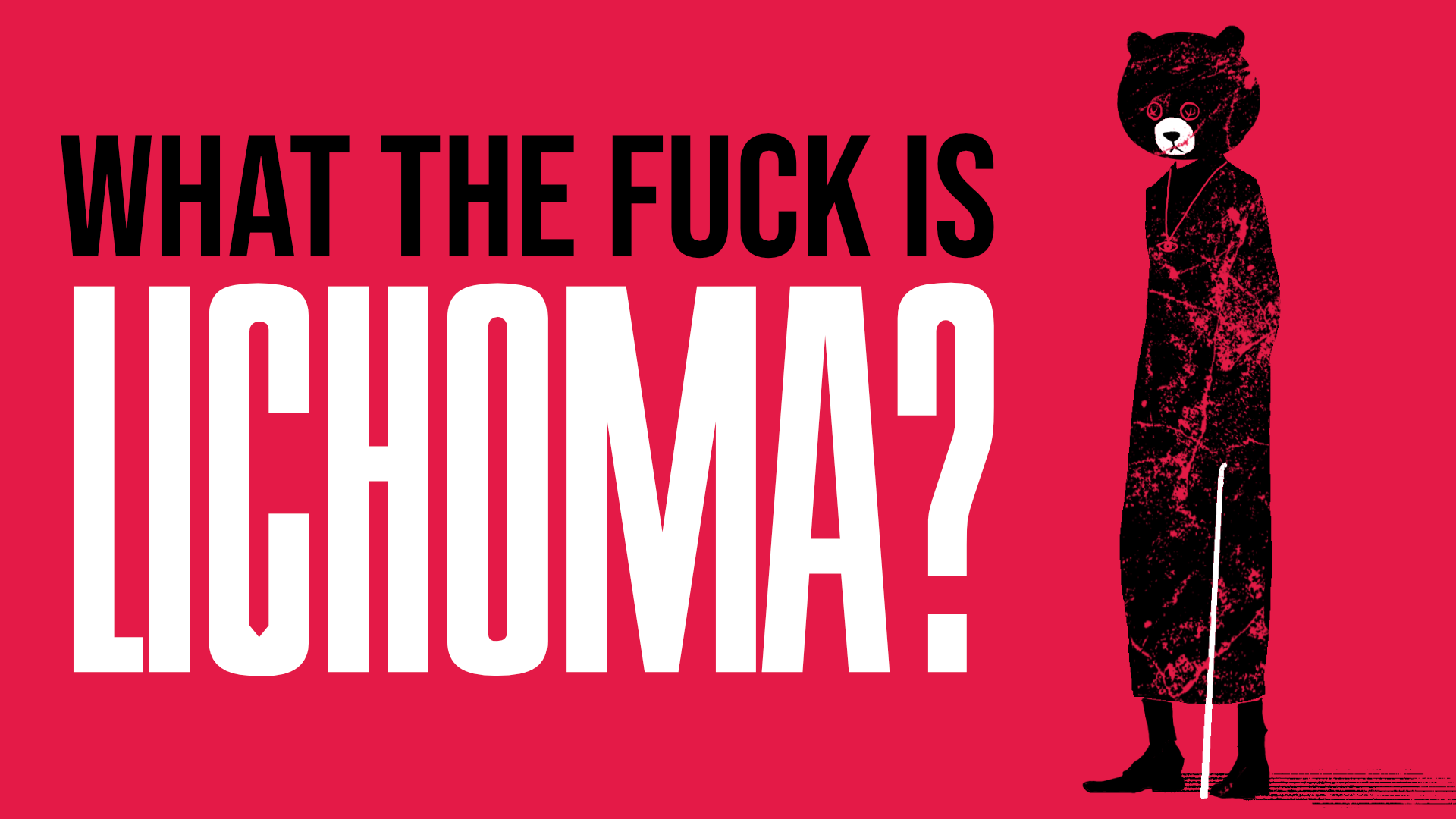 Lichoma is a card-based meatpunk RPG centered around the miserable lives of the inhabitants of the Wen: a megacity grown beyond its own control. It is a political, dystopian game defined by ecological collapse, social strife, and body-based economics and technology.

To learn more about Lichoma and its creators, please visit the official website or check out our interview on Geek's Cant. To see Lichoma in action, hit up these actual plays on Plus One Exp (one-shot) and The Rolled Standard (6-part minicampaign).
You can find the game page here: https://bogfolk.itch.io/lichoma
LICENSE
You may publish and distribute content for Lichoma—for free or for profit—and indicate compatibility on the product and at points of sale provided you adhere to the following terms:
Licensed content may not victimize, encourage hatred or violence against, discriminate against, or in any other way disparage or attack any individual or social group on the basis of descent, sex, gender, orientation, faith, or disability.
Note: Lichoma is grimdark meatpunk. Characters are not heroes. None of the factions are the good guys. This is a game about survival in dire circumstances, making choices based on scarce resources, and suffering through the consequences. It's a tool for critiquing and safely engaging with difficult realities; the Wen's fascism is not a model to valorize or emulate.
You may not reproduce or translate text or images from any official Lichoma products or from other creators' third-party licensed products without explicit permission to do so. You may freely paraphrase the rules text and make reference to setting elements like the Wen, faction names and locations, and other fictional entities.
You may not use the Lichoma or Bogfolk official logos, and you may not, in any other way, indicate that your product is affiliated with Bogfolk or Strega Wolf van den Berg.
Somewhere in your product and on any digital platform used for sale or distribution, you must include the following text:
"[Product name] is an independent production by [your name] and is not affiliated with Bogfolk. It is published under the Lichoma third-party license. Lichoma is ©2023 Strega Wolf van den Berg. All authors retain rights to reproduce, distribute, and revise their own works."
If we find that any third-party Lichoma content violates any of the above conditions, we reserve the right to have that content removed from storefronts, social media, and any other platform on which it's hosted or distributed.
You may freely use the "Compatible with Lichoma" logo:


Neither Bogfolk nor Strega Wolf van den Berg take any responsibility for legal claims brought against you or your product by outside parties.
Legal claims, actions, and other disputes relating to this license will be governed and construed in accordance with the laws of the Netherlands and will be settled in the Dutch legal system.