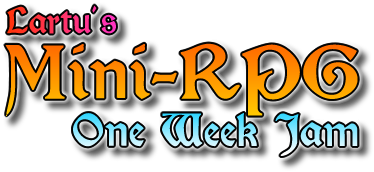 Welcome to Lartu's Mini-RPG One Week Jam, the jam where we spend one week writing tiny RPGs!
The rules are simple and it's up to you to interpret them in any way you want, there are no wrong answers! You have one week, from March 3 to March 10, to write a role-playing game abiding by the following guidelines:
The player must be able to control a character across a map, be it the hero, a monster or anything else.
There has to be some kind of activity that allows for character progression, be it slaying monsters, brewing potions or reading books.
The player must be able to obtain items throughout the game, so your game should have some sort of inventory mechanics or something on that line.
There are no rules regarding engines, programming languages, graphical or audio resources. All you have to do is make a game, in any way you like. Also, can I...? Yes, you can. Abide by the above rules in any way that you find compelling; after all, the main point of the jam is just making a game. But what if I haven't finished my game by the end of the week? Can I submit a demo or an unfinished project? If your project is playable and you feel like submitting it, it is more than welcome!
Voting

Yes, you will be competing against other game-makers! Scary! Or motivating! That depends on you. Games will be evaluated by everyone, during the week after the submission period has finished and based on three categories: Enjoyment, Graphics and Sound.
Enjoyment: Did you like the game? Was it fun? Games are meant to be fun, so if the game has an interesting mechanic, compelling storytelling or is fun overall that should be reflected here.
Graphics: How good the game looks. Or bad. Sometimes bad graphics make the game look better, sometimes they do not. Do the sprites fit? Do they add to the overall experience? Do you like them? Everything of that sort goes here. Just remember that the game with the best graphics is not always the best game.
Sound: A good game has a good soundtrack. And, more importantly, a fitting one. And the sound effects are meaningful too!
Kudos for original content, so make sure to make it clear if you created your own stuff! There will be winners and runner-ups announced for each category. It's a jam, though, do what you can!

Theme

The main theme for the jam is RPG games, so make one! But if you are uninspired and still need a theme for your game, the chosen one for this jam is Evil Overlords!
Prizes

There are no prizes. Of course, you can always finish your game and publish it as "Winner of the 2018 Lartu's Mini-RPG One Week Jam", but that's up to you. You mostly take home a game made by you, and that's the best prize there is. Should you want to donate something to award to the winners, though, feel free to contact us and we'll be more than glad to announce it here.
Social Media

Who doesn't love social media? (Well, actually...) We all love social media! That's why we've opened various channels for us all to discuss this jam, the game we are making, share and rejoice!
This jam's own community should be your first stop should you have any questions regarding the jam, or should you want to share anything.
Fresh out of the registration page, our Twitter account @LartuJam is live for you all to follow and stay up to date with everything jam related.
Should you want to share this or your development progress anywhere, the official hashtag is #L1WJ .
Last, but not least, join our official Discord!
Something else?
If you have something else to ask that's not covered here, just send us a private message or ask here on the community section.
So that is it! Stay tuned, make RPGs, enjoy and have lots of fun!