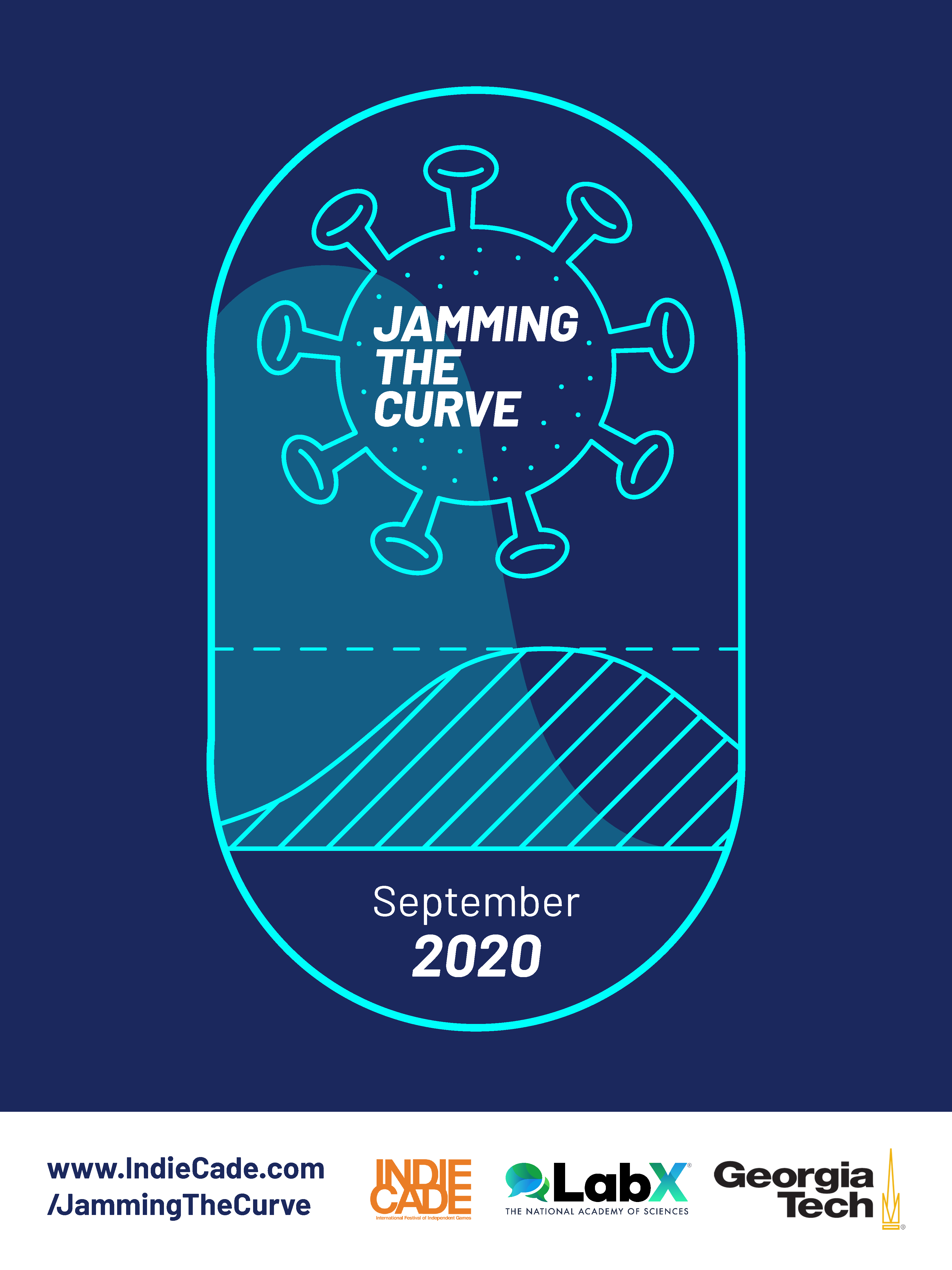 Learn more: https://www.indiecade.com/jammingthecurve/

Jamming the Curve is a two-week, distributed "slow jam" that invites diverse creators from around the world to develop games that can help translate data into stories through the use of real scientific models. A partnership between IndieCade, LabX at the National Academy of Sciences, Georgia Tech, Seattle Indies, INDCOR (funded by the European Cooperation in Science & Technology - COST), Northeastern University's Game Studio and Premack Rogers P.C, the project provides gamemakers access to two simulation engines, one in Unity and one in html, developed at Georgia Tech that allow them to develop games based on epidemiological models built with real world scientific data regarding the COVID-19 pandemic. The simulation engines support the creation of games that will enable players to interact with a range of real-world variables to see different outcomes. The simulations allow game creators to model a variety of scenarios, ranging from individual stories, to small-scale systems, such as a family, grocery store, school or neighborhood, to large-scale systems like a city or an airline network. Participants are welcome to use these simulation engines or any engines or tools they are familiar and comfortable with to make digital or tabletop/physical games for this jam.
One of the greatest challenges of the COVID-19 Pandemic is convincing people to take the necessary actions to protect their own and others' safety in order to do what health experts call "flattening the curve." Behavioral research shows that the two most important factors in prosocial pandemic behavior are critical thinking and belief in science. We believe games are uniquely suited to take on this challenge by translating data into stories, demonstrating the relationship between individual behaviors and large-scale impacts, connecting the micro to the macro. Importantly, we think that game thinking can translate complex systems into a form that is easily digestible by a broader public. Our hypothesis is that games that can do this will motivate people to flatten the curve of Coronavirus through individual and collective action.
Join us on Discord to form teams, show of your work and talk to the scientist mentors and jam organizers who will be available throughout the jam to answer questions as you work on your games.

Cash Prizes
Five winning teams will each receive $1,000 USD cash and be showcased at the IndieCade Anywhere and Everywhere Festival. These winning teams will have the opportunity to further develop their idea to win a $20,000 USD game development grant. Prizes are being funded by LabX.
Submissions and prize eligibility subject to these Terms & Conditions
Themes: The following themes should help guide—though not limit—your creations:
Infection
Testing & Contact Tracing
Containment measures
Vaccine
Development & Distribution
Accessibility
Inequity
Misinformation
Government
Mainstream Media
Social media
Word of mouth
Policy
Public & Corporate
Preparation & Health Sustainability
Participants will be tasked with creating a game between 9/15/2020 and 10/1/2020, in whatever format they choose, while using the themes as guidance. Form a team with others or work solo - you decide!
The jam is open to people of all skill levels, newcomers are always welcome, and we will ensure that everyone finds a team to join that fits your skills and interests. Experienced mentors will be available on Discord throughout the event to help answer questions about game development tools, engines, and principles along with public health experts who will be available to answer your scientific questions. You can find the Mentor Schedule below.
Follow us on Twitter: https://twitter.com/IndieCade and use the #JAMMINGTHECURVE for the latest news and updates.
Simulation Engine and Game Demonstrations: https://indiecadejammingthecurve.iac.gatech.edu
Simulation Engine Unity Tutorial: https://youtu.be/ix7Ek95abzU
Simulation Engine HTML Tutorial: https://youtu.be/RnYCeEYbCKk
Resources and Preparation for the Jam As a run-up to the event, Jamming the Curve launched with a July 29th workshop as part of IndieCade's Summer Series which introduced the simulation engine, demonstration games created at Georgia Tech and INDCOR's summer Complexity Jam, and receive feedback from game design and scientific experts, and a tutorial on how to use the simulation engine in game development. The workshop has been recorded to enable those interested in participating in the jam to review the materials and have advance access to the engine, as well as the previously developed games.
Expert Videos: https://labx.org/jamming-the-curve/expert-videos/#jammenu
Launch Workshop Video: https://www.twitch.tv/videos/699454158
Sean Bloom plays the games from Georgia Tech and INDCOR's ComplexityJam: https://www.twitch.tv/videos/699460685
JAM SCHEDULE & MILESTONES
7/29-9/15 Itch.io Sign-Up Open
9/15 Jam Kickoff
9/21 Prototype Milestone
10/1 10/2 Final Game Prototypes Due (end date extended)
10/1-10/12 Covid Jam Award Jurying
10/16-10/18 Demo Session & Game Jam Awards at IndieCade Anywhere & Everywhere
Meet the Judges for Jamming the Curve: https://docs.google.com/document/d/e/2PACX-1vRRXJ6X14ZF0bTn_AvMPPNinhaHAbQRniEuH...