First Indie World Order Game Jam
Welcome to the first Indie World Order™ game jam! We know, we know-- we attempted one for a second a bit ago, but made it a bit overly complicated and lame, so crashed that party before it began. Thus, we are pulling in with the first IWO game jam now.

We are heading back to the basics, and even the theme is accidentally "back to the basics."
A Discord joke gone "viral" we present-- CaveJam.
Theme is CaveJam.
In case you didn't really catch the theme already, let us make it bold and in the middle of the page. Now you for sure can't miss it.

"Come make unga bunga video games about throwing rocks and being feral!"

Cavejam is an open ended game jam where developers can make caveman/cavewoman/rock related video games!
Requirements:
Must be Unga
Must be Bunga
However you may interpret this, we are looking for caveman/cavewoman/rock related entries.

Extra: Include Rocks.
You should probably include some rocks somewhere.

#ThrowBigRocks.
Bonus: entries with rocks get added to Baz's rock twitter.
Rules
Please don't just re-skin games you have made before.
No NSFW entries.
No toxic hate entries (of course).
All engines are valid. You may use assets so long as you own them legally.
Solo or teams are welcomed.
HAVE F-U-N.
Voting
Is just for fun and bragging rights. If you accept your prize, 1st-3rd place will get a rock in the mail from Baz. Yup. A rock. Or you can decline. The choice is yours. This is assuming things can still be sent in the mail near the end of the jam of course (with all the current world chaos, who knows).

We might be able to get a streamer to play a few entries. Maybe. Perhaps. Maybe YOU are that streamer. Hmmm, tell us if you are planning to. Gasp.

We can't wait to see all the entries no matter the skill level so don't get discouraged by the voting.
Linksssszz
Indie World Order™ is a community for independent game developers, artists, content creators, & anyone who supports indies.

Join us!
» Discord: https://discord.gg/5a6epJw
» Twitter: https://twitter.com/IndieWorldOrder
» Site: https://www.indieworldorder.com/

A special thanks to Baz who is aiding in the jam running and our other cave runners & Discord fam who helped inspire the idea to go bold.

»» Come to this thing, #ThrowBigRocks: https://discord.gg/5a6epJw ««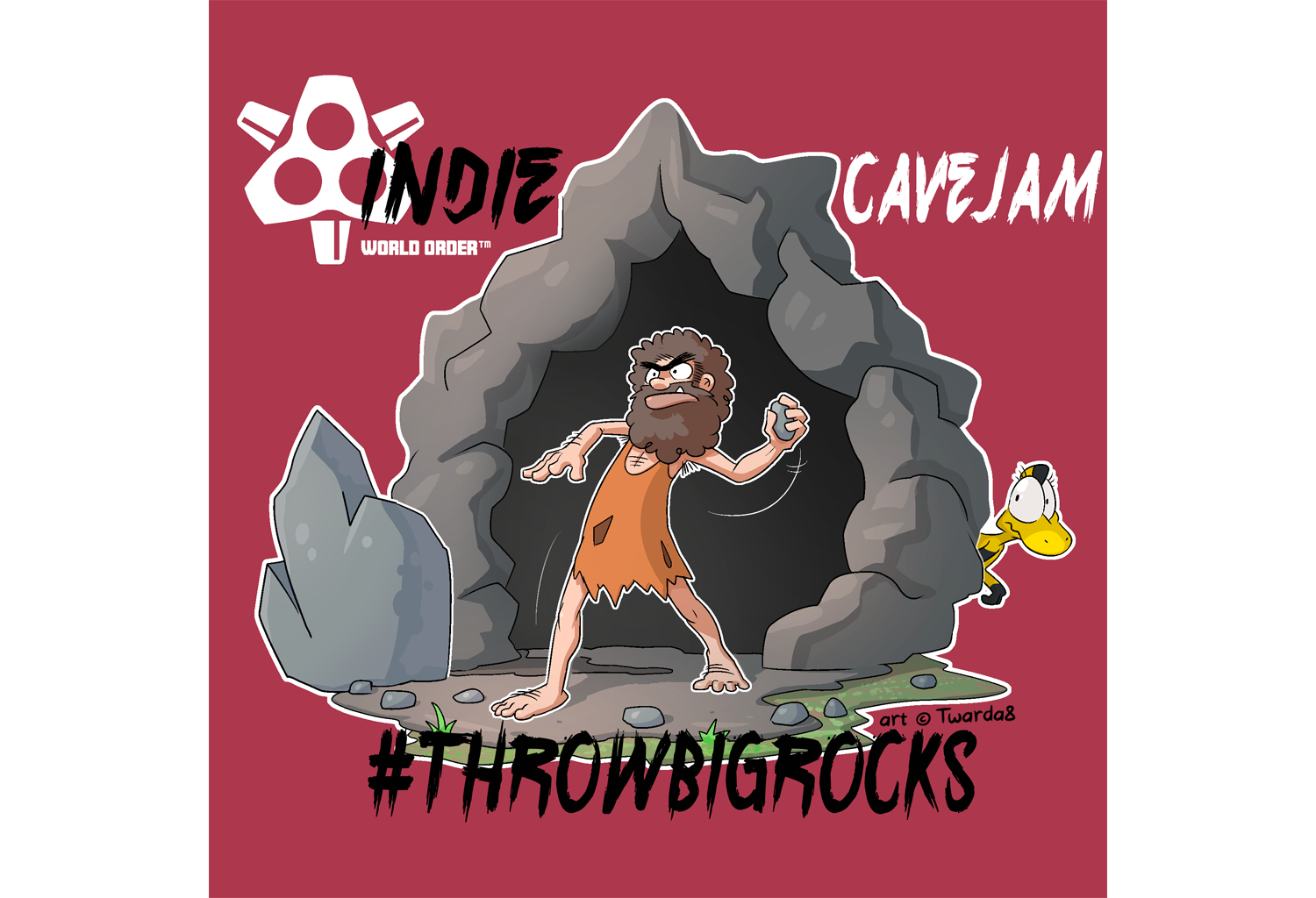 Custom Art by @Twarda8