Interactive Jam
Join us for an exciting 24 hour session of creative jamming with film and technology!

You can make anything you can imagine: a VR movie, an AR utility, a Livestream extension, a linear storybook animated comicbook app, a print and play tabletop game, or whatever else! Ideally it can be uploaded and shared with the community, but if nothing else, you could record people playing it and upload that here.

Sponsored by Access Salt Lake and Utah Geek Events and WildWorks, and organized by UDEN and IGDA SLC.
Thank you to volunteers from https://www.fowers.games/, http://doubleplusgoodgames.com/, https://heritage.utah.gov/utah-division-of-arts-museums, www.NENStudios.com, http://bigdoornetwork.com/, and http://utahindiegames.org for your support!
Keynote
Prototyping FlickSync and Animation in Mad Hatter VR
J Peter Jones, Animator/Indie Developer
www.johnpeterjones.com
Location
See the location and parking information at the bottom of this page: https://www.utahden.org/hiweek

In addition, on Saturday Salt Lake City is hosting a Free street festival event in front of Access Salt Lake and several other areas in the downtown area on Saturday, May 5th between the hours of 10am-4pm. 200 West and the eastbound lanes of 200 South will be closed from 6am-5pm. This means attendees and visitors that need to leave during that time have to ask to get escorted out and back in, or park somewhere further away and walk in.
This event will be in the entire east bound lanes between 200 West and West Temple as well as the entire lane of 200 West, which impacts street parking and accessing the parking garage near the Jam. The street festival takes place from 10am-4pm, but the road will be closed beginning at 6am and reopen by 4:45-5pm. You won't be able to park on the street there, and if you park in the parking garage behind Access Salt Lake, you can still get access with police escort during the hours of the event.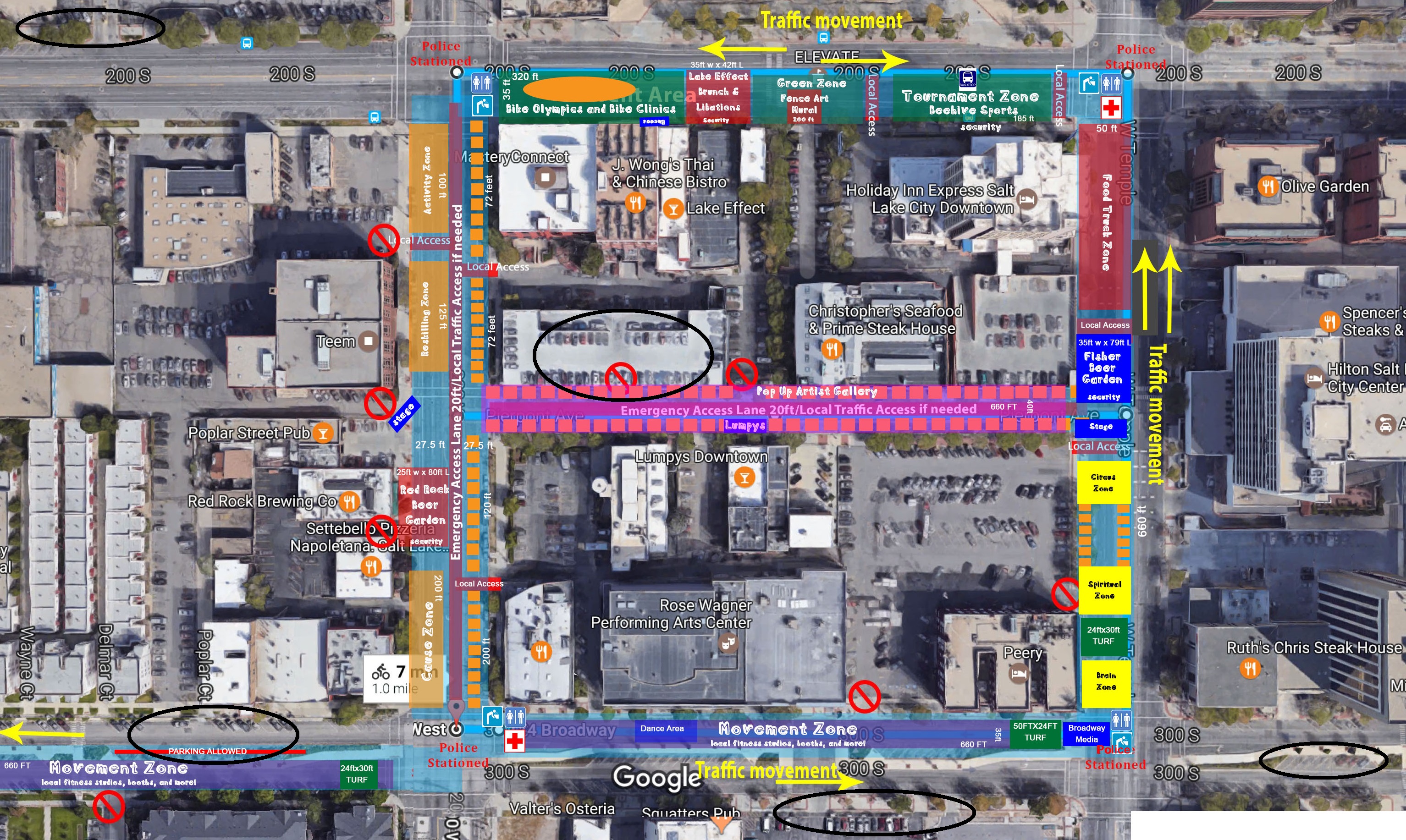 Schedule
Friday 4th May
12pm Check-in and setup, mingling, team forming
1pm - Keynote and theme, finalize team assignments, begin Brainstorming
3pm - Brainstorming deadline, begin creating and setting up project
5pm - Pizza provided by WildWorks

7pm - Rough Assets deadline, begin integrating assets
Saturday 5th May
12pm - Final Assets / Prototype deadline, begin polishing

1pm - Lunch provided by WildWorks

4pm - Final deadline, begin practicing presentation
5pm - Presentations, Judging, and Awards, prizes sponsored by Utah Geek Events

Categories
Most Original
Best Use of Technology
Best in Show
Notes
There will be prizes for the best interactive experiences.

You can join a team on the day or come along with your own.

You will need to be available to work with your team Friday and Saturday!

You will need to sign a waiver- this is just a volunteer-run fun networking event.

There is minimal security so plan to watch out for your stuff or leave it with a volunteer.

Plan to get the organizer's number if you leave at night in case you accidentally get locked out.

You can make anything, but keep it family friendly and aim to have the presentation be about 5-10 minutes long.

You will need to bring your own equipment, food, and sleeping bag (if stopping over).

Please respect the facilities and be prepared to take out your own trash.

The elevators shut down at 7:00pm each evening, and do not run on the weekend unless you are a tenant with a card. If there is anyone who will not be able to use the stairs, let me know at vazor222 at gmail and I can try to make arrangements.

Thank you to the judges:
Tim Fowers, President of Fowers Games
Joe Albrethsen, President of Double Plus Good Games
Emily Johnson, Museum Services Specialist at Utah Division of Arts & Museums
Dana Ware, Director & Producer at NEN Studios
Benton Paul, CEO of Big Door

You can use #interactivejam to share online and find others that have made interactive experiences if you like.