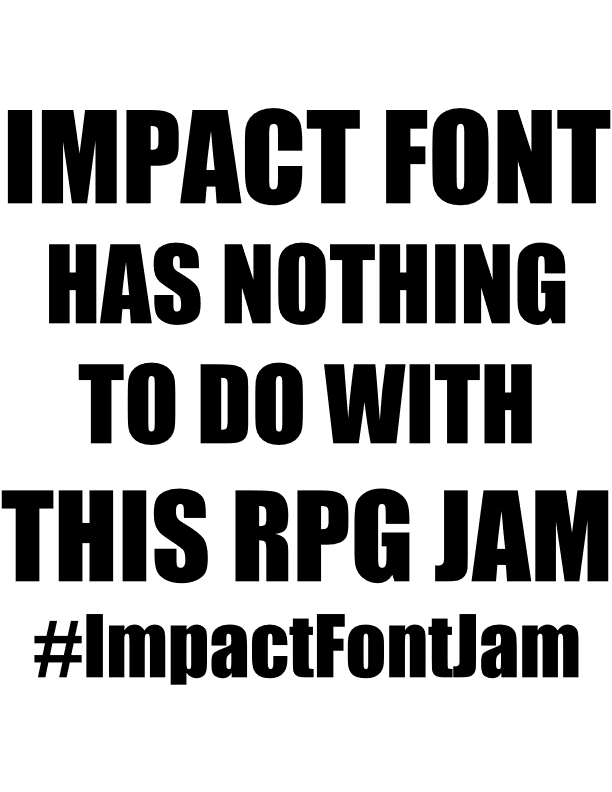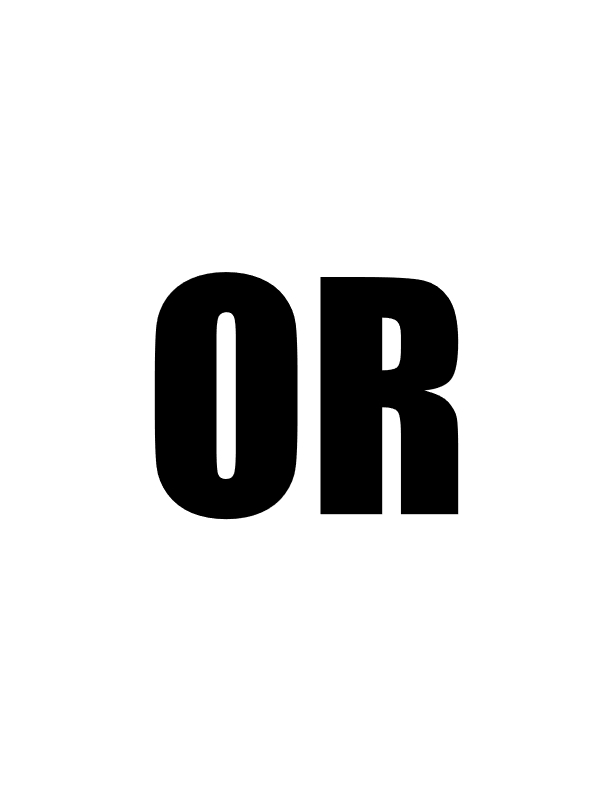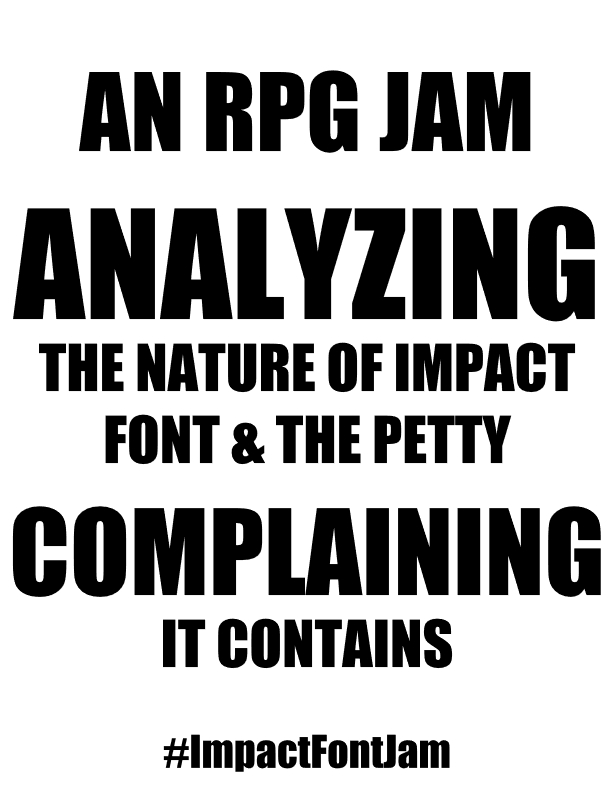 IMPACT FONT. It's bold. It's bossy. It's punchy and preachy. It is a classy dame and just the best. We love it to death as our favorite font in the world.
But we disavow all use of it, and we don't like it at all! It's the worst!
But you know what's worse than Impact Font? Those snakes slithering among us in the Font Industry saying we can't use Impact Font for things it allegedly may or may not have done!! So we won't use Impact Font for this jam.
Except we totally will! Font industry, I say thee "I'm not touching you!" as we launch this, the #ImpactFontJam, also known as IMPACT FONT HAS NOTHING TO DO WITH THIS RPG JAM also known as AN RPG JAM ANALYZING IMPACT FONT AND THE PETTY COMPLAINING IT CONTAINS!
In this RPG jam, we make a plain white cover with BIG IMPORTANT IMPACT JAM MESSAGES ON THE COVER!!!
Then we REALLY STICK IT TO THE HATERS AND COMPLAINERS by filling our Impact Font Jam RPG with the COOLEST, MOST EDGY, BALLSY, and BADASS GAME CONTENT WE CAN THINK OF!
This game content is WAY BETTER THAN ANY OTHER GAME CONTENT and has NOTHING TO DO WITH IMPACT FONT. And it CERTAINLY HAS NOTHING TO DO WITH WHAT WE'RE COMPLAINING ABOUT ON OUR AWESOME EDGY COVER!! Anyone who thinks that's what's up is a LIAR AT BEST and a CENSORIOUS MAOIST AT WORST!!!
So come on, make a piece of RPG content that's TOTALLY RAD, TOTALLY HAS IMPACT FONT, and TOTALLY HAS NOTHING TO DO WITH WHATEVER YOU'RE COMPLAINING ABOUT!!!
Theme: Open License Content That's Totally Not Complaining About Anything

The #ImpactFontJam is a space for you to vent out your pettiest, most childish frustrations. Don't like when people chew with their mouths open? Write about that! Don't like people who set a date and then don't show up for it? Write about that! Don't like it when someone says "addicting" instead of "addictive"? We've already got an entry for that, and if you do it too, we'll write an entry about how annoying that is!!
Oh, right, but the RPG part. Your petty complaint has to be thinly disguised with a layer of gameable material for an Open License (or otherwise legally hackable) RPG of your choice. Your petty complaint could be disguised as...
some new rules
some kind of hack
some stuff for players
some playable module or scenario
some random table
Whatever, so long as it's usable in the game of your choice AND a petty complaint. So for example, if you're bothered by people chewing with their mouths open, you can make a disease that's some form of virulent lockjaw that affects those who do that. If you don't like people skipping out on dates, you can write an adventure in which skipping out on a date has DRASTIC consequences. If you don't like people writing entries about things that annoy them when you wrote an entry about that same thing, make an NPC who plagiarizes incessantly and is just loaded with personality quirks that will make your PCs want to put an axe to their face.

Recommended Games

These are some open source games we either love, are okay with, or know are open source and popular so do that anyway! These games are typically both highly hackable and very accessible for third party licensing.
Old School Essentials

Low Fantasy Gaming

Troika! or Into the Odd
The Black Hack or Whitehack
D&D (any edition, but some game with a 5 in it is popular rn)
PbtA (Dungeon World & others) or Forged in the Dark
Pathfinder if you want??? We guess??? Hey no judgment.
Various story games, including: Fate Core, Lasers & Feelings, and Risus
Rules and Community Standards
This entry contains rules borrowed from the SWORDDREAM community's DREAMJAM from July of 2019. We didn't make those parts up. They are cool cats. Support them too.
The cover, the art, or some contents of your entry MUST contain edgy and in-your-face use of Impact Font, which we loathe and abhor.
Your entry must be an edgy and in-your-face cover for the most petty and annoying complaint you can muster.
I know we've said it's edgy, but keep it tasteful. This is obviously in response to a certain product by The World's Greatest RPG With An Impact Font Covered Adventure That Acts As A Disguise For Petty Complaining, but we don't really want material that could be confused for belonging to TWGRPGWAIFCATAAADFPC, also known as Lovers of the Font Packages.
We reserve the right to delete any material we deem tasteless or horrible.
Entries can come in pretty much any shape or size, we just made the images 13in x 8in for the gag of it being a cover and stuff.
The games above are just suggestions, as long as it's legal for you to do so - heck, even if you can prove you got exceptional permission from a dev - you can make an entry for/from any game you want.
Okay here comes the parts we borrowed from DREAMJAM.
Entries may not contain racism, sexism, homophobia, transphobia, or other hate speech.
Entries must abide by itch.io's rules for selling physical games.
This Game Jam is specifically for material related to Tabletop Roleplaying Games. Video game submissions will be removed. Thanks!