UPDATE: If you need a little more time, feel free to make some changes after the deadline. I'll be playing the games Saturday evening (UTC) - so just get the most up to date version in by then please <3 I'll be streaming me playing them on my Twitch Channel, so be sure to drop by if you wish to see your game played!
Theme Announcement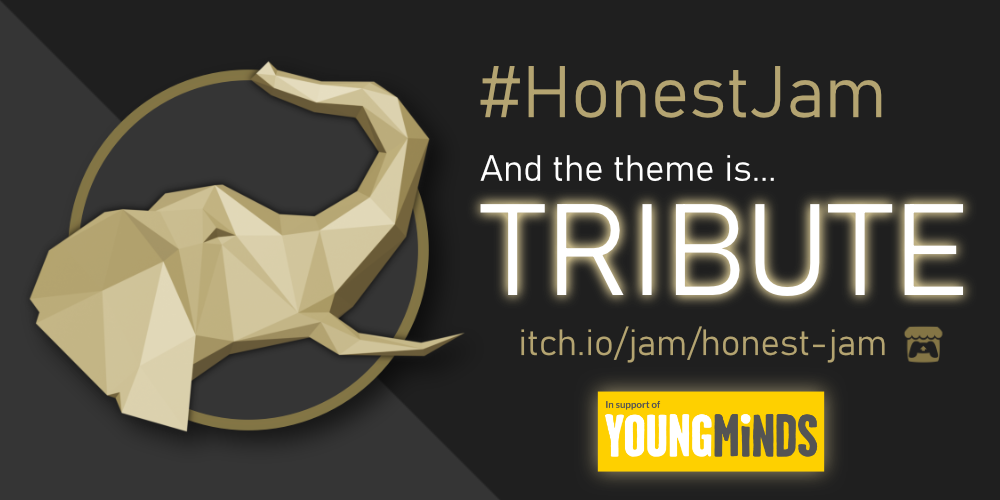 Tribute: something that you say, write, or give that shows your respect and admiration for something or someone.
I chose this theme so people have the freedom to create a game that suits them.
It can be interpreted as a pure topical theme, making a game where a tribute is central to the story or mechanics. Or, you may choose to make something that's a tribute to an existing game. Perhaps you are just learning game dev, and so making a tribute to Mario or Flappy Bird may be an exciting challenge for you. Perhaps you love a game like Minecraft and want to challenge yourself to get started on a game that draws inspiration from it. Maybe you love FPS games and want to make your own as a tribute to the genre. Ultimately, its about finding something that works for you - and hopefully about something that you have an interest in developing.
If you need help getting started, here are some ideas regarding the theme:
- A game where you must pay tribute to a God in order to keep them happy.
- A sequel to a game that you'd love to see more content for.
- A game that pays tribute to a real life events that have happened thats important to you.
- A kingdom themed game where the kings receive tributes and offerings.
- A text based game that's a tribute to the classic game "Zork".
- A story based game based around experiences of a loved one or friend.
- A racing game that's a tribute to your favourite genre of video game: racing.
- A remake of an existing game by you or someone else.
Synonyms: praise / congratulate / compliment / commend / flatter / pay tribute to.
Reminder of Rules:
- You are encouraged to start the game from scratch, but not enforced. However, if you do not start from scratch, please state clearly what parts of the game you've done within the timeframe of the gamejam.
- If you want to use existing assets (audio / art, for example) then this is allowed - though please state when submitting your game if you've used audio and art that wasn't created for the jam.
- The purpose of the jam is to be creative, learn and enjoy. Don't put too much pressure on yourselves and you are not encouraged to work flat-out for the duration of the jam.
- Each entry is celebrated. Please do not pass negative judgement on games, as we are all at different stages or ability and experience. Giving constructive feedback is encouraged, however!
- Dan will be playing the games live on Twitch at the end of the gamejam, so please try and keep things relatively family friendly.
*******************************************************************************************************************
The first official Honest Jam, hosted by HonestDanGames! Dan will be streaming throughout the week of the Honest Jam on Twitch, raising money for the Young Minds charity whilst working on his jam entry. Feel free to join the community discord.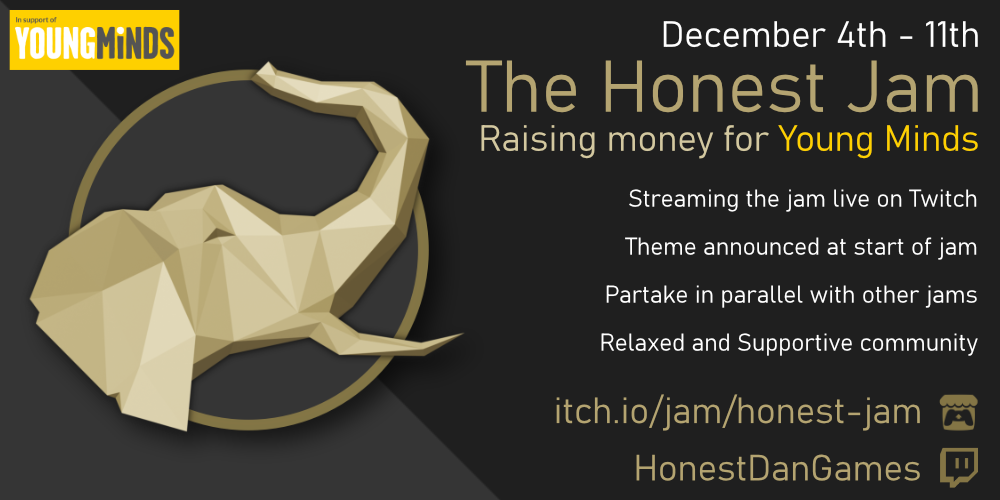 Who is HonestDanGames?
HonestDanGames is a professional game developer, who first started off his game dev journey back on Twitch in 2017. He streamed his learning full time for 18 months, before getting hired in a UK studio in 2019. He still streams today, though is unable to commit to a strict schedule like he did in the old days.
In December 2019, HonestDanGames streamed for a week to raise money for charity. One of the goals reached, during what ended as a fantastic £1400 raised, was for him to host his very own game jam. It may be almost a year on, but here we are - the first Honest Jam!

How does the Honest Jam work?
In the meantime, here's likely expectations for the jam:
About a week long, to allow people who work or who have other commitments to still take part in a jam
You are discouraged from using all 7 days to cram in as much work as possible!
You are encouraged to create the game from scratch, but it is not enforced. Please make it clear upon submitting what parts of the game were made from scratch or not (especially if using asset packs).
A theme will be announced on the Friday at 19:00 UK time on my Twitch channel.
Jam participants are encouraged to creating a game in the spirit of that theme.
Honest Dan will play and give feedback to every game submitted, likely the weekend following the Jam's conclusion.
Making games alone can be lonely. We want contributors to feel they can communicate during the jam, share progress screen shots, and ask for general support if they need. Dan will be streaming on Twitch Monday - Friday during the Jam Week, so feel free to hang out in Twitch chat when you're working. The community discord also has a section dedicated to Game Dev.

The Charity: Young Minds
YoungMinds champions the mental health and wellbeing of children and young people across the UK. Driven by their experience we create positive change so that children and young people can cope with life's adversities, find help when they need it and succeed in life.