By submitting an entry you agree to the terms of service outlined at http://www.awfuljams.com/eula
~~* Note: This is a screened jam. If you break the rules your game will be disqualified and REMOVED from the Jam! *~~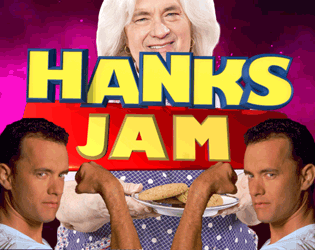 TOM HANKS JAM
March 15th - April 1st (GMT -5)
Presented by Awful Jams
Download the Press Kit! Logos! Images of Tom Hanks! Everything you need.
Join the Discord! We're nice (if you're a dev)
Follow us on Twitter! For all updates and ~motivation~
Watch previous jams on YouTube!
Mamma Mia! Here We Go Again. Awful Jams is here to present "Hanks Jam"! You have from March 15th to 12am April 1st to create a game based around Thomas Jeffrey Hanks. Better known as producer, screenwriter and America's favorite actor: Tom Hanks.
Whether your game is about the impressive legacy of Mr.Hanks, his many award winning films, or other creative endeavors. We welcome developers new and old alike. Never made a game before? It's not Charlie Wilson's War, you can make a game if you try!
So ready your Terminal, cast out your Dragnet, and gather a team that's a League of Their Own.
Hop on The Polar Express as we travel this Green Mile. You've got about 3 weeks to Cast Away and hammer out your Da Vinci Code. We can't wait to see the fruits of That Thing You Do!
Remember to take care of yourself, don't go Sleepless in Seattle (or anywhere else). Be sure to practice good personal care during the jam!
Rules
- Do not start development of your entry before March 15th.*
- Your game must adhere to the theme in a major way (Tom Hanks).
- Don't be an Ant Bully. Mean or aggressive behavior will get you launched out of the jam like Apollo 13.
- Keep from Sully(ing) your reputation! Avoid heavy violence or bad language. Keep your game rated PG-13.
- Put a lid on your Band of Brothers (and Sisters). No more than 3 people** per team!
- Make your games small! Entries must be no BIGger than 512mb (on-disk).
- We don't want to worry about Angels & Demons. Don't include any sort of installer with your game! Your game must run after extracting from a '.zip' file. (Browser games are fine)
- Avoid being a Small Fry! Don't submit broken / clearly unfinished games, asset store flips, or games created before March 15th.
* You may assemble your team and discuss possible ideas. But avoid designing and DEFINITELY do not create any game specific code before the start date. ( Plugins, engines, and frameworks are fine ).
** Musicians, voice actors, sound fx artists, and anyone who ONLY makes audio files for you game do not count toward your team count. This does NOT extend to artists who only create art files.
---
Rating Categories
League of Your Own : Game of Jam
[If you are in the US or Canada winning this will get you a physical prize pack from FanGamer!]

You've Got Hanks : For most Tom Hanks.
Punchline : For most humorous / weird game.
Turner & Hootch : For best looking game.
Mamma Mia! : For most polished entry.
Catch Me If You Can : For the most fun game.
Extremely Loud & Incredibly Close : For best audio.
He Knows You're Alone : For best game by a solo participant