Games Now! Online Jam #3: Board Game Ecologies is the third jam in a series of online game jams organized by Aalto University Games Now! lecture series. The jam is open for anyone interested to participate and it is free of charge.
Schedule:
Additional workshops:

Rules of the Jam
Make a board game or a digital game inspired by board games. Board games can be digital or hybrid as well.
Get inspired by the theme: Board Game Ecologies presented on our Twitch channel October 12th, 14.00 - 16.00 UTC: https://www.twitch.tv/gamesnowaaltofi. The recording can be watched there after this, and the video will be uploaded to Games Now! YouTube channel (https://www.youtube.com/channel/UCrZGQzvxw7GoZwjTkroa6oA) later on.
You can use any assets that you have license to. Credit the authors!
All analog and digital technologies are allowed.
You can use premade assets.
Analog games should be uploaded into the itch.io in a print-and-play format (e.g. pdf files).
All submissions should include a gameplay video or video of a physical game play session!
Be nice to each other. We follow the Finnish Game Industry code of conduct: https://neogames.fi/the-finnish-game-industry-code-of-conduct/
Submit the game to itch.io by the deadline (see above).
This time we will go analog (or at least hybrid), as the focus of the jam is on board games! The design constraint and theme is "Board Game Ecologies". What are those, and how can they be used in game design? This will be revealed in the two hour kick-off talk show on our Twitch channel (https://www.twitch.tv/gamesnowaaltofi). We will have two guests: Annika Saarto and Kai Saarto, and we will discuss with them how ecologies are represented in board games. Annika and Kai Saarto share their love for board games through Todellisuuspako -blog (https://todellisuuspako.blogspot.com/), and -podcast (https://soundcloud.com/todellisuuspako), and are also members of the Pelaajien Valinta -awards jury (https://www.pelaajienvalinta.fi/) and regular guests in Lautakunta-podcast (https://www.lautakuntapodcast.fi/).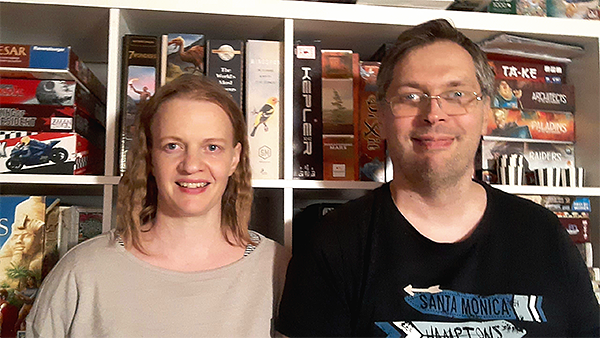 Dr. Annika Saarto has found the joy of (board) gaming some five years ago. As an expert in Ecology, she is keen in scrutinizing phenomena as systems. This is reflected in the favorite mechanics in board games: building engines, and their sub engines, is the best thing she can imagine. Kai Saarto is a journalist with a lifelong love for board, video, and roleplaying games. He has been a gamer since 80s and especially loves games with good stories and character development.
Our visitors will present a set of board games that have some kind of ecologies in them. Together with them, we will discuss in the kick-off Twitch talk show what is the role of ecologies in board games, and how to utilize them in game design. Annika and Kai will join us also in a review talk show after the jam, on the following Monday at 14.00 UTC, when we will review and comment the submitted games together with them.
The Games Now! Online Jam is a part of an online teaching development project at Aalto University in Finland, tackling the issue how online game jam with a Twitch show can be utilized in university teaching. For the purposes of the project, all jammers participating in the jam are asked to fill in a short survey after submitting their game. Participating in the survey is voluntary and anonymous. Submitted games will also be analyzed for the study. The collected data is not used in any commercial purposes, will be stored in an appropriate manner and will only be handled by the Games Now! research team.
For any inquiries concerning the study contact: ville.kankainen@aalto.fi