Inizio: Venerdì 22 Maggio 2020

Fine: Sabato 06 Giugno 2020

Asset pack: Kenney's 1-Bit Pack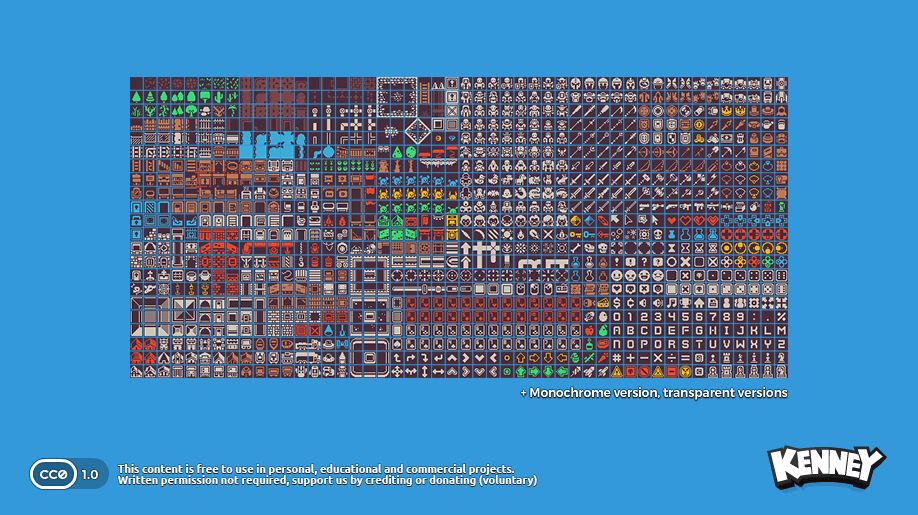 Regole

Bisogna utilizzare tutti lo stesso asset pack, qui linkato

È

possibile manipolare gli assets, combinandoli, cambiando colore, forma e dimensione

È possibile utilizzare shaders


In generale cercate di fare vostro lo spirito di limitarsi all'uso di un singolo asset pack




È possibile utilizzare audio, sfx e fonts proprietari o di pubblico dominio




È incoraggiato il rilascio dei sorgenti del gioco, di eventuali progetti di engine o tool



È possibile partecipare da soli o in team

Chiarimenti:
Non è possibile disegnare ulteriori sprites, neanche mantenendo lo stesso stile grafico proposto.
E' possibile ricavare piccole animazioni degli sprites presenti apportando modifiche minimali ai pixel degli sprites.
I giochi verrano sottoposti ad una votazione su diverse categorie. La jam è da intendersi non competitiva e per divertimento. La votazione ha l'utilità di dare ai partecipanti un feedback sul loro operato. La contravvenzione consapevole alle regole indica pertanto solo la pochezza della propria persona, niente multe o squalificazioni da premi.
Categorie votazione:
Overall
Original Use of the Art Asset
Fun
Sound
Music
Art Direction
UI
Game Design
Tech
Questa jam è organizzata dalla community di GameLoop.it. Ci trovate sul nostro sito https://gameloop.it, sul nostro forum https://forum.gameloop.it, su Facebook e su Twitter, e sul nostro server Discord, dove vi è la maggior parte dell'attività.
Teniamo un podcast a tema, di cui potete trovare informazioni sui vari canali e che potete trovare sulle maggiori piattaforme di distribuzione di podcast. I podcast vengono registrati sul nostro server Discord, dove gli utenti possono ascoltarli in diretta e porre domande via chat.