GAMEHIGHED JAM CEREMONY 2021
26.4.2021 20:00 (CEST) STREAMED LIVE HERE
THE FINAL DAY!
Hi! The Sunday is here, still a lot of time ahead of you, but remember, 6PM (CEST) is the deadline for submitting your game to the jam.

Here are the steps how to submit your game to the jam.

Good luck! In case of troubles, ask in #qa channel at Discord!
THE THEME IS "
Y

O

L

O

"

THEME announcement -> It is YOLO - You only live once.
We wish you luck!

WHAT
GAMEHIGHED Jam 2021 is a 48h hackathon in making games. Anybody can sign up and compete for honor and fun. Game jams are here to bring people of various skills keen on game development together; an opportunity to meet new friends, acquire new skills, try out new ideas, be creative. Whether you are a beginner or a seasoned game developer, GAMEHIGHED Jam 2021 is for you. This time, we go fully virtual.
Gamedev.Cuni.Cz and Czech Game Developers Association are honoured to join forces with our partners from GAMEHIGHED network - Bahçeşehir University, Kazimierz Wielki University, and University of Jyväskylä to create our very own international GAMEHIGHED Jam 2021!
What does that mean you ask? We will fully integrate all our game jam sites into one virtual space. You will be able to communicate, form teams and exchange ideas internationally. We will have a common Discord platform to stay in touch and share our experience, one epic opening ceremony, keynote speakers and even some prizes! In the end, an international panel of judges from academia and industry will be choosing THE BEST GAME of GAMEHIGHED Jam 2021. And of course, you can win the PEOPLE'S AWARD of GAMEHIGHED Jam 2021 by popular vote too!
We are happy to announce that we will be fully supported by several game studios:
Charles Games - indie studio behind the award-winning game Attentat 1942. We focus on narrative games and enjoy coming up with innovative ways to explore serious themes. We will provide all game jam participants with our Charles FMV Engine It is our plugin for Unity to easily create FMV games or visual novels (no coding required!). Just ask for it on Discord!
Amanita Design - Czech indie game developer. The studio was founded in 2003 and is known for its emphasis on surreal worlds, light-hearted humour, hand-crafted appeal and audiovisual experience. We are glad to be keynote speakers of this event and we will also give Steam codes for our most recent game Creaks to the authors of the best games.
Game Factory is a unique online game development hub that is open to all aspiring game developers – from students building their first games to professionals with years of industry experience who want to try their hand at developing a game independently. Our participants have the chance to run their studios or join a team to start building their own games and work directly with our partners and our team. Better together. We will have mentors on site to help you develop.
WHERE?
COVID ALERT! No surprises - it will all happen online this time. It may be challenging, but there are multiple upsides. The Internet is blessed with so many free online tools that can make it work. We can organise this game jam internationally creating a new network of participants. No worries, we have a confidence you are being able to pull it off and that online jamming will still provide fruitful experiences!
This Discord channel will be at the heart of all our efforts, so please join it as soon as possible.
WHEN?
Timezone
The jam runs in Central European Summer Time. CEST == UTC+2 == GMT+2 == PDT+9

(ProTip: You can click on any information related to time to see a page converting it to other time zones)

Friday 16.4.2021
17:00 - Opening speech by organisers
17:20 - Keynote speech by Michal Berlinger (Amanita Design) and Lukáš Kunce (Amanita Design)
18:00 - JAM THEME announcement during the live stream
18:00 - JAM STARTS! You have 48 hours to create your game
24:00 - No matter your time zone, when it's midnight at your place, join the MidnightCheers channel on Discord to have a common Cheers with your beverage of preference!
(ProTip: you can join this channel basically every hour as there will always be a group of people having midnight :))
Saturday 17.4.2021
Full day devoted to game jamming!
12:00 - Screenshot Noon - Send a screenshot of your game to the Discord channel!
20:00 - Pub talk! Grab a bottle and let's chat at Discord about the jam, troubles, FAQ!
24:00 - No matter your time zone, when it's midnight at your place, join the MidnightCheers channel on Discord to have a common Cheers with your beverage of preference!
Sunday 18.4.2021
12:00- Screenshot Noon - Send a screenshot of your game to the Discord channel!
17:00 - Time is running up!
18:00 - Jam ends! 18:00 - Submissions closed (HARD deadline!)
18:00 - Voting period starts!
24:00 - No matter your time zone, when it's midnight at your place, join the MidnightCheers channel on Discord to have a common Cheers with your beverage of preference! This time to celebrate the Jam!
Monday 19.4.2021 - Monday 26.4.2021
Voting time! All jam submitters + contributors may vote!
19.4.2021 - Deadline for submitting your 1-2min gameplay video to GAMEHIGHED Jam 2021 Competition
26.4.2021 16:00- Voting ENDs!
26.4.2021 20:00 - GAMEHIGHED Jam 2021 Ceremony - Results announcement with a showcase of games (see https://www.facebook.com/gamedev.cuni.cz/posts/4131052213606715 and follow our Discord for more info Discord and in the email)
PRIZES?
Nothing can replace the feeling of creating and experimenting with something new. However, we will still like to give some form of feedback and appreciation for your creations.
There are several prizes available for participants
1. The Best Game of GAMEHIGHED Jam 2021 (as voted by the panel of judges) will receive the certificate signed by our jury, Steam codes for Creaks provided by Amanita Design, Unity vouchers provided by Crazy Labs, Steam codes for Attentat 1942 provided by Charles Games. The rest will be announced soon!
2. The People's Award of GAMEHIGHED Jam 2021 (as voted by participants) will receive signed certificate by our jury, Steam codes for Creaks and Attentat 1942 and Unity Gift Codes. The rest will be announced soon!
VOTING?
All participants who will submit a game or who will be a contributor to some submission may vote on the games. Note that you will NOT be able to update your submissions during the voting period to ensure fairness! Although, you can modify your webpage however you want.
There will be 7 categories to rank the games with: -
Overall impression (PRIMARY CATEGORY)
Theme (is the game related to the theme?)
Innovation (is gameplay innovative?)
Fun (game is fun to play?)
Controls (game controls are snappy, easy to play with?)
Visuals (nice looking game?)
Music & Sounds (nice audio in the game?)
SIGN UP?
Register itch.io account or login if you have one and click on "Join jam" button above (scroll up).
COMMUNITY?
GAMEHIGHED Discord - Dedicated channel for jammers!
Facebook- Event to share with / invite your friends!
RULES?
Max team size - 4 jammers; join the jam; submit your game on time to itch.io!
The build must run either on Windows 10 based computer and/or Android 6.0+ mobile device; if you're targeting WebGL, make sure to Max team size - 4 jammers; join the jam; submit your game on time to itch.io!
Official Jam Rules - Including the judging process!
Code of Conduct - To sum it up - Be kind and polite!
Jam Terms & Conditions - Lawyerish regular stuff!

ORGANISERS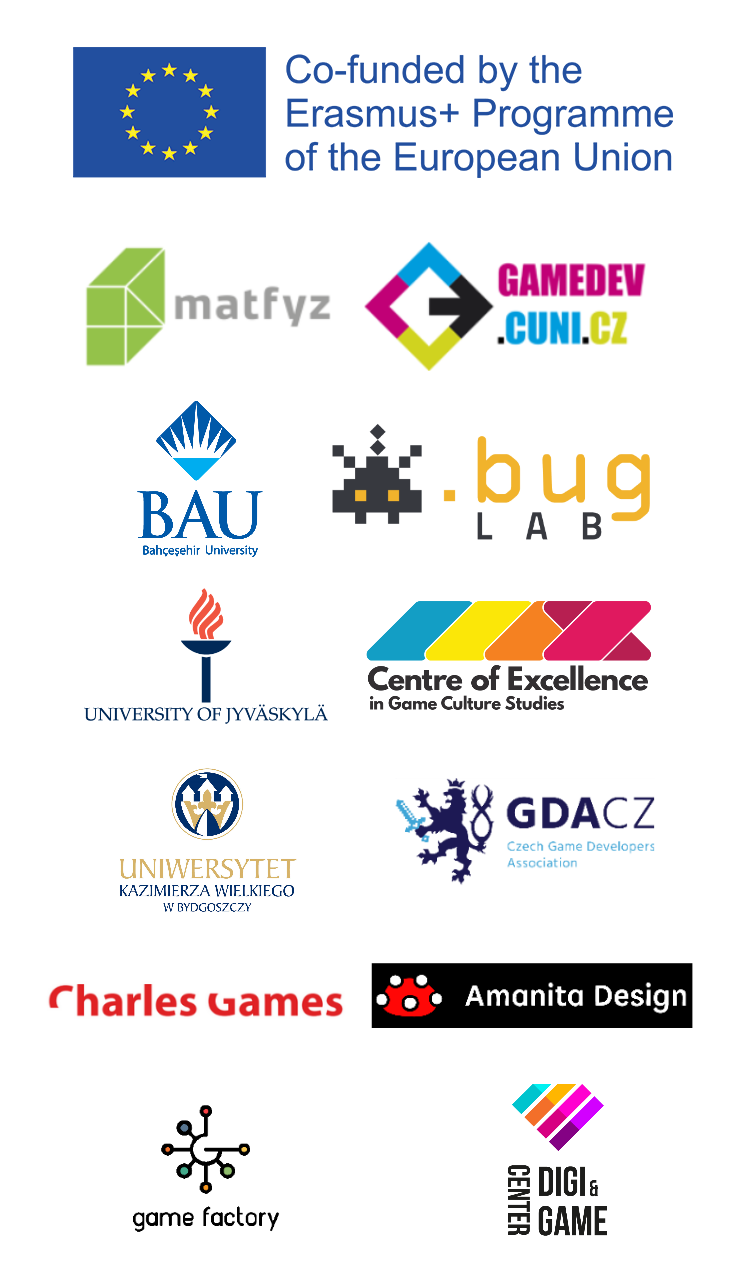 SUPPORTERS AND PARTNERS

CrazyLabs is a Top 3 casual and hyper-casual mobile games developer & publisher, with over 3.9 billion downloads. CrazyLabs has offices in Israel, China, Macedonia, Germany and Ukraine, and has hyper-casual gaming accelerators called CrazyHubs in India, Turkey and Israel. As a gift for the autors of the best games, we will send them Unity vouchers!

Indieway is an online business ecosystem for game developers. On our portal, we have a 2 days webinar free to join every month. Digital Expo accept up to 30 indie games to showcase their games for free. You can get a ticket to make B2B meetings in every event. Please visit Indieway website for indie application, to become a speaker or to get a ticket for upcoming events. As a gift for the autors of the best games, we will provide them with business tickets to our Digital Expo!

ÜNOG Game Developer Community is an organization that includes producers who develop games and believe that sharing information is valuable. They act with the mission of finding creative solutions to the problems faced by the industry and making positive impacts on the game development industry by working together. You can follow their blog posts, weekly newsletter and join their social groups.

LEVEL Magazine is the Turkey's best-selling gaming magazine since 1997. We have delivered countless coverage, in print and online, of every aspect of PC, console and mobile gaming. Our team of expert gamers brings you trusted reviews, component testing, all kind of new mods, indie projects and latest news.
Animation Technologies and Game Development Center (ATOM), which is the first and the only market- specific pre-incubation center of Turkey, was established in 2008. . Its main aim is to contribute to the development of the Turkish video gaming industry via supporting entrepreneurial activities (training, mentorship, workshops...) Another aim is to train skilled workforce for the industry. As of 2020, more than twenty gaming companies were established.