Well met, Adventurer!
Welcome to Book Jam - where all entries will be published in a book!
Theme: Knowledge
!! Disclaimer !!
We are seeking no funding for this, we are able to bootstrap this exciting project thanks to our incredible Patrons. https://www.patreon.com/gamedevnetwork
When submitting your project to this jam, you will need to confirm that you grant us rights to publish and distribute your work - we do not claim any ownership of your game or its IP.
We will take pre-orders once the final jam entries are in. We will also be donating every penny of profit to games-related charities, with our entire cost/profit breakdown being transparent, so that you can rest easy knowing we're doing our best for the community 💖
Process
1) Make a game! Don't worry about how polished or 'publisher-ready' it is. This project is about you and your journey as a developer
2) Enter the following criteria during your jam submission:
- Game Title
- Names of all team members that would like to be included (Twitter handle optional)
- Description of your game. This can be about your journey creating the game, the story, a mix of the two, whatever you'd like! Minimum of 50 words - Maximum of 200 words
- Screenshot of your game
3) That's it! Your submission information will be published in our book. We'll start taking pre-orders shortly after the jam finishes (join our discord at https://discord.gg/gdn for updates!)
4) Books get shipped
5) We write a fancy blog post detailing the whole process, donate every penny of profit to charity, then provide the breakdowns so that you can see exactly where any $$ from book sales go!
- Link to your game (if you'd prefer the main link not to be the Itch entry)
Welcome to Book Jam!
This jam is being ran by GameDevNetwork, we are a community based on Discord that provides feedback, support and networking for anyone interested in the world of game development.

This will be our 11th game jam, and we're excited to bring something a little bit more tangible to you all!
What is a game jam and why should I bother participating?

Game jams are all about creativity, teamwork and experimentation! Don't be afraid to fail, as long as you enjoy yourself and create something, you're a winner and you have a new tale to tell. Maybe you'll stumble upon the next viral hit, maybe you'll create a buggy mess that's still entertaining as hell to play, either of those outcomes results in you creating something.
Not only does participating in a game jam give you the chance to flex your creativity and build on your portfolio, you get the opportunity to talk to other jammers, get feedback and make connections. Everyone from AAA studios to students regularly participate in jams for a reason, be part of that group going the 🌟 extra mile🌟
Oh, and winners will receive some cool prizes, see below
The process
1) Join our Discord server: https://discord.gg/gdn
2) Say hi! Or don't, and lurk in #gamejam and keep up to date with all the jammy news
3) ???
4) Games!
You'll have from Friday 17th 00:00 GMT until Sunday 26th 23:59 GMT to create and submit your game. You hold all rights to anything created during the jam.
Q&A
Q: Can I have NSFW Content?
A: No, sorry!

Q: Can I use old assets / assets from <pack here>
A: It all has to be created during the jam.
Q: Which engines can I use?
A: Any engine you like, use whatever you feel the most comfortable with.

Q: What's the maximum team size?
A: 4
Have a question that wasn't answered here? Ask in our Discord server! (https://discord.gg/gdn)
GameDevNetwork Stickers
In addition, random participants will each receive a high-quality die-cut GameDevNetwork sticker, we don't do that cheap stuff here! Postage is free!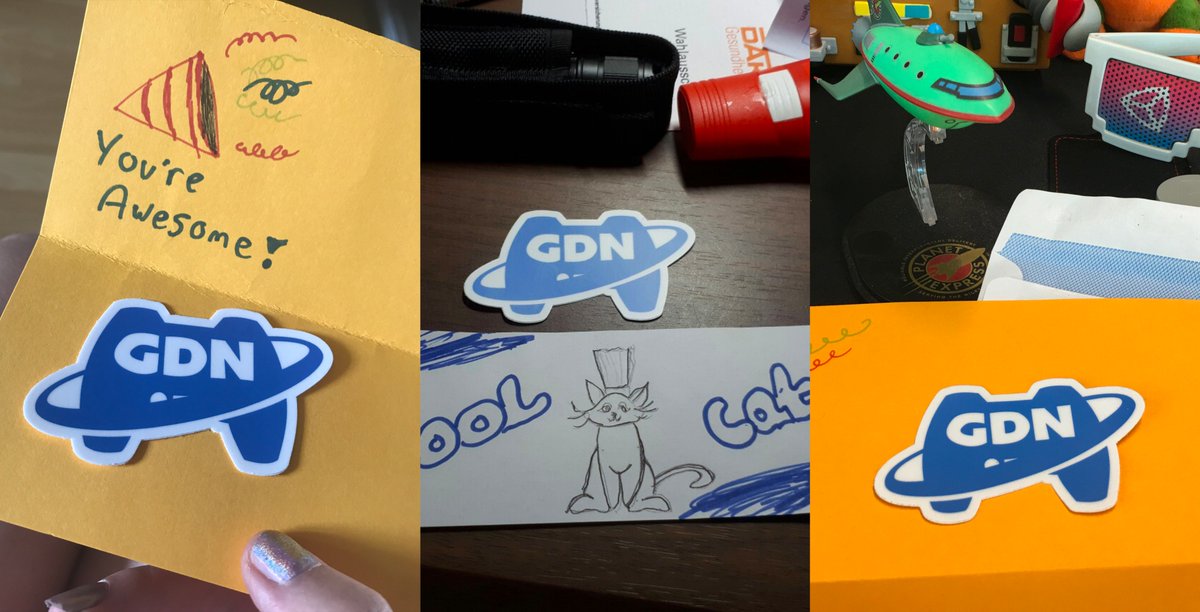 small ad

We're totally voluntary run and work super hard to put awesome gamedev events on / bring attention to various other jams outside of our own. I have covered the costs of stickers/shipping thus far personally, and I am happy to do so. If you like what we do and want to support us, consider our Patreon page: https://www.patreon.com/gamedevnetwork
We have staff polls on any use of Patreon funds and take nothing for ourselves, it goes directly into hosting awesome events like this. (Pledges also get a cool name colour on the GDN Discord Server!)