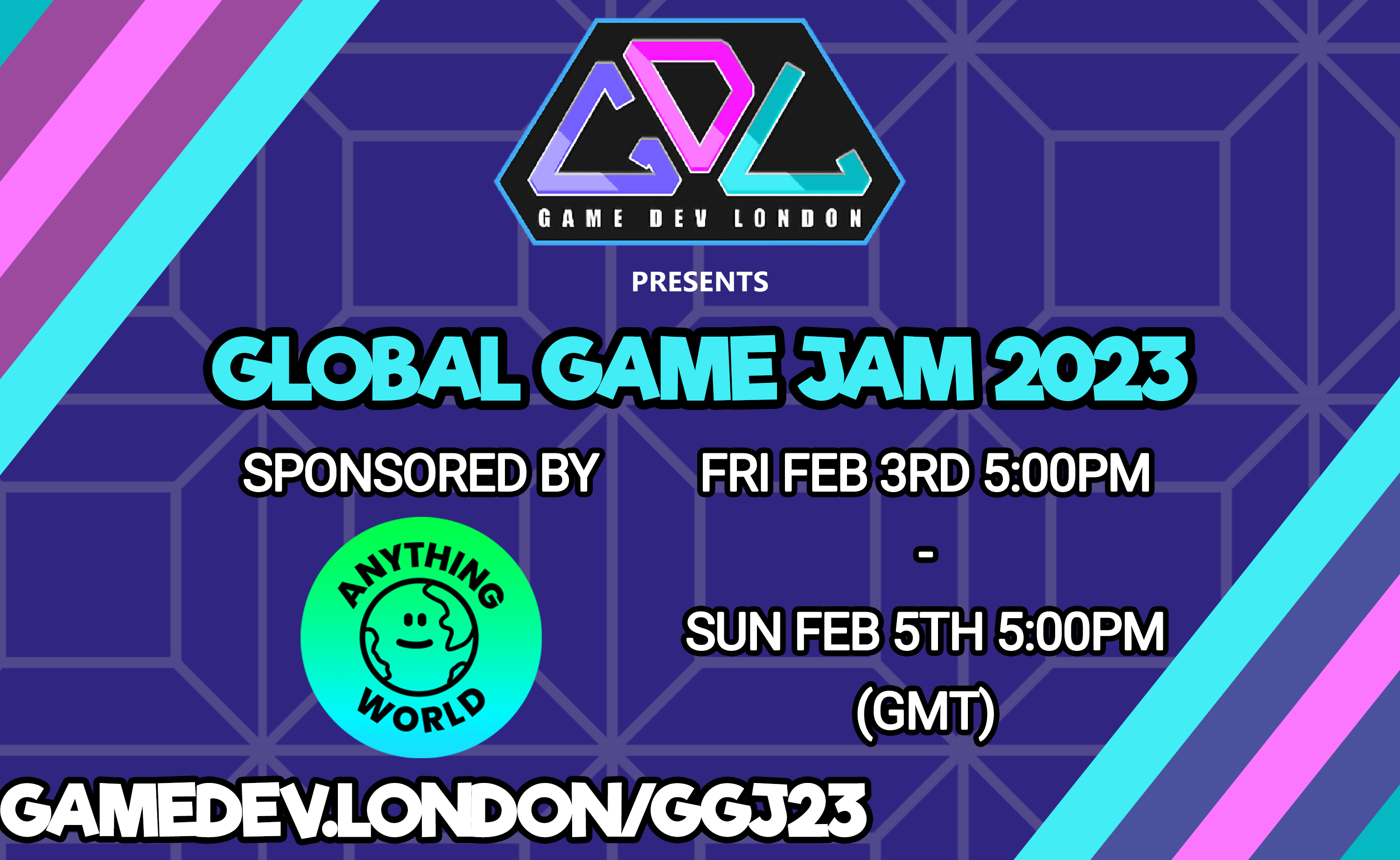 Welcome to the Game Dev London - Global Game Jam 2023 - Community Showcase!
Game Dev London is hosting its third Global Game Jam (having been the 8th biggest site in the world last year!), hosted inside our Discord community and open for anyone to submit! We're excited this year to bring GGJ to more people all over the UK and beyond.
Join us in the Game Dev London Discord here!
We welcome all developers and game makers to join us for 48 hours of creativity as we take a break from our day to day work and make some wonderful games and play things for everyone to experience!
We'll be running from
Friday Feb 3rd - 5:00 PM to Sunday Feb 5th - 5:00 PM (GMT)
Our site is open to anyone from anywhere! We'll all be talking in our Discord community, so if you are interested please do feel free to join us whether you are from London, the UK, Europe, or beyond!
You can sign up to our GGJ site by visiting: https://globalgamejam.org/2023/jam-sites/game-dev-london-x-ggj-2023
The theme is now available here: https://youtu.be/G8vZDKQWH68
Submissions
All submissions will be judged on the following:
Gameplay (how fun is the game to play)
Innovation (is the game new/interesting and has it been built using new assets and/or creative use of pre-built assets)?
Adherence to the theme (does it incorporate the theme in a genuine way)
Completion (how complete is the demo?)
Well-rounded (Is the game well rounded in terms of art, programming, sound, visuals etc)
All submissions must be playable as a web build or on Windows. You can target other platforms as well, but your submission must be playable as a web build or on Windows to allow the judges to play it on a special episode!
Submissions can use code, art, sound, and assets used in previous games, as long as:
They are used to create a new game
You have a license to use them in your game
Your final game is not an "asset flip" (an existing game or project presented as something you have newly developed)
You can also take advantage of our diversifiers to let us know more about what you are doing!
Commercial Chops - Your game is made available to purchase before the end of the jam
Portfolio Power - Your game is built to power up to portfolios of everyone involved
Purpose of Play - Your game is built just to be fun!
Anything and Everything (supported by Anything World) - Make use of the Anything World SDK in your game. Winners of this diversifier will win Anything World merchandise (for up to 6 team mates)

By submitting your game, you grant Game Dev London and its associates the right to showcase the delivered demo via any media. This allows us to show your game in the live stream and on our site should you win. Any game submitted to the "Game Dev London - GGJ23 - Community Showcase" may show up in a video or stream without your express permission.
Anything you make during the jam is your property. Game Dev London claims no rights or ownership of your game.
We'll keep this page updated with a list of frequently asked questions, so stay tuned for updates and start getting your team together!
Friday Feb 3rd - 5:00 PM to Sunday Feb 5th - 5:00 PM (GMT)