To cap off summer and get our creative juices flowing again after spending so many sweltering hours laying around the house playing Nintendo Switch, we have decided to host our very first Extra Credits game design jam!
Challenge yourself to make something small (smaller than you think!), learn something new, have fun, and maybe make some new game-dev friends :)
This game jam will run for 48 hours, starting during the weekend of August 17-19 (Friday-Sunday). However, the submission period has been set to start on Friday, August 17 at 5pm in the earliest time zone on planet Earth (UTC+14), and end on Sunday, August 19 at 5pm in the last time zone (UTC-12). This is more than enough time for everyone to find a jamming period that works for them and also have enough time to submit a game.
Ideally you should only plan on jamming for a consecutive 48-hour period of your choice (for example, if you live in San Francisco, CA, you could start your game jamming at 5pm Pacific Time on Friday and wrap up everything no later than 5pm on Sunday). HOWEVER, please do feel free to split the 48 hours up over the three-ish days that the jam submission period is open for, if that works better for your needs. Don't forget to submit your game before the jam closes!
WHAT IS THE THEME?
THE THEME IS.....
You should also know that any genre of game will be accepted for this jam--you could make a text adventure, an RPG, a platformer, a tabletop "offline" game, or something else!

ARE THERE RULES? YES!
All participants, and their games, must follow the Extra Credits Community Code of Conduct, which can be summarized as "don't be mean." Games that discuss particularly sensitive or mature content/themes should have a content warning (this is probably easiest to put in your game's text description while you're uploading it to itch.io, but you can also put it inside the game if you want).
Don't start creating assets for your game before the game jam starts! You don't even know what the theme is, yet. The point is to see what you can make and finish

within the 48-hour/2-day time limit.

And that also doesn't mean "spend 48 hours straight working on your game." Heck, don't even spend 8 hours straight. Take lots of breaks and take care of your life. We know a lot of you work jobs that have weekend shifts, and maybe you only have a few free hours--do not fret. Make something fun for yourself. Learn something new, even if you end up not wanting to submit a game, and tell us about how your jam experience went with the hashtag #extragamejam on Twitter.

Please don't use other people's assets or work in your game, without their permission. There are a ton of assets out there, like scripts and animations and music, that have a Creative Commons or public domain license on them--you can use those in your game if you want. Give credit to anyone who contributes to your game.
Accepted game formats: any format can be submitted to the game jam, including but certainly not limited to: Mac-only games, mobile-device-only games, pen-and-paper PDFs, etc.
PRIZES?
This is an unranked game jam. Please don't worry about trying to have the best-looking or best-playing game relative to what others are doing--make something that delights YOU! There will be no formal judging or voting system.
That said: we do have a few goodies planned.
We will award a to-be-determined number of gift certificates to the Extra Credits merch store to random game jam participants (proportional to the number of submissions to the game jam), as a way of saying "thanks for playing!" You'll have the option to fill out a short survey after the game jam ends.
Perhaps you want to spend your gift certificate on this new game jam t-shirt we just added?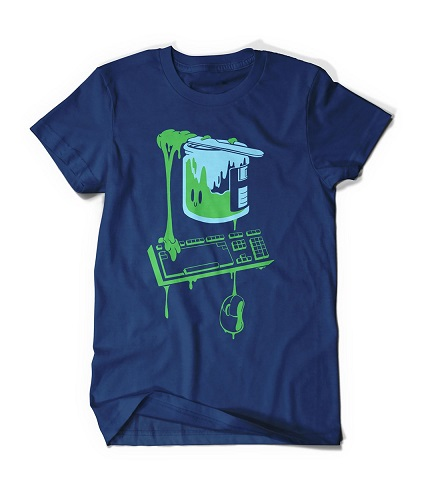 We will also host a let's-play livestream with Belinda and a few other Extra Credits staff a week or so after the game jam ends, featuring some of our personal favorites from the game jam submissions. We definitely will not be able to play everyone's games on stream but we will have fun talking about some of the ones we find interesting! Due to limited resources and time, we will only be able to view and play games that are compatible with Windows or a web browser (e.g. HTML5 games) so consider publishing your game in one of these more accessible formats if you want it to be considered for the let's-play livestream.
FREQUENTLY ASKED QUESTIONS
What is a game jam?
A game jam is a creative exercise that lets you practice making a game from start to finish in a very defined, limited amount of time. Adriel Wallick, the founder of Train Jam, has described game jams as "practicing the skill of finishing." It's easy to come up with countless game ideas, but actually picking one and making it a reality is a worthy challenge!
Can I make a video game if I'm not great at coding? Or know how to do art? etc.
Absolutely!
As far as game design lessons go: check out our playlist on how to make your first game which includes tips that are very relevant for game jams.
As far as game development tools go: Belinda really likes using Twine (which is a great tool especially for writers, and it lets you get right away to doing game design without as much of a learning/coding curve found in more complex software available). Other potential options include Stencyl, Construct 2, and GameMaker, as well as more famous programs like Unity and Unreal Engine. Extra Credits gets a lot of questions about which program to get started with and the truth is, it doesn't really matter since different software is better suited to different types of game genres. If you have a specific type of game in mind that you want to make (e.g. a 2D platformer) but don't know where to start, you should check out this interactive quiz which will help you choose the best software to start learning.
Should I have a team?
You can, if you want to. For virtual/online game jams, we recommend no more than 3 people to a team, because it can be hard to coordinate/distribute work evenly with a bigger team when multiple time zones might be involved. If you're working with friends locally, 4 people is a safe maximum. It is also totally okay to work by yourself! If you are working with one team across multiple time zones, decide between yourselves on which time zone you want to use for the start/end of the game jam.
My skills are very specific; I'm not a generalist. Can I contribute to multiple games instead of just one game/team?
Yes, you definitely can! Some people and some skills, like music & audio production, are very well suited for this type of collaboration. Everyone will have an opportunity to participate in the random prize drawing later, if you contributed work to a game but weren't the one who submitted it online.
How can I meet other jammers?
We have a Discord community for the benefit of any jammers who want to find collaborators, share their progress, and ask for feedback.
Other questions?

I (Belinda) will update this page with answers to other related questions that might come in from social media or email.