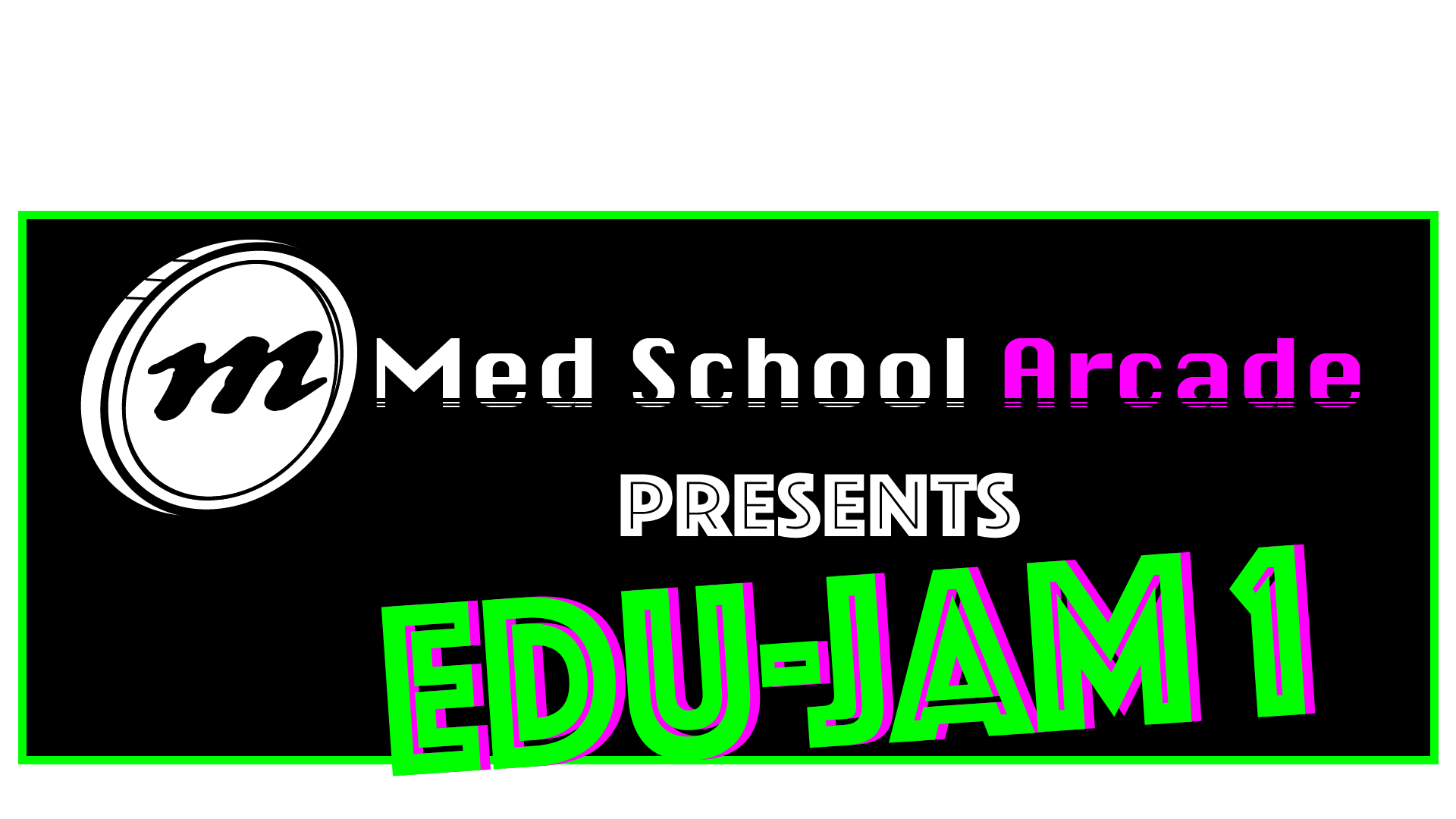 Our FIRST game jam! We apologize for the quick start and little prep time, but we want to get the builds started. Who cares because we've got prizes...like legit prizes. We are going big on the first jam...so we're throwing in $250 ($150 1st place, $75 2nd place, $25 3rd place)
$250 in prizes that meets all ranking criteria as decided by the jam hosts.
This is a 10 day game jam designed to promote creativity in educational gaming. We want you guys to build new games and/or reskin/rebrand existing games with TWO primary GOALs in mind:
1. Med school level educational content built into the game play
2. The game is FUN to play
The med school arcade is small start-up, created by med students, to help med students (and other health professional students) study better, for longer, with more fun. Med students are often studying for major exams up to 14 hours a day for weeks to months straight. Studying the same boring book, repeating old flashcards, and answering monotonous questions get really old and tiring. But when students are engaged, actively participating in the study activity, and have an increased level of interest--learning is more efficient and the quality is much improved. As a med student, I often sit and watch other attending and resident physicians do stuff (make medication changes, perform surgery, start a central line)--students rarely get the opportunity to be hands on. So, why can't we simulate this opportunity through gaming? A patient codes, what do you do? Well, the exact algorithm is taught through ACLS, and to practice the algorithm you really don't need any patient in front of you--you just need a video monitor (or computer) to watch vitals and make decisions to perform CPR or give meds.
The med school arcade is looking to build a collection of online games that promote some level of studying. We are the next Utomik for educational games...hopefully some day)!
Rules:
· Voting will be conducted by a group of medical students
1. Games must be playable online
2. Games must include some level of medical school education or health professional learning content (ie IV simulation, surgery simulation, biochemistry/anatomy/physiology subjects, etc)
· Theme: Med school education
· The games will be rated on the following criteria: Theme, Gameplay, Fun factor, and Graphics
· You can participate solo or in team
· We suggest using your own graphics and audio, however, you're free to use any resources you want, as long as there are no licensing or copyright infringements (If not your own, please add sources)
· You can reskin, rebrand, use old code, tools, external libraries and assets (But again, by mindful of licensing or site all third-party resources)
· You can upload new version of your game to fix bugs after the deadline
· You can use any engine, but remember online platforms only
Uh...where do we find med school content?

No worry, there are a number of great resources.
Medical education resources we prefer:
First Aid for the USMLE Step 1
American Heart Association for BLS/ACLS training (FREE)
Netter's Anatomy
Fundamentals of Pathology by Dr. Sattar
Onlinemeded.com (FREE)
Lange Clinical Pharmacology
How do you embed medical content into a 'fun' game?
That's why we're looking for your creativity!
Here are some ideas we have (please feel free to use):
1. Shooter—player shoots correct answer of options after question is displayed (any topic)
2. Battle of the bugs—Fighting game. Pick a virus and battle against other viruses. Each virus has special fighting abilities. Ex. Norovirus makes other player vomit, HIV virus makes you susceptible to other abilities, Influenza virus causes congestion, fever, and weakness…
3. Petri dish—Identify the growing bacteria from the petri dish, give clues such as "gram positive cocci" and "coagulase negative".
4. Multiplayer quiz game
5. Matching game—match up drugs, glycogen storage diseases, muscular dystrophies, or match up amino acids
6. Puzzle game—make a game out of the glycolysis pathway
7. Platform game—run and jump onto the correct nerve as one nerve turns into another down the body
8. Fallin---Have player fall from various heights and determine what bones are broken
9. Sim game—perform surgery on specified body part or organ system, ex. "Surgery simulator", simulate the steps for IV catheter placement, or endotracheal tube placement during emergencies (in a shaky helicopter would be cool).