Welcome to CoMo Game Jam VI!
Thank you for participating in our 6th CoMo Game Jam, presented by the CoMo Game Dev Association! Here you can find instructions on how to jam, schedule of events, rules for judging, and much more. After the theme is announced we will be updating the page and open up for submissions through Noon on Sunday.
Theme: Morality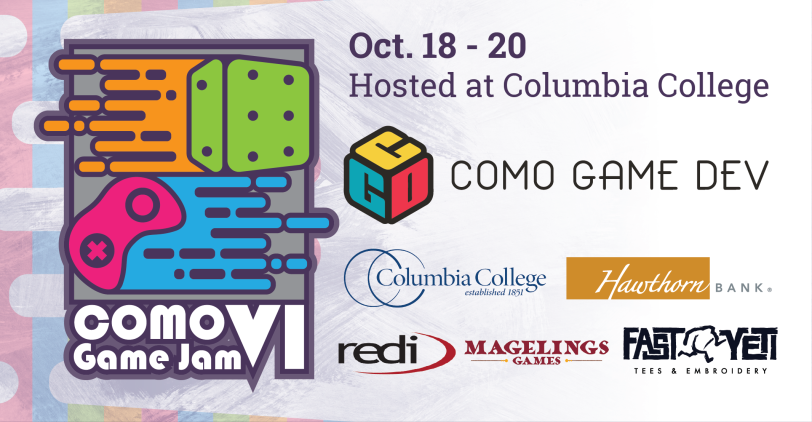 Check In
When you arrive, check in at the entrance to the event space, COMO Game Dev staff will give you a lanyard and a name tag. Keep your name tag and lanyard on you at all times while at the event space: it is your ticket in and out of the space and allows you to eat the provided meals free of charge. The color of your name tag will also identify you as an adult or minor for security purposes.
Location Information
Location & Parking The event will be held at New Hall, 700 Cougar Drive. Park at the Banks Lot.
IMPORTANT NOTE:
Participants under the age of 13 must be accompanied by a responsible adult at all times while on the premises - and ALL participants under the age of 18 must vacate the premises between the hours of 12 - 6 AM each day.
Schedule
Friday
6 PM - Doors open
6:30 PM - Opening Ceremony &; Dinner
~6:45 PM - Theme selection
~6:50 PM - Brainstorming
~7:05 PM - Pitching
~7:30 PM - Jam on!
10 PM - "io" o' clock (demo of itch.io)
Saturday
8 AM - Coffee & Breakfast
10 AM - "io" o' clock (demo of itch.io)
Noon - Lunch
6 PM - Dinner
10 PM - "io" o' clock (demo of itch.io)
Sunday
8 AM - Coffee & Breakfast
10 AM - "io" o' clock (demo of itch.io)
Noon - SUBMISSIONS DUE! (and lunch)
Noon - 3:30 PM - game showcase and test-playing
4 -5 PM - Awards ceremony - friends and family welcome!
Jam Rules
Your game must use the theme in some way!
Pre-made assets MUST be documented
Video Games – Any art assets, code bases, sounds, etc.
Tabletop – Card/board art, anything bought that wasn't extensively edited or apparent (e.g. dollar store minis or dice are okay)
All work must be done on premise

Extenuating circumstances may be allowed on a case by case basis, e.g. 3D printers should not be transported, VR setup is mounted to walls, etc.

Game must be turned in by NOON ON SUNDAY
Late entries will not be accepted
Video Games must be playable submitted through itch, so make your itch page and upload early
Tabletop must have an entry submitted through itch which must be print-and-play ready
Don't be a ****

Everyone here is wanting to have a good time and make something awesome. Being antagonistic or going out of your way to ruin someone's time won't be tolerated. Being competitive is fine; being an a-hole isn't.
Judging Criteria
Interpretation of Theme
Gameplay / Mechanics
Learning Curve / Clarity of Rules
Art (and Sound)
Cohesion
Other Information
Looking for some game dev resources? Want to form a team? Just want to talk about games and stuff?
Join COMO Game Dev's Discord server: https://discord.gg/EJHpRWu