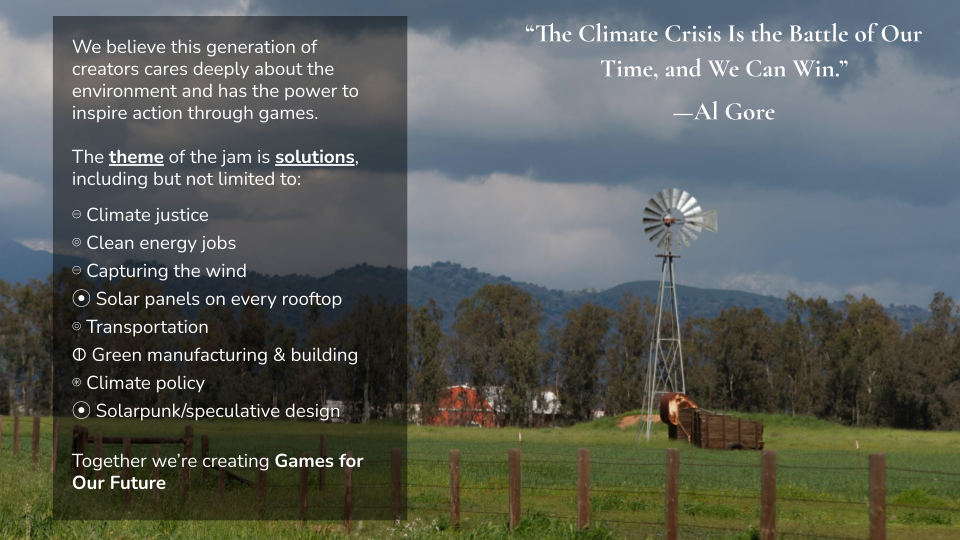 Join us on Discord! – https://discord.gg/UrGxAUnus9 - easy way to ask questions, chat, meet other jammers, whatever. If you haven't yet, be sure to say hi in the #introduce-yourself channel. We have #cj21-looking-for-group channel where you can meet others who are working on the jam, and many other channels dedicated to helping you have the best experience possible.
For first-time jammers, we've assembled a list of resources to help you get started as well as inspiring words from our Climate Jam Mentors. And don't hesitate to ask us any questions you might have in the discord!

We are planning to do a Twitch stream following the jam on the IndieCade Twitch channel featuring all of the games made at the jam, If you would like your game to be a part of the final presentation please create a video of 3 minutes or less including gameplay footage/narration/stories about the process of creating the game, whatever you feel you want to share about the game, your team and your experience and include the video in your itch.io submission or a link to it on YouTube. Your video should include the game name, team name (if you have one) and any identifying information about your team members that you wish to include (names, roles, etc.). We will give you a warning in advance of the stream going live so you can watch and promote it to your friends and followers.
Interested in play testing? Just let us know on Discord and we will post some options.
Schedule
Saturday, April 17

12pm - 3pm PDT - Gather.Town Social

Meet other jammers, organizers and mentors to get ready for the upcoming jam

Thursday, April 22 - Happy Earth Day!
Monday, April 26

10am - 1pm: Show & Tell/Feedback session (on Discord)

Sunday, May 2

12:00 pm PDT - Jam Ends
3:00 pm PDT Final presentations in Discord, streamed to Twitch

Thursday, May 13
Meet the Mentors
We are so excited by the mentors joining us for this year's climate jam! During the jam, mentors will be available to share their knowledge on discord at #cj-mentor-lounge. https://www.indiecade.com/climate-jam-2021/2021-mentors/


Awards
Following the jam, we will be giving Acknowledgments and Awards - including media promotion and inclusion at an IndieCade event.
Grand Jury's Choice
Positive Impact
Most adventurous/ innovative
As well as honorable mention awards in art, design, sound and more …
Games are due on Sunday, May 2nd at 12pm PDT!
Award Eligibility Must be 13 or over. Must be submitted by the due date and hour (12:00 PM PDT 2 May 2021) Must be completed to the point of running as a prototype. Must represent original work ( plagiarism and/or forgery will be disqualified) All assets used in the project must belong to the creators or be used under an appropriate license.
Award Selection Criteria Entries will be reviewed by a review jury of not more than a dozen members on a simple point system. Games must address one of the theme topics. A winner and any runners up will be announced MAY 9.