Bienvenue à la jam Bouillons & Chaudrons !
Aiguisez vos couteaux, faites bouillir les marmites, mettez les petits plats dans les grands, car voici une jam entièrement dédiée à la popote !
Règlement :
Il n'y a ni jury, ni prix, ni classement. Simplement le plaisir de participer et de créer un jeu.
Qu'il s'agisse de recettes, d'un bestiaire culinaire, d'un concours de chefs, d'une dégustation ou d'une soirée autour d'un feu de camp, votre création doit tourner autour du thème de la cuisine.
Vous devez créer/écrire un jeu (de rôle, vidéo, GN), une aide de jeu, un scénario, des assets, une illustration, une nouvelle… en rapport évident avec le thème.
Assurez-vous que votre jeu soit jouable de manière autonome. Si votre aide de jeu ou votre scénario est destiné à un jeu en particulier, précisez-le.
Aucune création portant des valeurs discriminantes ou faisant l'apologie de la haine envers des groupes marginalisés ne sera accepté (racisme, sexisme, homophobie, transphobie, etc.) et sera automatiquement supprimée.
FAQ
Comment participer ? Il suffit de créer un compte gratuit sur la plateforme itch.io, puis cliquer le bouton « Rejoindre la jam » sur la page de la jam. Quand vous souhaiterez déposer votre création, allez dans l'onglet « Envoyer mon projet » et suivez la procédure.
Je n'ai encore jamais créé de jeux, c'est grave ? Pas du tout ! C'est l'occasion de te lancer !
Puis-je créer plusieurs jeux pour cette jam ? Sans problème !
Peut-on créer en équipe ? Tout à fait !
En bref…
Amusez-vous, laissez libre court à votre imagination !
La jam Bouillons & Chaudrons est un challenge détendu et drôle. Ne vous mettez pas la pression. Si vous ne parvenez pas à créer dans les délais impartis, faites-le-nous savoir.
Si vous avez la moindre question à propos de ce concours, contactez-nous sur Discord !
Cette jam est organisée par Axolotl-jdr et la communauté Discord du blog C'est pas du JDR de Matthieu Bé.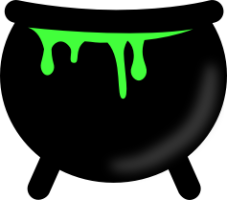 Welcome to the Concoctions & Cauldrons Jam!
Sharpen your knives, boil something (or someone) in your cauldron, spice things up, here is a jam entirely dedicated to nosh!
Rules:
No jury, no ranking. Only the pleasure to participate and create games.
Whether it be recipes, culinary bestiary, chief contest, a tasting or a party around a fire camp, your creation must turn around the cooking theme.
You have to write/create a game (video game, RPG or LARP), a game aid, a scenario, some assets, an illustration, a novel… related to the theme.
Be sure your game can be play as a stand alone. If your game aid or scenario is written for a certain game,precise it.
This jam will not accept creations that contain harmful, hateful, abusive content. Anything that is racist, sexist, transphobic, queerphobic will be automatically removed.
FAQ
How to participate? You just have to create a free account on the itch.io platform and click the button "Join Jam" on the Jam page. When you want to post your creation, go to the "send my project" tab and follow the instructions.
I never create a game! Is it okay? Yes of course! This is the time to try!
Can I submit multiple games for this Jam? Yes you can!
Can I create a game with someone? Yes of course!
To be short
Have fun! Give free rein to your imagination!
The Concoctions & Cauldrons Jam is a chill and funny challenge, don't pressure yourself, if you can't create in time, just tell us.
If you have any question about this contest, contact us on Discord!
This jam is organized by Axolotl-jdr and Matthieu Bé's C'est pas du JdR Discord community.
Illustrations : DarkZaitzev & Lorc