Join us for Bookmark Microgame-jam, where we challenge ourselves to create microgames with limited space on a bookmark. The theme is "Anything Goes!". Whether you are a beginner or a veteran, the theme is a fun opportunity to experiment with something different.

📣 Exciting News! The Bookmark Gamejam 2023 has officially begun! Join us in the community section as we kick off this creative journey today, September 1st. Whether you're brainstorming, sharing progress, or showcasing your finished game, this platform is your space to shine. Don't hesitate to open a thread for feedback and discussion. Let's make the most of this game jam and celebrate your passion for gaming. Welcome to the Bookmark Gamejam 2023 – let the games begin! 🚀🎮
If you are looking for some inspiration or examples of bookmark microgames, you can check out the previous edition of this jam here: https://itch.io/jam/bookmark-microgame-jam/entries. You will find some amazing games created by talented designers from around the world. Feel free to browse, play, and comment on them. You might get some ideas for your own game or discover a new favourite.

If you want to use a theme, you can pick one of the following themes for this season:
Books and Stories: Make a game that is inspired by a book or a story, or that uses a book as a component.

Harvest and Feast: Make a game that is about harvesting and feasting, or that uses a bookmark as a menu or a recipe.

Change and Transformation: Make a game that is about change and transformation, or that uses a bookmark as a catalyst or a modifier.
Spooky and Scary: Make a game that is about spooky and scary, or that uses a bookmark as a curse or a charm.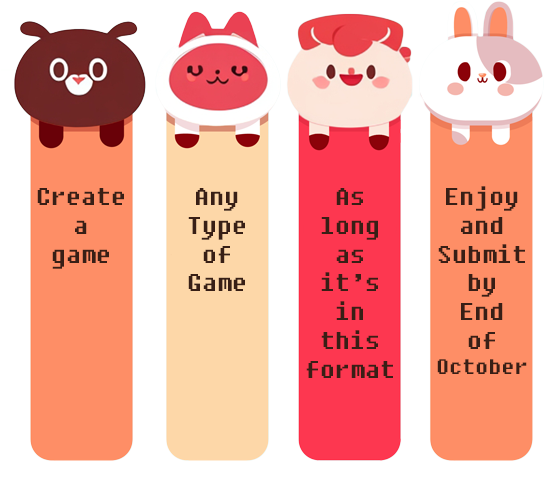 How to participate?
To join the Bookmark Microgame-jam, follow these steps:

Create an itch.io account for free if you don't have one. You can use your google, facebook or email to sign in.
Go to the Bookmark Microgame-jam page on itch.io and click "Join Jam".
Make a microgame that can fit on a bookmark.
Upload your game to itch.io and submit it to the jam.
To get started, join us on the Everything Board, where you can discuss anything that doesn't fit in any other board. This is a friendly and casual board where you can be yourself and enjoy the game jam. Click here to join the conversation!
Consider making your game accessible, whether this is through font sizes, layout, colors, or even the language you use.
Judgment & Prizes
There is no voting and ranking for this Game Jam, maybe in the future. However, as of now in order to reward those that participated in this jam and to show our appreciation, we will give out Trophy/Badge.
Join the Bookmark Gamejam 2023 and show off your creativity with a cute spirit dog and his book collection! If you have made a game for this gamejam, you can use the bookmark as a trophy and display it on your project page or your profile page. Choose from two sizes: 256 or 128 pixels wide.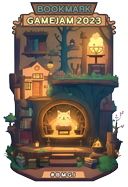 128 Width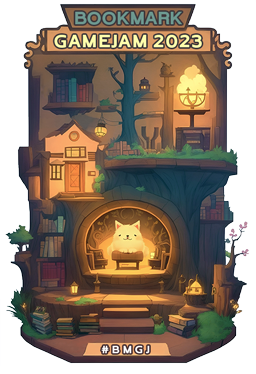 256 Width
The prize will consist of a virtual trophy/badge that you can display on your project page, to show off your participation during this game jam.
Help—I've never created a game before!
Don't worry if you are new to game making. There are plenty of free, open-source game tools, groups, and guides online to help you get started and learn the basics of TTRPG!
The most important thing is to have fun and be creative. You can make a game about anything you want, but try to make it original and interesting.
Since this is the Bookmark Microgame Jam, your microgame should fit on a bookmark or have some connection to one.
The challenge is to be creative with the limited space. How do you make your game clear and engaging on a small piece of paper?
How do you incorporate your art?
These are some of the questions you will have to answer. I hope you enjoy this jam and if you need any help, just go to the community page and ask us. Maybe we can give you some tips?
Bookmark MicroGame-Jam (BMGJ) FAQ
Welcome to the Bookmark MicroGame-Jam, where we challenge ourselves to create microgames that can fit on a bookmark. This FAQ will answer some of the common questions you may have about the jam. If you don't find your answer here, feel free to ask us on the Community tab.
General Questions
Who can participate in the BMGJ?

Anyone and everyone! We welcome participants from around the world at any game designing skill level.

Where does the BMGJ take place?

The jam will mainly take place on the Itch Game jam page. If you have any questions, you can direct them at the Community tab.

When is the deadline for registration?

You can register anytime before the game jam ends.

When does the jam start and end?

The BMGJ officially starts on 1st September 2023. The current end date may be extended depending on the participants' request. However, it may not exceed the month of October.

Do I need to participate as part of a team?

No, this event is open to individual developers as well as teams. We strongly encourage participating in a team for all kinds of good reasons, but solo developers are welcome too.

How many games can I submit?

As little as 1 and as many as you can.

Do I need a completed game for submission?

No, you can submit work-in-progress, previous work, or completed work.
Game Design Questions
What is a Bookmark Micro Game?

A Bookmark Micro Game is a playable game that fits on a bookmark single-sided or double-sided page. This can be an RPG, a dice game, a card game, a prompt game, etc.

What about Game Components?

Your rules, instructions, or any text should fit in the bookmark. You can indicate the use of dice, playing cards, and tarot as an additional component in your game. You can even have the player own a specific book to play the game!

Must it be a standalone game?

Not necessarily, it could be part of a module of another game but you can hack it by an all-purpose generator as well. If it is a tool for another game please indicate it and point that out in the bookmark.

Will there be a theme?

No theme for this jam as the bookmark requirement is already pretty strict. All you need to make sure is that it is designed in the form of a bookmark and can function as a proper bookmark.

How big can the bookmark be?

Any size, but we understand that a custom bookmark may come in any shape so long as it remains reasonable and can be used as a bookmark. Standard bookmark size is recommended: 2.5" x 8.5" inches. Try to challenge yourself with this. You can even go smaller than the recommended size. No rules here.

What types of games are accepted?

All types, TTRPG, Solo, One-Page RPG, Versus, Co-op, and anything you could think of that could fit into a single bookmark (front and back).
Can I use existing assets or tools for my game?

Yes, you can use any assets or tools that you have the rights to use, such as public domain, creative commons, or your own original work. Please credit the sources of your assets or tools in your game description.

Can I update my game after submission?

Yes, you can update your game after submission, but please indicate the changes you made in the game description or the comments section. We encourage you to keep working on your game and improving it after the jam.

How will the games be rated or judged?

There will be no formal rating or judging system for this jam. The main purpose of this jam is to have fun and be creative. However, you can leave feedback and comments on other participants' games and encourage them to do the same for yours. You can also share your game on social media using the hashtags #BMGJ and #bookmarkjam2022.
Thanks for reading!
How did this jam come about?

I've been browsing the game jam page and was inspired by a previous game jam that was organized a year back. The game jam focus was bookmark and it was a little idea that the organization thought of after consulting a friend. I quickly thought of a few game ideas and wanted to bring this game jam back. Also the lack of Ttrpg, one-page game, and microgame spur me to create a jam where game designers in this field can participate.
*Use the #BMGJ and #bookmarkjam2023 when participating in the game.