What's a Bitsy-Haiku ?
A Bitsy-Haiku is a small feeling about the world done using Adam Ledoux's Bitsy game engine. As a traditional haiku, a Bitsy-Haiku could aim at not only reproducing the world but expressing something about the sensation of its author toward an event, a sensation, a memory.
In order to build a Bitsy-Haiku you'll need:
a still frame. Camera can't move but it doesn't forbid for things and thoughts to come and go!
three verses, including the title-screen and ending-screen. No more than three text frames. 180 car. maximum
to use your favorite language
To compliment your Bitsy-Haiku, you could:
respect the syllabic count (5, 7, 5)
integrate no text at all (except for the title)
consider the name "Larry" if there is a character in your haiku!
Your Bitsy-Haiku will also:
feature haiku author's credits properly on your game page (if it isn't you)
not engage in any NSFW content (eventhough erotic haiku is a thing)
respect any other people identities
Burning Questions:
multiple entries are possible given the fact that they should not complete one another
You can use hacks : put sounds, 3D, HD, image, scripts... whatever as long as it's bitsy ! Here you can find some hacks
About the hosts:
Peter Februar is a game designer engaged in the process of making one game a month on his itch's page. His Ghost Ship's Jam submission "Too Late, Larry" is at the root of the creation of this Jam.
The Bitsy-Haiku Jam will be hosted by Leslie on the opening session of the Pang Pang Club in Aix-en-Provence (FR) and all submissions will be played by the members of the Club during one of our gatherings.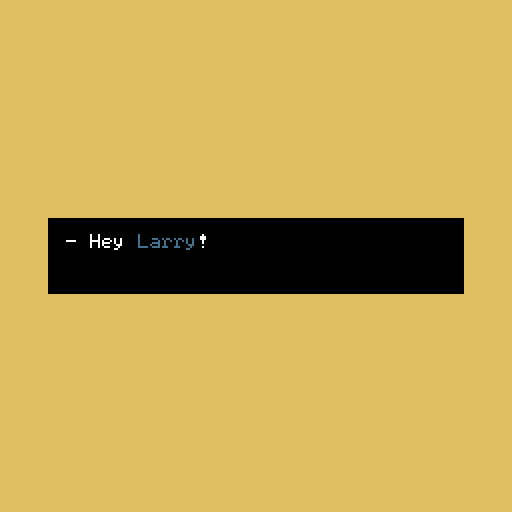 ------------------------------------------------------------------------------------------------------------------------

Version Française
Qu'est ce qu'un Haïku Bitsy ?
Un Haïku-Bitsy est un court instantané du monde réalisé avec le moteur de jeu Bitsy créé par Adam Ledoux. Tout comme un vrai haïku, un Haïku-Bitsy pourra dépasser le stade de la simple description et chercher à véhiculer une sensation, une émotion, un souvenir ressenti.e par son auteur.e.
Pour faire un Haïku Bitsy, il te faut:
un plan fixe. La caméra ne peut pas bouger mais n'empêche pas les choses et les idées de le faire!
trois versets, incluant l'écran-titre et l'écran de fin. Pas plus de trois cartouches. 180 caractères quoi
utiliser la langue de ton choix
Pour compléter ton Haïku Bitsy, tu peux:
respecter le compte des syllabes (5, 7, 5)
n'intégrer aucun texte, sauf le titre
pourquoi pas appeler "Larry" ton personnage (s'il y en a un)?
Ton Haïku Bitsy devra aussi:
créditer les auteur.e.s des éventuels haïkus que tu citerais dans la page de ton jeu.
éviter le contenu NSFW (même si, c'est vrai, des haikus érotiques existent)
respecter l'identité de toute autre personne.
Rapides questions:
il est absolument possible de soumettre plusieurs haïkus durant le temps de la jam. Vous ne pourrez cependant pas poursuivre la narration d'un haïku à l'autre, c'est dans le principe même de l'haïku =)
intégrer de la musique? Bien sûr. Des hacks, de la HD? Pas de soucis! Vous trouverez même un petit répertoire de hacks ici
pour ce qui est du style, cette définition pourra sans doute aider: https://fr.wikipedia.org/wiki/Ha%C3%AFku#Style

À propos:
Peter Februar est un game-designer qui réalise sur itch un jeu par mois. Son jeu "Too Late, Larry" a été l'inspiration première qui a permis à cette gamejam de voir le jour.
La Bitsy-Haiku Jam est portée par Leslie et le Pang-Pang Club et sera la première jam de l'année scolaire. Durant les rassemblements à Aix-en-Provence, les membres pourront créer leur haïku et jouer les propositions des participants internationaux. Si vous êtes français, loin du Sud de la France, vous pouvez toujours rejoindre le Discord du Club !