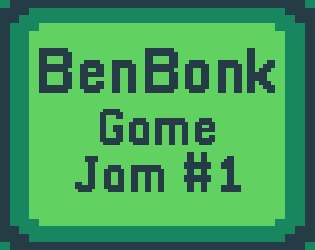 The BenBonk game jam is a game jam hosted by the YouTuber and game developer BenBonk. Contestants will have 72 hours to make a game from scratch, while implementing a theme announced at the start of the jam. Winners, and some of the best games will be featured on the BenBonk YouTube channel. You can join the discord here - https://discord.gg/yxJcfFk, and check out my YouTube channel here - https://www.youtube.com/channel/UCLO_c9nyLCwohHqovjlmpDw.

The theme is... Trust No One

All games will be peer voted after the jam has ended, upon 5 categories. Additionally my favorite game of the jam and it will be known as "BenBonk's Choice".
Overall - How did the game come together overall, and how was the experience while playing?
Gameplay - How well did the game play? Was it fun? How was the overall design of the game?
Visuals - How were the art and animations in the game? Was there a good use of visual effects and polish?
Audio - How was the music and sound effects in the game. Did they enhance the player experience?
Theme - How well did the game fit the theme, and was the use of the theme creative and original?

I'm not going to go too harsh on the rules, but please make sure to follow the following rules.
1. Make the core game within the time period, you can use scripts and assets you have created before but make the actual game within the time period allotted.
2. If you are going to use any public, or non original assets, please credit them properly.
3. Please do not make any NSFW or extremely inappropriate games.
4. You may work solo, or in a team.
5. Honestly rate other submissions. Don't just give everything a 1 star thinking it will increase your chances. I will be monitoring suspicious voting activity.
6. You may use any engine, or program to make your game
7. By submitting a game to this jam you are giving me permission to use footage of your game on my YouTube channel.

1. Manage your time well, you only will have 72 hours to make a game so focus on the core mechanics, and don't spend too long on one certain thing you may not even need.
2. Make sure to submit your game in time, it is recommended that you start to submit at least 15 minutes before the deadline, if not more.
3. If you are looking for a team you can head over to the discord server's #find-a-team channel.

Winners will be showcased on my YouTube channel in a best games of the jam YouTube video. The top 3 games will also receive the legendary "Gamedev God" role in my discord server, and my favorite overall game will receive the "BenBonk's Choice" role.