Bangkok Game Dev by Global Game Jam 2018 is a group dedicated to providing developers with a shared work space to actually put hours into their video game projects in a shared setting. This is simply a fun work session with new developer friends, sleep areas, free drinks and food.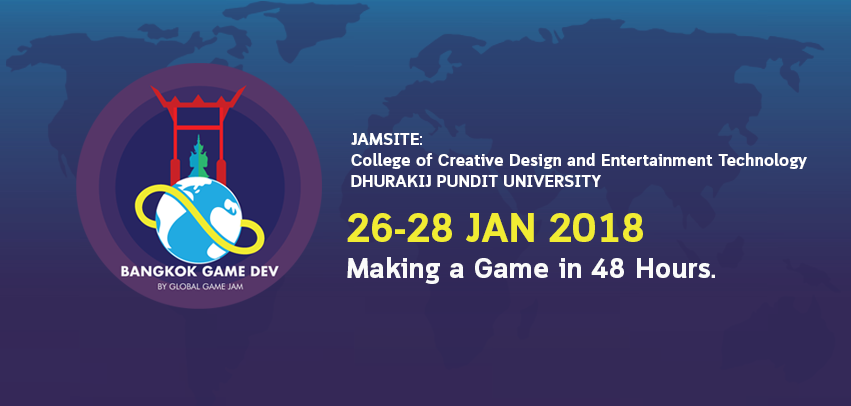 You can form a team of any size or join an existing team. If you really want to, you could also go solo.

The Global Game Jam® (GGJ) ( https://globalgamejam.org/ ) is the world's largest game jam (game creation) event taking place around the world at physical locations. It is the growth of an idea that in today's heavily connected world, we can come together, be creative, share experiences and express ourselves through the media of video games. The GGJ encourages people with all kinds of backgrounds to participate and contribute to this global spread of game development and creativity.

The structure of a jam is usually that everyone gathers on Friday late afternoon, watches a short video keynote with advice from leading game developers, and then a secret theme is announced. All sites worldwide are then challenged to make games based on that same theme, with games to be completed by Sunday afternoon. In January 2017, we had 700 locations in 95 countries create over 7000 games in one weekend! The jam helps foster new friendships, increase confidence and opportunities within the community. People are invited to explore new technology tools, trying on new roles in development and testing their skills to do something that requires them to design, develop create, test and make a new game in the time span of 48 hours.

The GGJ stimulates collaboration and is not a competition.
For online jammers:
FREE
For onsite jammers:
500 THB (15$) / 1 Person
Please make a bank transfer payment to our account as below:
Account Number: 152-233477-9
Account Name: College of Creative Design and Entertainment Technology Bank/Brach: Siam Commercial Bank (SCB)
The reservation will be complete when the jam site has received a copy of your payment slip by email: ant_group@dpu.ac.th