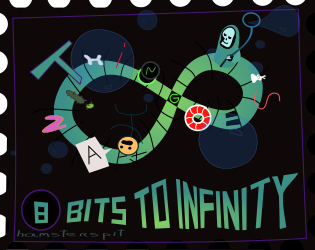 This fantastic logo provided by Hamsterspit.

8 Bits to Infinity presents ANYTHING GOES JAM, a week-long game jamming challenge (July 4 - 11, 2019) to create any digital prototype you like. The gloves are off, the limitations are nil (unless you want them). Show us your creativity!
For those who like to work with limitations, don't fret. We will have three optional limitations and you can use as many or as few as you like to inspire your work.
See Requirement section below for optional limitations
What is 8 Bits to Infinity? A community of game developers, creatives, streamers, and gamers dedicated to refining creative skills through honest criticism and rapid iteration. We host a game jam every month! Check out past jams here.
Join us on Discord to discuss the jam, join the logo challenge (in #challenges), form teams (in #team-up), and generally have a good time. :)
You can also team up on our Crowdforge page, a team-building website for game jams and hackathons.
These awesome people are streaming games from the jam. Follow them on Twitch to get notified when they go live, and be sure to check out the VODs (recordings) if you miss the streams!
Rules
Entries which break rules or have no clear relation to the Requirement will be removed.
1-4 members per team.
One entry per team.
Credit everything in your entry, including Creative Commons 0 assets and your own work. This must be accessible from the start of the game (in the title or a credits menu).
Entry must work in Windows. Web builds are fine.
Entry cannot require unusual peripherals (beyond keyboard, mouse, and gamepad).
Make everything during the jam or use freely available assets (including open source code). Exception: You may use general-purpose code made before the jam.
No NSFW content. This includes sexual content (including language), nudity, or excessive realistic gore/violence.
Requirement
Create a digital interactive experience. This can be a puzzle, a toy, a game, or even software if you like. Since we're a community of game developers, software useful for game development would be awesome.
If you have any doubts about whether you meet the requirement, or any other questions, check the FAQ, then ask on Discord or in the Community. We're glad to help.
The three optional limitations voted for by the community are:
1) The player cannot use weapons
2) The player character cannot walk
3) Use a maximum of two colors
You can use none, one, two, or all three of the limitations for whatever challenge you want to set yourself.
Easter Egg
The Easter Egg is an optional "challenge" to hide a specific thing in your game, enticing players to explore every corner of the experience. This won't affect your rating directly, but the joy of finding a common secret may bump up the fun factor.
Protip: Don't say where you hid it on your game page, and don't spoil other people's Easter Eggs!
For Anything Goes Jam, the Easter Egg can be any of the following: a cat, a hat, or the infinity symbol ∞. If you're feeling ambitious, hide all three.
FAQ
About the Requirement
It's called "Anything Goes" Jam, does that mean anything goes?
Kinda. Make sure you follow the rules, though. :)
Can I make a board/card game?
Sure! But it must have a digital implementation.
Can I make a story/book/novel?
Yes, but it must have an interactive component like Choose Your Own Adventure, RPG elements, or a text parser (interactive fiction / text adventure). The game must be fully playable in a digital environment, but there's plenty of stuff for us to roll dice, make calculations, and keep track of things (vim/notepad) so you're allowed to stretch that a bit.
Will games be judged?
Nope! But you can still "win" by giving good feedback (see Top Feedback, below) and Joshua will stream all entries. You'll also get tons of feedback from the rest of the community.
Do I need to use a limitation?
Nope! We aren't rating games based on limitation in this jam. Use the limitations that inspire you, or none at all.
Other Questions
I'm awful at music. How can I still have cool background audio in my game?
Get free royalty-free tunes from Joshua here or from various other websites such as OpenGameArt (where you can also find Joshua's stuff). Simply google "free to use music" or "free royalty-free music" and you're sure to find something.
What about other assets, tools, and engines?
See this list of game dev / audio / art tools for things you can use.
Should I build a Windows/Mac/Linux/web/[insert system here] version?
The more builds you have, the more people will be able to access your game. Some people also prefer web versions (because running software can be spoopy) while others prefer a download (such as Joshua, who likes to keep the games archived and often struggles with web versions).
If you're using something like Unity, export versions for all systems! Most of the time, they'll work fine without any testing.
I didn't finish. Should I still submit?
Yes! A solid prototype could still win the jam, and it's worth showcasing your work to get feedback.
How can I get more people to play my entry?
Play other entries and leave quality feedback. Be sure to politely ask the dev to play your game, so they know you want feedback.
Can I make a multiplayer game?
Yes, but include AI opponents to be safe. Judges may not be able to play with others during the judging period, and if the game cannot be judged appropriately, we may have to disqualify it.
Can I make a 2D/2.5D/3D game?
Yes! There are no limitations on graphics.
What tools / engines can I use?
Anything. Literally anything. We've seen games made in PowerPoint and Excel - if you want to use those, all power to you! Although, we suggest using something more geared toward games like Unity, Godot, Unreal, etc.
Can I enter other jams with the same game?
Absolutely, as long as you follow all of the rules and time limitations for each jam. Note that we lock submissions, so you won't be able to upload new files after you submit to this jam.
Where can I ask more questions?
Ask away in the community or on Discord.
Top Feedback
Every jam entrant is eligible for Top Feedback, a prize for the person who submits the highest quantity of high-quality feedback during the jam. In addition to posting the feedback on itch.io, it must also be submitted for consideration to 8 Bits to Infinity. Keep an eye on Discord and your email for information about how to submit your feedback near the end of the jam.
The winner of Top Feedback will receive the following:
Four-hour showcase of a commercially released game you choose on Joshua's stream after the voting period. The game must be in his collection, available for free, or gifted.
A second look at one updated version of your game with at least two weeks notice. The game will be streamed to completion.
A place in the Feedback Hall of Fame on the 8 Bits to Infinity website (forthcoming).
Your game featured as a "winning game" in the 8 Bits to Infinity Jam Winners list.
Tweeter of the Month
Any tweet with the #8bitstoinfinity hashtag in July counts toward winning Tweeter of the Month, given to the person with the highest quantity of relevant tweets. The winner's Twitter handle will be displayed on Joshua's stream for the month of August, with a link to their Twitter placed among the chatbot's random messages.