ANDi Jam #1 (Android)
Who?
ANDi Games are a London based startup working in the game industry, more specifically we work with mobile games. ANDi; our first app (prototype) is a mobile gaming hub, designed to help users find the mobile games for them on any store, on any platform. The app automatically recommends games based on previous downloads and individual preferences. Equally, ANDi is a gift to any mobile game developer, providing them with the medium to communicate with gamers face-to-face to understand their needs. It presents developers with a new platform to advertise their games on a level playing field, right alongside the biggest apps, created by the biggest developers.
No more will the biggest fish dominate the ocean, only the largest game developers gaining access to 'recommended' lists, and the eyes of disgruntled customers, scrolling through infinite pages of apps they'll download, and most likely delete. With ANDi, no game goes unseen, no customer gets forgotten. ANDi works, and plays, for everyone.
ANDi Games Ltd are supported by WayraUK; the Telefonica startup accelerator, as well as members of Ukie and TIGA, ANDi Games have also receieved support from Google, Facebook, 500 Startups, Steel Media (Pocket Gamer) and Ubisoft.
For more information on ANDi Games; please visit www.get-andi.com
When?
The Jam will start on September 1st and run through to September 30th. Your deadline for submitted your APK's will be 23:59 GMT.
ANDi Games staff and invited guests will then install your games, play and then vote on them. This will take place between October 1st and October 7th.
Finally, the winner will be announced on Monday 9th October. Exact timing is still TBC.
Where?
The Jam will be hosted right here on Itch.io.
We'll be using Twitter & Instagram to advertise the Jam including participant progress and winners. We'd encourage you throughout the duration of the Jam to upload screenshots of your work in progress and photos of your team to Twitter and Instagram using the hashtag #ANDiJam. We'll be actively retweeting and sharing your pictures with our followers.
Additionally, we'll be actively taking part in #IndieDevHour on Twitter, so make sure to join in and again, don't forget #ANDiJam!
We'll be using Discord!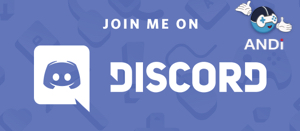 ANDi Games already run a Discord server dedicated to mobile game developers and players. Whether you're a #IndieDev, work in PR, part of a larger studio or just love mobile games, we welcome everyone.
We'll be using our Discord server for all announcements, updates and general discussion relating to ANDi Jam. You're highly encouraged to therefore join us on Discord using this link.
All participating developers will receive the ANDiJam#1 Rank & Role, celebrating the fact you participated in the first ever #ANDiJam.
What?
ANDiJam #1 is about creating a game for Android. There are no restrictions on graphics, sound, 2D or 3D, nor a theme. The world is your oyster. Future ANDi Jams will be themed, and certain restrictions etc, but to kick things off, we want to ensure everyone has fun.
Your game must not already be released on Google Play. Any submissions clearly released prior to the start of ANDiJam will be removed. You are designing, creating and submitting a new project.
How?
You'll be required to package up and submit your completed APK file before the deadline. ANDi Games staff and invited special judges (see below) will install, play and vote on the submitted games.
The Prizes!
We've got goodies lined up for everyone taking part!
ALL participants (including individual team members) will receive a 1 month free promo code for SocialGest; any package!
Additionally, all participating teams will receive free coverage across the ANDi Games social network, newsletters and websites. We'll contact you either as your team or individually to arrange this. We know how much exposure means to #IndieDev's, and we'll do all we can to promote you.
The Winners Prize Package:
Featured Slot in ANDi for 7 Days (our game discovery app)
Promotion of any existing game including;

14 Day Social Media Campaign (Twitter, Facebook, Instagram)
ANDi Newsletter 'Featured Slot' (10k+ subscribers)
14 day 'Advert' on www.blog.get-andi.com
The winning team and game will be featured on www.get-andi.com on it's own splash/landing page.
Additionally, if the winning entry is from a UK based entrant, we'll also include:

Free Exhibition Space at the next ANDi Games event
Speaker Slot at the next ANDi Games event
(ANDi Games events are held in central London, in our office space, directly above Twitter UK HQ. ANDi Games events are opportunities to network with other startups, WayraUK, TIGA and Ukie)
The Judges!
In addition to ANDi Games staff, we've rounded up a selection of industry experts to help judge the first ever #ANDiJam. You'll find full details below.
ANDi Games Ltd:
Ben Woolf; Co-founder & CEO - LinkedIn
Sam Koch; Co-founder & CTO - LinkedIn
Kris Wingfield-Bennett; CMO - LinkedIn
Guest Judges:

Dan Muir, Founder & Owner of PR Hound. PR Hound are Kickstarter specialists & indie developer PR & consultants. PR Hound can provide the strategy, media coverage, YouTube, Twitch, social & community exposure indie games need. With over 15 years experience, Dan knows how to sniff out great games! Follow PR Hound: Twitter | Facebook
Sponsors

We are proud to have our first ANDi Jam sponsored and supported by our friends SocialGest; another Wayra Cohort. SocialGest is the all in one social media management platform. With scheduling, content recommendations, RSS feed integration and features like Crowdfire, SocialGest is an all-in-one platform for managing your presence online.

Max Louis Creative
aims to create a one stop place for people to find every creative service a project might need. From websites and branding, to rendering 3D prototypes, MLC wants to help. We aim to be at the frontline of the digital world, the first steps to project success.

NextaPost is a smarter way to auto post on Instagram. Save time managing your Instagram accounts, publish and analyse all your posts in one panel.