Art by LootGodamn!

Join the DISCORD server for other experimental jams: https://discord.gg/SYJaQY9
---
What if one day aliens visit our planet and want to play videogames? Even if they had fingers to use mouse & keyboard, they probably still couldn't play them. Well, with this game jam we want to remedy this problem, and your job here is to create a game that can be played by aliens.
What?
Let me explain: we humans are used to detailed tutorials, scoreboards and speeches in videogames. Because aliens don't know our language, they can't play our games, and for this reason, if you join our jam you have to follow this simple yet challenging limitation: "no texts or numbers" (see the Rules section for more info).

Theme
The theme is ... CONSEQUENCES. Maybe when you die something changes, or simply the decisions you make change the game's ending. There are of course a lot of interpretations, be creative! Also, feel free to ignore the theme if it doesn't give you good ideas.
Remember: the theme is optional and won't affect your rating
Rules
- Your game must not contain any words/numbers. There are only 2 exceptions:
1. you can use letters to explain the controls of the game, but you have to do it without explaining with words what the actual controls do: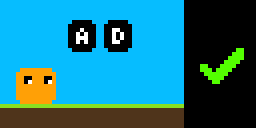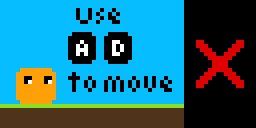 2. you can use text where its only purpose is purely decorative (e.g. writings on walls or boxes etc.). Speeches are not admitted. Arrows are not admitted as well, because only we humans know that they are used to point to something.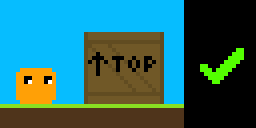 Other rules:
- No NSFW content

- You can use any game engine you want and make a game for any platform you want (making a build for Windows is recommended)
- The game must be developed only within the time frame of the jam