A Game By Its Cover is an annual game jam about turning the fictional cartridge art of the My Famicase Exhibition into the real thing.
How to make a game by its cover in a socially-distanced broken world:
Step 0: Make sure your mental and physical needs are met to the best of your ability.
Step 1: Make whatever you feel like as long as it's loosely inspired by fictional game (cover) art.
Step 2: That's it.
Our (entirely optional!) theme for this year: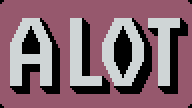 Submissions are open right now, and will remain open until November 15th (but don't worry about it too much as we've made it kind of a tradition to extend the deadline a bit near the end).
Browse the exhibition, pick something that inspires you, take your time, chill, and turn it into a game! Or a piece of art, or music, or a one-page pen&paper thing. Or a poem. Or... anything. Who cares!

(Don't forget to join our Discord and follow us on Twitter: @AGBICjam)

Here's a neat gif we found (feel free to steal it):

Beep Boop Incoming Message:
Better late than never, huh? This year - these past few years honestly - have been a lot. There are a lot more important things going on than one little game jam.
We keep repeating variations of this every year, but it's true and important: Crunch has been normalized not only within the gaming industry, it's also been a part of game jams (or hackathons, or compos, or whatever you want to call them) from the start. People work long hours, skip breaks and meals and the competitive nature of these events even kind of expects it, even if only implicitly.
We want to distance ourselves from that in the only way possible: By not encouraging any of it, and doing the opposite instead. This is why, as always, A Game By Its Cover will have no rankings, no voting or scoring, and no prizes to win. Please don't feel like you're competing against anyone here.
It is our hope that you will take this idea and find some creative outlet in it (while also taking care of yourself in the process).
Dom & Ludo