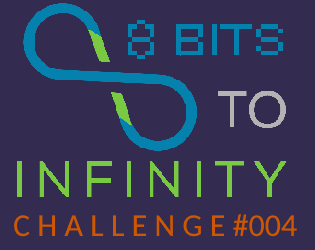 Welcome to the 8 Bits to Infinity Challenge. These small weekly events challenge you to participate in jams with extra limitations, or sometimes act as self-contained jams.
8 Bits to Infinity is a game development community hosting regular game jams and weekly challenges to refine our craft. All skill levels welcome! Find out more by joining us on Discord or exploring our website.
Everyone who contributes to the challenge will be able to vote on entries to determine the Challenge Winner.
Challenge #004
Join a game jam ending before May 1st at 1pm ET. Here are some suggestions:
Use one, two, or all three of these additional limitations:
Use only hand-drawn art
Record all sound effects in your own home (voice effects are very effective!)
Make the game playable without looking at the screen
Be sure to follow the rules of the jam that you join, and submit to their jam by their deadline.

You will, of course, need to also submit here to qualify for the challenge.
Rating
Challenges are rated by entrants and contributors, so if you enter the jam, please play and rate the other entries.
Everyone who contributed to the winning entry will receive the challenge-winner role on the Discord server.
FAQ
Do I need to do all three limitations?
Not strictly, but one of the rating categories is based on how many you do!
Where can I ask more questions?
Ask in the community for this jam (see link at the top of the page) or on Discord.
More Challenges
We host a challenge every week and a game jam every month. Check our itch profile for a complete list: https://8bitstoinfinity.itch.io/
Have ideas for upcoming challenges? Suggest them on the form here: https://forms.gle/3GnHVXLtiRnMzfQG.