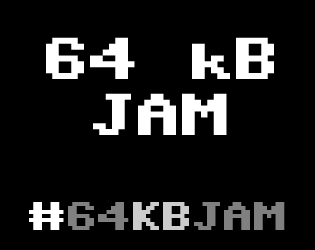 ABOUT THIS JAM
Create any kind of game with total size up to 64 kB! That is a real challenge!
RESTRICTIONS

Total size: up to 64 kB (after uncompressed ZIP file)
Screen resolution: no restrictions (it can be anything from 1x1 to 4K UHD)
Colors: no restrictions
Sounds / music: no restrictions
Platform: widely used platform like web browser, Windows, Android, iOS, macOS etc.
Programming language: no restrictions
Language: English
Game genre / theme: no restrictions
Work in team: allowed
Submit more than one game: allowed
VOTING
Anyone can vote in this jam!
Primary criteria is "Overall"
QUESTIONS
If you have any questions, please create a new topic in discussion.
SHARE
Please share this jam wherever you want
Please use hashtag: #64KBJAM
Games submitted so far
(1)
All submissions
·
Windows (1)
macOS (1)
Linux (1)