Inspired by 1st Year-long game jam 2021.
Have you ever wished to make an entire indie-title that you can release on Steam during just one game jam? Wish no more! You can have 5 whole years to make it.
Join the community Discord Server!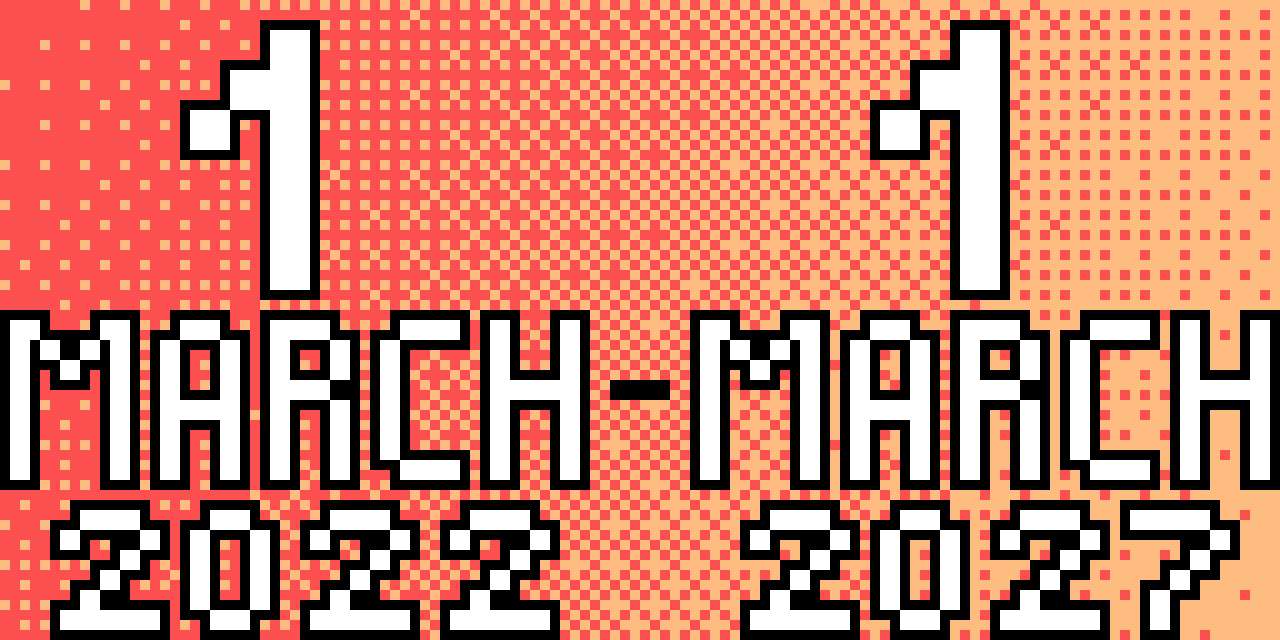 Info
You don't have to spend all 5 years on the game, and you can join at any time.
What is considered as "A game" in this jam?
Anything that is interactive considered a game, even stuff like PowerPoint presentations, visual novels or Discord bots, just find some way to upload them to itch.io, you might want to look into links.
It's all for fun!
Engine

You can use any engine or platform you wish - From Scratch to Roblox to Unity to a self-made game engine. You can also make mods for games, these are allowed too!
Rules

You must not start the development before the start of the jam
Your game must be playable by the end of the jam
If your game contains NSFW content you have to warn the player either on the game's page or in the game itself
Use assets you have the rights to use, and make sure to credit them right , or just make your own assets(You don't want your game to be taken down, don't you?)
You can work in a team of up to 15 people, just as long as it's still an indie title
You can have more than 1 submission
You can submit submissions from this jam to another jams, as long as it follows that jam's rules
More in-depth rules can be found here.
Tips

Work a few hours a day
First make a prototype, and expand on it
Set your priority for the gameplay
Interpret your theme however you want
Polish your game until you think it's finished
Showcase your game to other people to get feedback
Additional Themes

You can ignore these themes, or freely use and combine them
Meta
Progression
Dream
Reverse
Color
Background
With a twist
Simulation
Additional Challenges/Ideas
You can ignore these challenges/Ideas, or use them and combine them to challenge yourself
Make a game that you will maintain through and after the jam
Make your dream game (A game that combines all your favourite gameplay aspects)
Make several games
Make a sequel to one of your previous games/game that you already made for this jam
Make a game series
Remake your old/oldest game
Start making a game that is out of your skill level
Make an infinite game
Make a tool for other jammers to use
Make a game completely opposite to your last game
Legal
Ownership to games you make for this jam are your's/your team's. But the host of the jam may showcase your game without contacting you.
Contact
If you wish to contact the jam owner, you can either join the Discord server, or send an email to nfl1pg@gmail.com .