WELCOME TO HAWKTOBER!
Special Thank you to Elijah Kang for donating 2nd and 3rd Place prizes!!
What terrors await at the 4th annual Hawktober Game Jam?!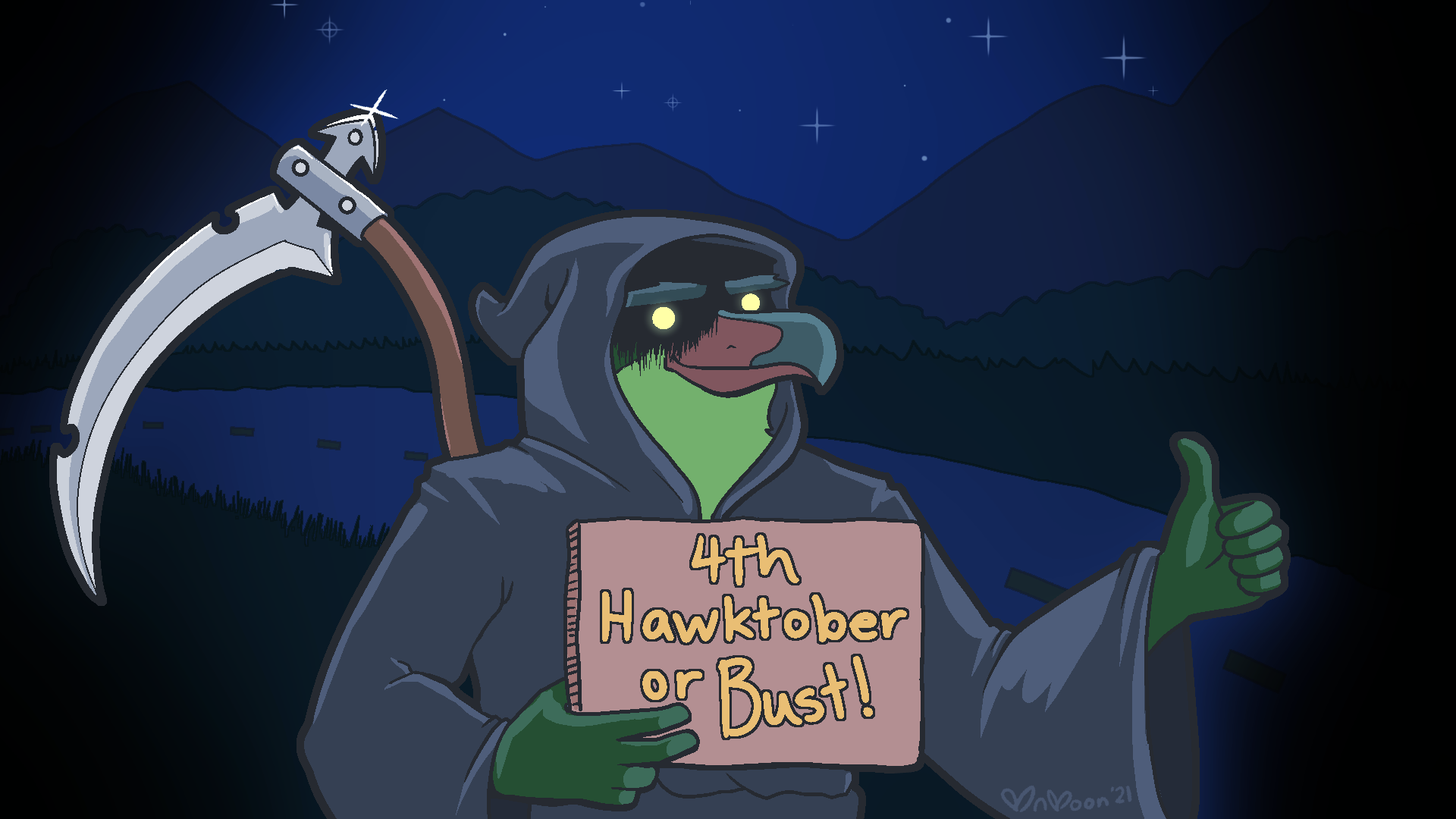 The theme for this year is:
Death of the Old
Welcome to the FOURTH annual Hawktober Game Jam! When I started running these back in 2018 I had no idea they would grow as much as they have, and become the highlight of my year. It's been an absolute treat to share not only my birthday with the community, but these wonderful games the many talented developers have made.
This year? Will be no different. Hopefully ;)
The theme this year is Death of the Old. An empire crumbling to dust. A life winding down in the twilight years. The old body giving way to the new flesh. The theme is as broad as it is horrific. What could be more terrifying than the end of all things? No one knows what happens when Death closes in, but I want to see you all give it your best shot!
TLDR: Basically, as long Death is in your game in some way, you've got it. Those who interpret the theme in cool and interesting ways will score higher as far as judges are concerned, however.
RULES
Your entry MUST utilize the theme in some manner or form. It is very open to interpretation, and creative/unique usage of the theme is encouraged!

Horror-themed games are not required so long as your game follows the theme, but are highly encouraged.

Once the submission period is over, NO UPDATES TO YOUR GAMES ARE ALLOWED. Judges will ONLY play your submitted copy, and will not update with any bug fixes. Please DOUBLE CHECK YOUR ENTRIES
Your entry can be made with ANY engine and ANY assets you have the legal rights to use.
Absolute NO ripped/stolen assets will be allowed or tolerated, and will result in immediate disqualification.
GAMES MUST BE WINDOWS BASED. No exceptions
No fan games. Your entry should be 100% original and/or based on your own worlds and lore.

The only exception is if you have received written permission from another developer/creator in the community giving you permission to use their world/characters.

The length of your game MUST be between 10 and 60 minutes.

If your game runs short, it risks being disqualified.
If your game runs long, judges WILL stop playing at the hour mark (give or take a couple minutes), and will ONLY judge on the 60 minutes they played INCLUDING CUTSCENES. They will NOT be required or expected to finish the game.

Content that includes Heavy Violence, Language, and Adult Themes up to an 'R' rating are ALLOWED.
Lewd and/or Adult themed games ARE NOT ALLOWED.
There is no limit to the amount of times someone may enter, but they may only win ONCE (Either First Place or People's Choice)
Teams are allowed, but prize money will only be awarded to the member who submitted the game. It is expected teams will divide up their winnings amongst themselves.
Judges are allowed to enter, but they CANNOT win any prizes.
Finally, submissions remain the full property and copyright of those who submit them. HawkZombie only reserves the right to use said submissions in promotional material related to Hawktober ONLY.
JUDGING CRITERIA
All submissions will both be open to public voting AND will be judged by a panel of judges including myself starting October 16th at 12am MDT. Other than breaking any of the rules listed above, if an entry is unable to run for at least 10 minutes without game-breaking errors it will be disqualified. All games will be judged on the following areas (in no particular order of importance):
The Theme
The Story
Asset Usage (This applies to how well the game is put together, not necessarily a focus on custom assets)
Gameplay
Judgments will be announced (and made public) on Oct 31st during HawkZombie's stream!
PRIZES
What would be a Hawktober without wonderful prizes to be won? It may be my birthday, but YOU can get the gifts! The current prizes are listed below. All money will be awarded in Canadain Funds (CAD)
In the case of a tie, the winner will be decided by which game scored higher in The Theme category. If both games are still identical, the winner will be decided by a coin toss.
PLEASE NOTE THAT YOU CANNOT WIN PRIZES TWICE. IE: You CANNOT win both People's Choice AND Judge's First Place prizes.

If more prizes are added or donated, they will be added to this list before the final day of voting. Should a winner be unable or unwilling to accept their prize, an alternate winner will be announced at HawkZombie's sole discretion).
JUDGE'S PICK - FIRST PLACE
$50 Cash! Payable through PayPal
JUDGE'S PICK - SECOND PLACE
$24 Cash! Payable through PayPal
JUDGE'S PICK - THIRD PLACE
$12 Cash! Payable through PayPal
PEOPLE'S CHOICE - FIRST PLACE
$50 Cash! Payable through PayPal
Good Luck...