Get your 4(d)20 on!
Create awesome RPG tables by sampling your favorite artists!
(Discuss all things 4d20 and sample-based RPG creation at the STATIONS discord)
While developing a massive database of King Gizzard and the Lizard Wizard references to turn into a sandbox (someday, somehow), I thought ...
"F- it, I'm just gonna make a 4(d)20 table so I can start rolling some characters up."
And thus was born the 4d20 character generator!
We made a few for some of our favorite artists, like Aesop Rock, Dan Deacon and Deerhoof, and started getting community contributions for others, for Death Grip, IDLES, Gorillaz, and more.
Check out the snapshot below of the first 4d20 table (all elements are sampled from King Gizzard song lyrics or titles). Or you can view all the tables here for more examples.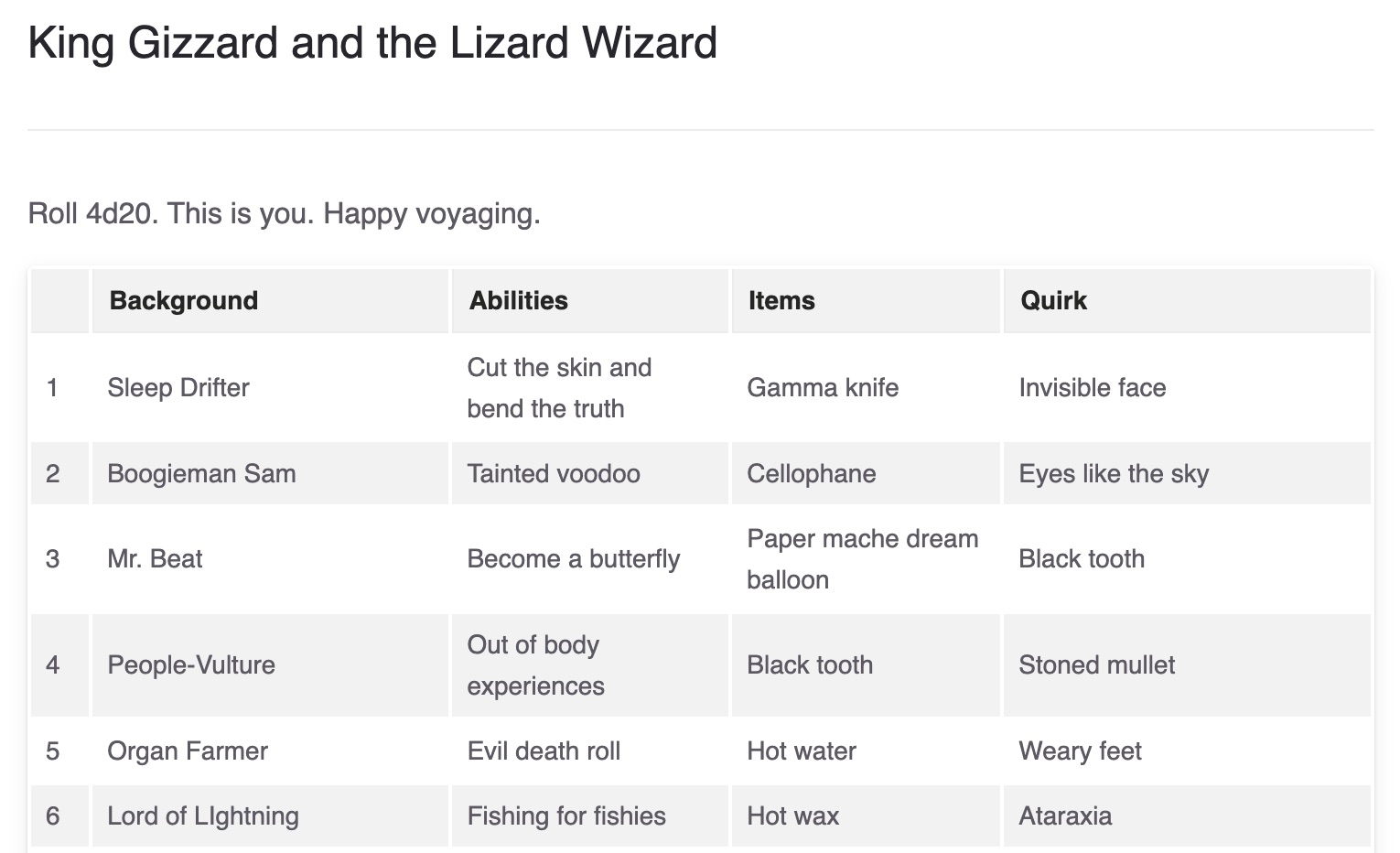 For this jam, we want MORE MORE MORE 4d20 tables!
From 4/20 to 5/20, submit entries based around the 4d20 table, this could be:

That's it, have fun, go nuts, charge if you want to.
Don't get hung up on fancy styles and art and formatting if that's not your thing; lo-fi is great if it helps you get your ideas out there!
(If you submit a 4d20 character table based on music samples, we'll ask your permission to post it on our site)

Resources (google sheet templates)
Rules
Keep your entries free of bigotry and hate. No racism, no sexism, no homophobia, no transphobia.
Social
Make sure to tweet your submission and tag @asgood so we can bump it!
If hashtags are your thing, use #4d20jam
Managed by STATIONS