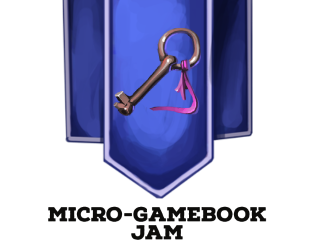 Welcome to our first Micro-Gamebook Jam! We're looking for short, engaging gamebooks and interactive fiction that can fit on less than 4 magazine pages.
This first Jam were looking at clever uses for a 'key'...

Entries must:
Make use of a key at some point within the writing
Have multiple paths / choices made within the story
Must be a complete story (no 'to be continued...')
Be at least 10pt text size (no tiny writing!)
Entries will be voted on by the public and the winning entry will be included in the Gamebook Zine alongside your own personal printed copy to take home and treasure forever (forever and ever!). Second and third place will also receive the extended early edition of the GBZ.
Entries can be made anytime between the 1st and 20th of March, with voting between the 20th and 31st.

Good luck everyone!