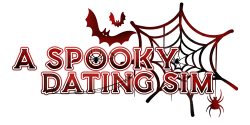 Spooky dating sim is a Horror Romance Visual Novel that began production in October 2019. The team behind it all is mostly volunteers and we need help. As of this moment the game is planned to be Free to play but this may change depending on how successful the eventual crowd funding is. When the game is complete, all members of the team will receive full credits.
The team is actively seeking:
A second (script) writer who will be responsible for writing 4 of the 8 routes. Preferably someone who is experienced in horror or romance genres and has a few completed works under their belt.
An assistant writer to help the two main writers and whatever they may need.
A GUI artist
A Background Artist
If possible we would also love to have the following join us but it is not required to complete the project:
A second Ren'py programmer.
Someone to help assist with Social Media accounts and game Promotion.
An accountant or financial assistant.
Ambiance and Custom Sound Effects (Foot steps, nature sounds, etc.)
An Animator or a Promotional Video Creator.
A Native Korean and (North American) Spanish Speaker to assist with bilingual character's dialogue.
Don't be afraid to shoot your shot if you have a skill you think you could contribute to the project let us know!

If you are interested please leave a comment and tell me what you'd be willing to do as well as an example of your work! Feel free to ask any questions you may have!
All potential team members must be 18+ due to child labor laws.

We are NOT seeking vocal talents at the moment but if we are in the future you can find us on Twitter, Instagram and Casting Call Club.